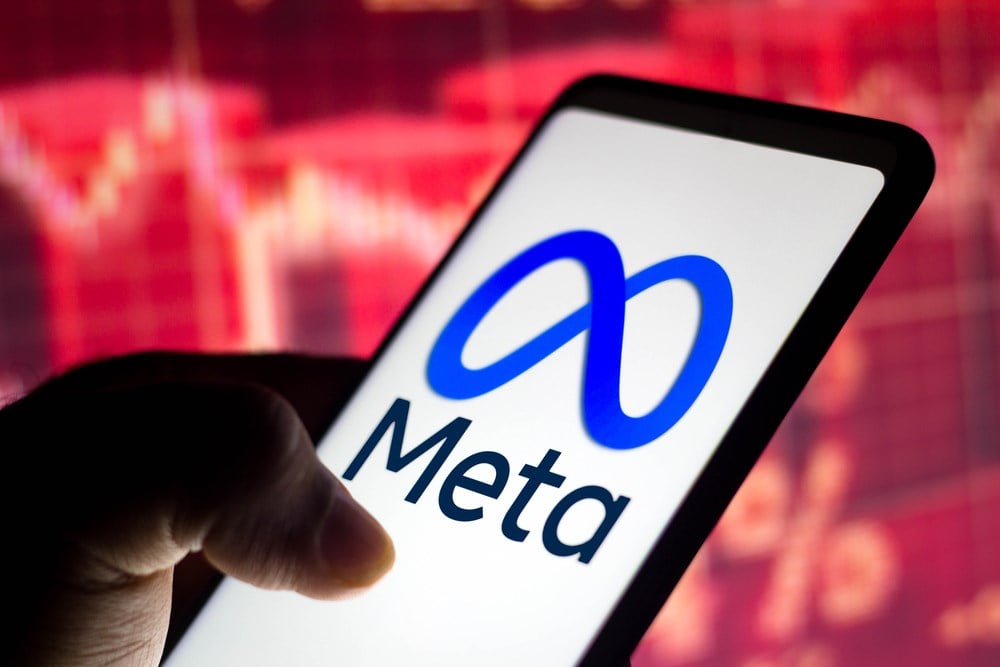 Social media platforms operator Meta Platforms Inc. (NASDAQ: META) stock is up 22% year-to-date (YTD) and has a one-year performance up 87%. Its impressive bounce comes from layoffs, expense reduction, and stabilization in its ad business. It leaves investors to ponder if this behemoth has any more upside as shares trade at 22X earnings now. Meta has been working on its generative artificial intelligence (AI) technology to drive results across the ecosystem.
Its Q1 2023 results were impressive enough to send shares rocketing higher by 14%. Its results were a stark difference from Snap Inc. (NASDAQ: SNAP) and Pinterest Inc. (NASDAQ: PINS), which both saw double-digit sell-offs. The most significant downside was the (41%) revenue drop for its virtual reality division Reality Labs.
Artificial Intelligence
Instagram Reels continues to grow its overall ap engagement, driving time spent on Instagram by more than 24%. Over 20% of the content in Facebook and Instagram feeds are recommendations from artificial intelligence (AI). AI work has helped improve monetization as Reels's efficiency grew over 30% on Instagram and 40% on Facebook. AI is expected to be embedded in many more offerings in the coming months. The Metaverse and AI are related as mixed reality is built on AI stack technologies.
Blowout Earnings
On April 26, 2023, Meta released its first-quarter 2023 results for the quarter ending in March 2023. The company reported an earnings-per-share (EPS) profit of $2.20, excluding non-recurring items, beating consensus analyst estimates for a profit of $1.95, a $0.25 beat. Revenues rose 2.6% YoY to $27.64 billion versus $27.66 billion consensus analyst estimates. Family daily active people (DAP) rose 5% YoY to 3.02 billion.
Facebook hit a new milestone with 200 million daily active users (DAUs) in the U.S. and Canada and 2 billion worldwide. The company is seeing strong engagement growth across apps and good monetization efficiency. After three rounds of layoffs, the company will resume hiring after May 2023, growing headcount from 1% to 2% in 2024.
Facebook monthly active users (MAUs) rose 2% to 2.99 billion. Ad impressions and price per ad rose 26% YoY, and the average price decreased (17%) YoY. The company bought back $9.22 billion in class A shares and still has $41.73 billion available in authorized repurchases. The company closed the quarter with $37.4 billion in cash and marketable securities as of March 31.,2023.
Meta Platforms CEO Mark Zuckerberg commented, "Our AI work is driving good results across our apps and business. We're also becoming more efficient to build better products faster and put ourselves in a stronger position to deliver our long-term vision."
Restructuring
Meta has nearly completed its 2022 restructuring and incurred a pre-tax sum of $621 million in Q1 2023. Its layoff of over 10,000 employees took across its Family of Apps and Reality Labs.
Upside Guidance
Meta raised its Q2 2023 revenues to $29.5 billion to $32 billion versus $29.47 billion consensus analyst estimates. However, the company expects Reality Labs operating losses to increase YoY. Meta lowers its full-year 2023 expense guidance to $86 billion to $90 billion from $86 billion to $92 billion. Capex remains unchanged at $30 billion to $33 billion. It reflects Meta's buildout of AI capacity to support ads, Feed and Reels and increase investment in capacity for generative AI initiatives. Meta incurred $617 million to $621 million in restructuring charges in Q1 2023.
Meta Platforms analyst ratings and price targets can be found at MarketBeat. 
Weekly Seed Wave and Cup and Handle Breakout
The weekly candlestick chart for META has been robust due to two powerful price patterns. The weekly cup lip line started on May 23, 2022, at $196.99 as shares fell to a low of $88.09 at the end of October 2022. META staged a rally on the market structure low (MSL) breakout through $114.90 as it tested and deflected off the $196.99 cup lip line at the end of January 2023. Shares fell to $167.66 before bouncing and forming the handle. The second weekly MSL trigger breakout at $186.62 launched the cup and handle breakout when shares squeezed through the $196.99 cup lip line in March 2023.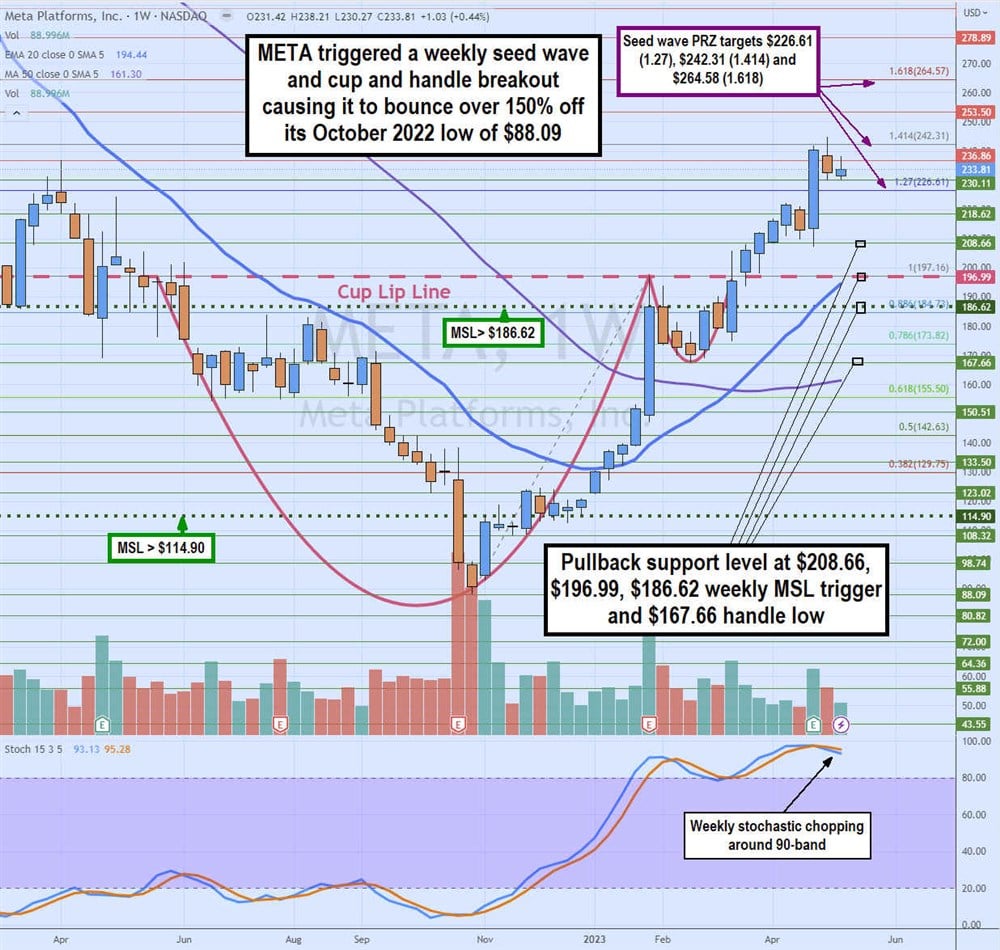 The weekly seed wave was triggered simultaneously on the cup and handle breakout. A seed wave is formed after two higher MSLs. The potential reverse zones (PRZs) are price targets and reversal levels based on the Fibonacci extension ratios connecting the first MSL to the first MSH to derive a 1.27, 1.414 and 1.618 price. Each PRZ is a potential reversal zone in which bulls can take profits, and bears may consider short-selling. The most potent PRZ is the final 1.68 level which is $264.57. Pullback supports are at $208.66, $196.99, $186.62 weekly MSL trigger and $167.66 handle low.