SourceOneMRO.com now provides improved soap, wipes, and other decon hygiene and cleaning products to ensure superior results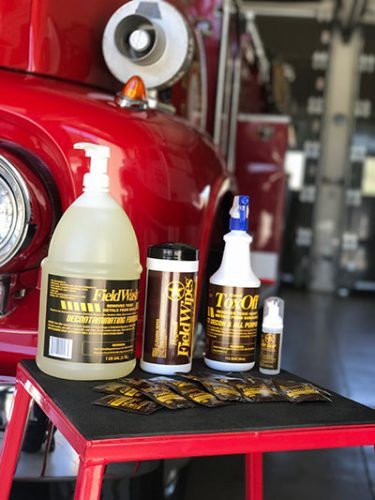 Carlsbad, CA - June 17, 2019 /MarketersMedia/ —
Source One MRO is proud to announce the availability of Hygenall Firefighter Decon Products. With these products, fire departments can replace their traditional hand soap, wipes and cleaners with the newly released Full-SpectrumTM firefighter decontamination products (with improved upon technology from NIOSH/CDC) because they can do everything soap and wipes do, plus remove cationic toxins such as heavy metals. All this information has been backed by 3rd party scientific studies, testing from NIOSH/CDC and also tested and advised for use from the Army Public Health Center (APHC) for the US Army.
"Regular anionic based soaps and Firefighter Wipes are decent for removing soot, but can't remove full-spectrum of toxins including carcinogenic metals," stated Source One MRO Public Safety Director and firefighter Brad Bihun. "With modern fires, burning materials emit metal oxides that stick to the surfaces of skin much differently than soot. They adhere to the skin through an electrostatic process that can't clean off with regular soaps and wipes, regardless of how hard you scrub. Our Hygenall decontamination products provide a full range of coverage including FieldWipesTM, FieldWashTM, FieldWashTM, FieldScrubTM, ToxOffTM, ToxOffTM-Laundry (NFPA 1851 compliant), HandScrubTM and DeconKitTM, are here to change this by removing these toxins and help prevent exposure to toxins that are known to be carcinogenic."
The patented technologies from Hygenall incorporate the use of all natural cationic surfactants to effectively remove a Full-SpectrumTM of contaminants including heavy metals. They work through the process of electrostatic displacement, displacing away heavy metals along with chemicals, germs, grime, and soot, including drug residue such as Fentanyl. Hygenall Firefighter products are Full-SpectrumTM decontamination and cleaning products.
"We are proud to now offer these high-quality products to firefighters across the country," continued Bihun. "With Firefighter Cancer now being the #1 cause of firefighter deaths our mission is to first and foremost educate and implement policies/procedures to reduce exposure to these carcinogenic toxins". "The Hygenall products never contain betains, parabens, latex or possibly dangerous skin softeners like Aloe Vera which is something that can cause the cationic heavy metals and the carcinogenic toxins to continue penetrating the layers of skin."
Join the already growing list of Fire departments (FDNY, Chicago FD, Orange County Fire Authority, San Diego Fire, Corral Springs Fire, Palm Beach County, Cape Coral, Miami, Fort Lauderdale, Newark, Jersey City) using Hygenall Firefighter Decon products in their decontamination policies and procedures. Additional information about the newly available Hygenall Firefighter decontamination products can be found by visiting the Source One MRO website or by contacting the knowledgeable and professional staff.
ABOUT SOURCE ONE MRO
Source One MRO is a company known for marketing industrial and maintenance equipment, tools and supplies to the federal government and other organizations. Source One MRO is the Master Wholesale Distributor of Hygenall Firefighter Decon products. Source One MRO works closely with Military and Fire Departments around the country training them on proper decontamination procedures and helping with policies and implementation. With extensive manufacturer and product knowledge, the employees can quickly find the item a person or company is looking for. Today, the company has 19 authorized national distribution centers to provide service as a preferred distributor for the Hygenall Firefighter Decon products. Source One MRO is also a Premier Distributor of FoxFury Lighting and Sensear ear protection.
Contact Info:
Name: Brad Bihun
Email: Send Email
Organization: Source One MRO
Address: 7040 Avenida Encinas Suite 104-257
Phone: 8667687230
Website: https://sourceonemro.com/firefighters/
Source URL: https://marketersmedia.com/source-one-mro-announces-availability-of-full-spectrum-firefighter-decon-product/525559
Source: MarketersMedia
Release ID: 525559