Charming Ape, developer behind Charming App Mindfulness, introduces Wagner - the new official spokesperson for the free mobile meditation and mindfulness app.
(PRUnderground) December 10th, 2020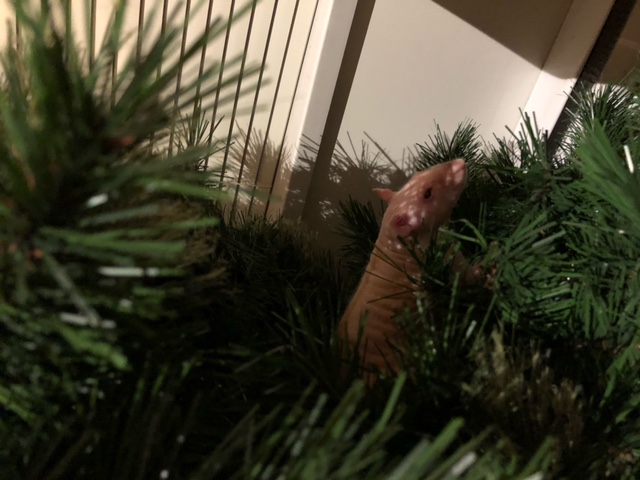 In these dark November days along Canada's Pacific Coast, there is a flurry of motion and excitement at the Charming Ape office. Sometimes even late into the evening there is a bustle of activity in the office, when one might think that not a creature would be stirring.
It's no mouse though that consistently livens up the atmosphere at the South Surrey premises, but rather the company's new official spokesperson: Wagner.
Details are slim about the exact story of how Wagner was brought on-board, but Charming App Mindfulness developer, Kevin Afanasiff, has some ideas:
"Well, there was talk about adopting an office spokesperson for a while, but the owner had a strict no-spokesperson policy until he started looking at spokespeople available for adoption online. Emails started going around with profiles of all these cute spokespeople, but there was some argument about having a responsibility to adopt a spokesperson that wasn't likely to be adopted by any other brand, rather than the cutest one… and that's how we found Wagner."
Wagner, according to internal information from Charming Ape, had been in a temporary position with the cramped SPCS (Society for the Prevention of Cruelty to Spokespeople) location for over 2 months. Unlike other spokespeople who are social creatures, Wagner is not. Regardless, Wagner was brought on-board.
Wagner now has a welcoming spot at the Charming Ape office, between the indoor bike storage and communal dining area. His personal three-story workspace has two hammocks, a small cabana, dining area and washroom. He enjoys frequent walks around the diverse topography surrounding the office, and has the luxury of a dedicated office cook that serves regular healthy meals.
Life is better at the Charming Ape office now that Wagner is on-board, The owner claims that adopting Wagner has led to improved morale overall. Apparently Wagner has been the perfect spokesperson for the growing brand:
"He never says anything – not even a single word ever. He never causes any controversy. The worst I could say is that, maybe he eats more than his fair share of the office's free snacks, but he moves so fast I guess he needs the energy. As soon as we let him out, he's all over the place; he's everywhere all at once. Nobody knows how he does it… I wanted someone who would climb the ladder, and Wagner was born to climb. Once he gets his claws onto something he doesn't stop until he's at the top."
While nobody could be blamed for expecting something different as the Charming Ape official spokesperson, there was an official response:
"In our experience it was impossible to on-board an ape, or even a monkey for that matter. Security and availability were major concerns, and we don't have the space internally to accommodate either at this point. I imagine Wagner will be our spokesperson for the next 2-3 years, after which he'll move on to greater things. We'll revisit our options then, but for now we're sticking with Wagner."
About Charming Ape
British Columbia, Canada based software development company of Kevin Afanasiff, creator of Charming App Mindfulness for iOS and Android and other mobile apps
The post Meet Wagner: Official spokesperson for Charming Ape and Charming App Mindfulness first appeared on PRUnderground.
Press Contact
Name: Kevin Afanasiff

Phone: 7782272215

Email: Contact Us

Website: https://www.charmingape.com
Original Press Release.