HONG KONG, July 25, 2023 - (ACN Newswire) - The 33rd HKTDC Hong Kong Book Fair, 6th Sports and Leisure Expo, and 3rd World of Snacks, all organised by the Hong Kong Trade Development Council (HKTDC), drew to a successful close today. The seven-day event attracted nearly one million visitors, of which 10% were tourists. Book Fair visitors spent an average of HK$872 (US$112) per person. Close to 780 exhibitors from 36 countries and regions participated in the three events, offering the public a diverse and extraordinary summer experience.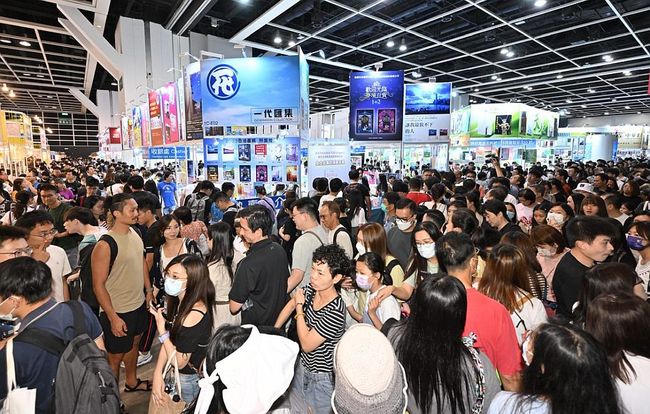 The 33rd HKTDC Hong Kong Book Fair, 6th Sports and Leisure Expo, and 3rd World of Snacks
drew nearly one million visitors in total



Sophia Chong, Acting Executive Director of the HKTDC, said: "We are thrilled to announce the resounding success of this year's Hong Kong Book Fair, Sports and Leisure Expo, and World of Snacks. The full reopening of Hong Kong has resulted in a surge in participation from citizens and tourists alike, with numerous mainland and overseas authors and exhibitors attending in person. The government's distribution of consumption vouchers has also fueled citizens' eagerness to spend at the three exhibitions, contributing to the vibrant and lively ambience of the events. This year's Book Fair, with its focus on Children's and Young Adult Literature, has staged a diverse range of cultural activities and seminars. Thanks to the sponsorship of Create Hong Kong* (CreateHK) of the Government of the HKSAR, we have established a brand new World of Art & Culture zone, with the aim of introducing literature and cultural arts from all over the world to a broad reader base. Our ultimate goal is to promote a city-wide reading culture and position Hong Kong as an East-meets-West centre for international cultural exchange."

Fiction, comics, travel, children's books and literature most popular genres

Over 800 visitors were interviewed by a research institute commissioned by the HKTDC to glean insights into their reading and spending habits. Respondents spent an average HK$872 at the fair this year, the survey showed. Remarkably, this comprised 70% of their HK$1,254 average annual expenditure on printed books. These findings underscore the Book Fair's pivotal role as a platform for book enthusiasts to acquire their beloved reads.

The survey also shed light on respondents' reading habits, revealing that an overwhelming 96% had read printed books within the past month, with an average reading time of 16 hours. Fiction emerged as the most popular book category, with 52% of respondents indicating their interest, followed by comics (26%), travel (20%), children's and young-adult books (20%), and literature (19%). The categories of self-improvement, enrichment, art and music, and inspirational books also garnered significant interest. E-books were also popular, with 65% of respondents having read e-books within the past month, averaging nine hours of reading time during that period. Most respondents (59%) visited the Book Fair to buy new books, while 49% enjoyed discounts offered at the fair. Additionally, 25% joined the diverse cultural activities, with 18% intending to buy children's books.

Cultural July events continue with fair highlights available for viewing

The fair featured more than 600 seminars and cultural events held both onsite and offsite, including the Eight Seminar Series. Running in parallel the Cultural July: Joyful Summer Reading campaign, held across Hong Kong, drew more than 350,000 participants.

Recordings of selected seminars are available online. Readers can revisit them through the Book Fair website or the HKTDC's Youtube channel. This year's Book Fair has concluded but Cultural July continues until 31 July, with a range of sharing sessions, talks and book launches in all 18 districts of Hong Kong. Details can be found on the Cultural July website - http://www.hkbookfair.hktdc.com/CulturalJuly

The Cultural Journey Online is also available on the Book Fair website, gathering e-reading resources and activities like virtual seminars and exhibitions from our partners which include: SHKP Reading Club's Read For More, Hong Kong Public libraries, Culture is..., Google Arts & Culture, encouraging citizens to expand their horizons and promoting a reading culture.

Sports and Leisure Expo and World of Snacks well received

Offering a wide selection of sports and leisure products and services, along with more than 1,200 tasty treats and snacks, the Hong Kong Sports and Leisure Expo and World of Snacks are also concluded today. The former featured free trials and interactive experiences while the latter offered visitors delicacies from around the world, along with workshops, activities and tasting sessions. Both events were enthusiastically received.

The three events launched the series of HKTDC exhibitions in the second-half of this year. In the coming months, the HKTDC will continue to host a diverse range of large-scale exhibitions to support and strengthen Hong Kong's economy across different sectors. Next month, visitors can expect to enjoy the Food Expo, Food Expo Pro, Home Delights Expo, Beauty & Wellness Expo, and Hong Kong International Tea Fair. September will bring CENTRESTAGE and Hong Kong Watch & Clock Fair, as well as the Belt and Road Summit, while October is set to feature the Hong Kong International Lighting Fair (Autumn Edition), Hong Kong Electronics Fair (Autumn Edition), and Eco Expo Asia. In November, the HKTDC will host the Hong Kong International Wine and Spirits Fair, Hong Kong International Optical Fair, and Asian Logistics, Maritime and Aviation Conference. Finally, December will feature the Business of IP Asia Forum and Chill 11.

*Disclaimer: The Government of the Hong Kong Special Administrative Region provides funding support to the project only, and does not otherwise take part in the project. Any opinions, findings, conclusions or recommendations expressed in these materials/events (or by members of the project team) are those of the project organisers only and do not reflect the views of the Government of the Hong Kong Special Administrative Region, the Culture, Sports and Tourism Bureau, Create Hong Kong, the CreateSmart Initiative Secretariat or the CreateSmart Initiative Vetting Committee.

Photo Download: https://bit.ly/3DrR5AI
Book Fair video playlist: https://bit.ly/3Q580Ay

About HKTDC

The Hong Kong Trade Development Council (HKTDC) is a statutory body established in 1966 to promote, assist and develop Hong Kong's trade. With 50 offices globally, including 13 in Mainland China, the HKTDC promotes Hong Kong as a two-way global investment and business hub. The HKTDC organises international exhibitions, conferences and business missions to create business opportunities for companies, particularly small and medium-sized enterprises (SMEs), in the mainland and international markets. The HKTDC also provides up-to-date market insights and product information via research reports and digital news channels. For more information, please visit: www.hktdc.com/aboutus. Follow us on Twitter @hktdc and LinkedIn

Media enquiries
Should members of the press have any enquiries, please contact:

Hong Kong Book Fair
Yuan Tung Financial Relations:
Anson Wong, Tel: +852 3428 3413, Email: awong@yuantung.com.hk
Salina Cheng, Tel: +852 3428 5691, Email: salcheng@yuantung.com.hk
Agnes Yiu, Tel: +852 3428 5690, Email: ayiu@yuantung.com.hk

HKTDC's Communications & Public Affairs Department:
Katy Wong, Tel: +852 2584 4524, Email: katy.ky.wong@hktdc.org
Clayton Lauw, Tel: +852 2584 4472, Email: clayton.y.lauw@hktdc.org
Sunny Ng, Tel: +852 2584 4357, Email: sunny.sl.ng@hktdc.org

Hong Kong Sports and Leisure Expo, World of Snacks
HKTDC's Communications & Public Affairs Department:
Kate Chan, Tel: +852 2584 4239, Email: kate.hy.chan@hktdc.org

Source: HKTDC

Copyright 2023 ACN Newswire . All rights reserved.