HONG KONG, July 4, 2023 - (ACN Newswire) - The sixth edition of Start-up Express, an entrepreneurship development programme organised by the Hong Kong Trade Development Council (HKTDC), came to a successful conclusion today. The judging panel at the in-person Final Pitching, held at the Hong Kong Convention and Exhibition Centre, selected 10 winning start-ups from 20 finalists. The My Favourite Start-up Award, decided through live polling of the audience, was awarded to Meat The Next, while the ESG Award went to Negawatt Technology in recognition of its sustainable and socially impactful business solution. The 10 winning teams will participate in a series of local and international events to develop their businesses by building connections, exploring markets, seeking partners and enhancing brand awareness.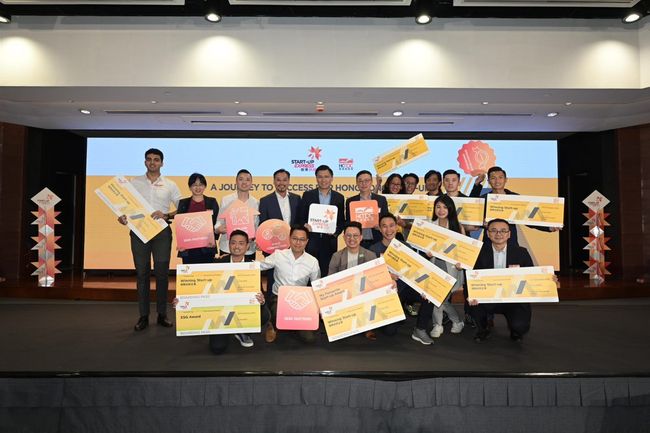 The Start-up Express Final Pitching winners pictured together with the judging panel and special guests.



The record number of applications for Start-up Express 2023 reflected the great enthusiasm of Hong Kong's entrepreneurs. The 20 finalists come from diverse sectors such as ed tech, con (construction) tech & prop tech, fintech, health tech, as well as metaverse, Web 3.0, smart city, HR tech and food tech. More than 100 industry players were invited to attend the Final Pitching Day in person, including investors, business leaders, representatives from overseas entities and more. Booths were also set up during the event to showcase Start-up Express past winners and finalists, in addition to demo-pitch from secondary school teams.

Stephen Liang, Assistant Executive Director of the HKTDC, said Hong Kong start-ups were highly adaptive and had shown great resilience during the COVID-19 pandemic. "We're still at an initial phase of post-COVID-19 recovery, when the global economic outlook is still uncertain. Investors remain conservative, and start-ups are in need of more support. Finalists of this year's Start-up Express have developed products with advanced technology, and they have great potential to become unicorns. With business matching via HKTDC's physical and online platforms to help start-ups connect with international investors and partners, we will step up efforts to promote local innovations to the world, and grasp post-COVID-19 opportunities," Mr Liang said.

Diverse opportunities offered to winning start-ups

Final Pitching contestants presented innovative business ideas and responded to questions raised by a distinguished panel of judges. This year's judging panel comprises five renowned industry experts: Jason Chiu, Chairman of Hong Kong Startup Council; Gordon Yen, Chairman of Hong Kong Business Angel Network; Winnie Han, Head of China Issuer Services/ Senior Vice President, Hong Kong Exchanges and Clearing Limited; Ben Cheng, President and Chief Executive Officer of C Capital; and Danny Yeung, Co-founder and Chief Executive Officer of Prenetics. The 10 winning start-ups are: Big Bang Academy, DimOrder, Haofood, Kodifly, Meat the Next, Moongate, Negawatt Technology, Neuropix, Rocket Academy, and Syngular Technology (click here to download the list of winners and their company profiles). The HKTDC will arrange a series of exposure opportunities through which the winning teams can interact with buyers and investors.

Outstanding presentations at Final Pitching

Jason Chiu, Chairman of Hong Kong Startup Council is a third-time judge of the programme. He said: "I am thrilled to participate in this year's Final Pitching. Entering its sixth edition, Start-up Express' competition is fiercer than ever, and each team displayed enormous growth potential. The industry verticals of the finalists this year were also more diverse, ranging from Web3.0 to con tech, which demonstrates their innovative thinking and proves the capability of Hong Kong tech talents. It is encouraging to see how vibrant the Hong Kong start-up ecosystem is becoming, with the number of start-ups increasing over the past few years. The winning teams this year will leverage the unique platform of Start-up Express to obtain more business opportunities and connections, and explore the Mainland and overseas markets."

Danny Yeung, Co-founder and Chief Executive Officer of Prenetics, who led his start-up to unicorn status, gave insightful advice to the finalists. He said: "It is definitely challenging for early-stage companies to gain a foothold in competitive markets. I am happy to see that the HKSAR government is strengthening its support to the innovative & tech sector; Start-up Express is also a meaningful programme for start-ups to connect with investors and business leaders. He also cheered for start-ups: "The journey of building a start-up is never easy. Founders must keep an eye on the latest market trends and make unremitting efforts, in order to scale-up in the challenging business environment."

Grasping the market pulse and building a global network

Start-up Express gives start-ups the chance to promote their business ideas. They can take part in exhibitions in Mainland China and overseas, and investor meetings in Hong Kong and the mainland. They can also strengthen their business networks, as well as expand their markets and businesses through the exposure they have gained.

Dr Martin Zhu, Co-founder of i2Cool, a winner last year, said: "Through Start-up Express, we have unlocked many publicity opportunities. HKTDC's global network also helped us obtain many new customers from all over the world. For example, at last year's Entrepreneur Day, we met with a construction company from the Philippines, and signed a large-amount business order with them on the spot. All of these are valuable opportunities offered by Start-up Express."

Start-up Express International returns in December

The HKTDC has always given its full support to Hong Kong's entrepreneurial ecosystem, helping to maintain the city's status as a competitive business centre and hub for innovation. Launched in 2022, Start-up Express International has attracted participants from around the world, including the United States, Germany, Japan, Korea, Turkey, Singapore and more. 10 winners were selected and exchange sessions were arranged between them and the Hong Kong start-up winners. Start-up Express International will return during Entrepreneur Day in December. The HKTDC will support the winning international start-ups to set up their businesses in Hong Kong, as well as to explore the mainland and Greater Bay Area markets.

Start-up Express website: https://portal.hktdc.com/startupexpress/en/
Photo download: https://bit.ly/3CVHKAH

About HKTDC

The Hong Kong Trade Development Council (HKTDC) is a statutory body established in 1966 to promote, assist and develop Hong Kong's trade. With 50 offices globally, including 13 in Mainland China, the HKTDC promotes Hong Kong as a two-way global investment and business hub. The HKTDC organises international exhibitions, conferences and business missions to create business opportunities for companies, particularly small and medium-sized enterprises (SMEs), in the mainland and international markets. The HKTDC also provides up-to-date market insights and product information via research reports and digital news channels. For more information, please visit: www.hktdc.com/aboutus. Follow us on Twitter @hktdc and LinkedIn

Media enquiries
Please contact HKTDC's Communications & Public Affairs Department:
Jane Cheung, Tel: +852 2584 4137, Email: jane.mh.cheung@hktdc.org

Source: HKTDC

Copyright 2023 ACN Newswire . All rights reserved.