HONG KONG, Aug 17, 2023 - (ACN Newswire) - Organised by the Hong Kong Trade Development Council (HKTDC), the eagerly anticipated HKTDC Food Expo, HKTDC Beauty & Wellness Expo, and HKTDC Home Delights Expo has grandly opened from today to 21 August at the Hong Kong Convention and Exhibition Centre (HKCEC) for five consecutive days. The three-day inaugural Food Expo PRO also kicked off this morning with the returning Hong Kong International Tea Fair at the same venue from today to 19 August. Moreover, the International Conference of the Modernization of Chinese Medicine and Health Products (ICMCM), organised by the Modernized Chinese Medicine International Association (MCMIA) together with the HKTDC and eight scientific research institutions, runs concurrently today and tomorrow. Guest of honour Michael Wong, Deputy Financial Secretary of the Hong Kong Special Administrative Region (HKSAR), officiated at this morning's opening ceremony for the concurrent fairs, joined by Dr Peter K N Lam, Chairman of the HKTDC, and Margaret Fong, Executive Director of the HKTDC.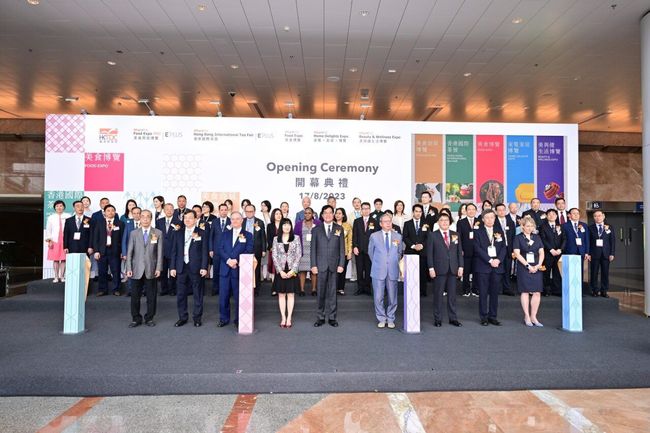 The 33rd Food Expo, the seventh Beauty & Wellness Expo, the ninth Home Delights Expo, along with the inaugural Food Expo PRO and the 14th Hong Kong International Tea Fair jointly and officially opened today.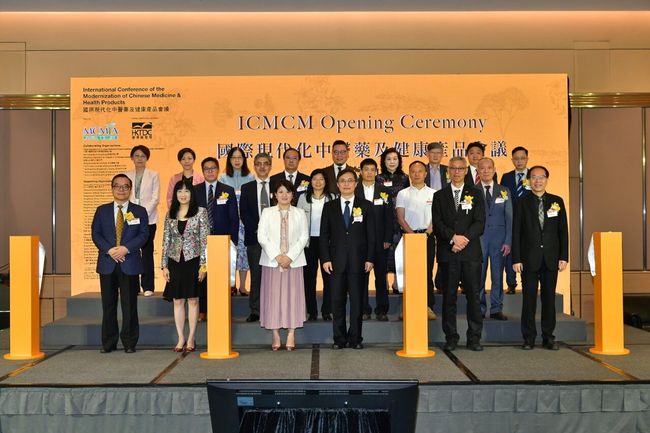 Officiating guests at the opening ceremony of the International Conference of the Modernization of Chinese Medicine & Health Products (ICMCM)
Starting from today until 21 August, the five-day Food Expo opens for the public to visit. On the opening day, the Public Hall of the Food Expo once again attracted huge crowds.



Welcoming guests to the fairs at the opening ceremony today, Dr Lam said: "Our flagship Food Expo and its concurrent events attracted more than 1,800 exhibitors and group pavilions from 24 countries and regions. The Trade Hall of the Food Expo has been renamed as Food Expo PRO this year. These fairs showcase an amazing variety of quality products and underline Hong Kong's position as Asia's leading hub for business. I am particularly grateful to the HKSAR Government for enabling small and medium-sized enterprises to participate in trade and public exhibitions through various funding schemes, and the Consumer Voucher Scheme for providing the public with an exciting shopping experience. We hope that the various exhibitions will help the trading industries expand their business network, and everyone will return home with a rewarding experience."

Food Expo PRO - Building a trade network and presenting the latest and specialised food trends (17-19 August)

This year, the Food Expo's Trade Hall is renamed as Food Expo PRO. Today and tomorrow (18 August) the Expo will be open to trade buyers, while the last day (19 August) will be for the public and trade buyers. The Food Expo PRO showcases food and beverage products from 20 countries and regions, with 21 pavilions from Indonesia, Japan, Korea, Mexico, Poland, Thailand, and from Mainland China's provinces including Fujian, Heilongjiang, Hunan, Jilin, Sichuan, Zhejiang, and more.

Global exhibitors are showcasing a vast array of food, services, and technology that reflect the latest product trends, such as Mexico's Agave Syrup (Booth: 5C-C18A), Korea's flavoured pickled seafood, which is the female blue crab marinated with glasswort and soy sauce (Booth: 5B-E15), Thailand's freeze dried mango with sticky rice (Booth: 5C-A24), and Sakura Brightening soft gel capsule (Booth: 5B-B01). From food and beverage to health and wellness, the Expo has it all.

More industry-specific and tech-related insights are also provided at the fair alongside a wide range of exhibits. The new Food Science and Technology Zone showcases innovative food processing technologies, such as peanut protein-based and alternative plant-based chicken products (Booth: 5C-A29) developed by food tech start-ups, and non-alcoholic beers (Booth: 5C-E24) developed by local academic institutions. Two Food Tech Symposium sessions have been scheduled during the fair, with the Hong Kong Productivity Council, the Controlled Environment Hydroponic Research and Development Centre and the Technological and Higher Education Institute of Hong Kong discussing the development of emerging technologies in the food industry in Hong Kong (17 August), and food technology start-ups sharing how technology is reshaping the F&B and retail industries (18 August).

Hong Kong International Tea Fair - The charm of tea cultures (17-19 August)

The 14th Hong Kong International Tea Fair is open to trade buyers on the first two days (17 and 18 August) of the fair, and to the public and trade buyers on the last day (19 August). There are 10 pavilions, including the debut participation of Kenya Pavilion, and returning exhibitors from Sri Lanka, and Mainland China's Fujian, Guizhou, Hunan, and Jiangsu provinces, exhibiting famous teas, tea products and tea wares. Select products include the Purple Tea originating from Kenya (Booth: 5G-D02), a modern version of Chaoshan Gongfu Tea that is brewed innovatively with a new method (Booth: 5F-E30), the Organic Jasmine Dragon Pearls that are produced by scenting high-quality green tea with freshly picked jasmine buds (Booth: 5G-B25), amongst others.

The Tea Fair also features several exciting events, including the KamCha Workshop (19 August), the Tea Forums (19 August), and the International Tea Arts Performance (17 to 18 August). The Hong Kong International Tea Fair Tea Competition 2023 has been one of the highlights of the Expo, with awards such as "The Best Aroma Award" and "The Best Taste Award", selected by professional tea judges in a blind tasting. The public and buyers will be able to taste the winning teas for free on the morning of 19 August and enjoy the rich flavours in the winning teas.

The two trade fairs continue to be held under the hybrid EXHIBITION+ model, allowing global food and tea buyers to view exhibitors recommended by AI, and to arrange and conduct online meetings with exhibitors through the smart business matching platform Click2Match from today to 26 August, in addition to the physical trade fairs. For the first time, the Food Expo PRO and Hong Kong International Tea Fair are piloting a brand-new Scan2Match function that brings communications from offline to online. Buyers can scan exhibitors' unique QR codes using the HKTDC Marketplace app during the exhibition period, bookmark their favourite exhibitors, browse product information, and continue to chat with exhibitors online during or after the exhibition period, thereby extending their sourcing journey.

Food Expo - A culinary voyage around the world (17-21 August)

The 33rd edition of the Food Expo presents the Public Hall and Gourmet Zone. The five-day Public Hall (17 to 21 August) showcases global cuisines and dining options from around the world, including the Mainland China Agri pavilion, which is exhibiting high quality speciality agricultural products from 67 enterprises across 10 provinces, including trendy prepared and ready meals (Booth: 3C-A02). The Public Hall also features frozen dried ice cream from Thailand (Booths: 3B-D06 and 3D-A06), an organic Korean black garlic juice with 100% natural black garlic extract (Booth: 3B-C04), an Italian Fruit Paccherini made with premium durum wheat semolina and natural fruit puree-juice (Booth: 3C-D07). The Public Hall also features various exhibitors, including more than 30 well-known brands, such as Maxims, Tai Pan, Nissin, Sau Tao, Tao Ti, Kee Wah Bakery, Wing Wah, and Four Seas Group in the Premium Food Zone.

The Gourmet Zone features the finest cuisines assembled from all around the world, and comprises seven thematic zones, namely Asian Cuisine, Western Delicacy, Sweet Delight, Green Palate, Coffee Avenue, Beer Cheers, and an exciting new addition, Wine Whisky Wonderland along with the additional Korean food zone, K-Food. The thematic zones bring a wide range of food and beverage options, including Kyeongbokgung LA BBQ ribs (Booth: 3B-C02), an aged cocktail with taste of the ocean (Booth: 3B-F02), rich ice-cream made out of freshly handcrafted nut butters (Booth: 3B-E04), the first handmade truffle milk tea in Hong Kong (Booth: 3B-D11), and a local mead brand (Booth: 3B-C13).

Once again, there will be the ever-popular cooking demonstration at the Star Kitchen. This year, the Star Chef Cooking Demonstration will cover 18 sessions at the Food Expo. These will include Ronald Shao, Executive Chef of Mian; Hung Chi Kwong, Executive Chinese Chef of Run at St. Regis Hong Kong; Adam Wong, Executive Chef of Forum Restaurant Ah Yat Abalone; Chan Sai Fai, Executive Chef (Dim Sum) of Chuan Palace; Au-Yeung Chung Kei, Executive Chef of YUE; and Olivier Elzer, French founder, and mastermind behind Clarence.

Other activity highlights at the Food Expo include:

- Culinary master classes on "Less Salt and Sugar" recipes to encourage the public to develop healthy eating habits (17 August)

- Interesting tutorials and various activities on various food and beverages, will include "Lodi in USA and Its Grape Zinfandel Lecture and Wine Tasting", "Exploring New Frontier of Coffee: World-Class Judge Leads You Into the Revolutionary Wave of Specialty Coffee" , and "Hanwoo (Korean Beef) Cooking Demonstration", all taking place on 18 August.

- A series of seminars covering topics such as the "'EatSmart Restaurant Star+', for All!" event co-organised by the HKTDC with the Department of Health (17 and 18 August), "Master Chef Kitty Siu - 10 Minutes Meal" (19 August), a "Getting Matchy with Eagle Coin and Campari" session hosted by Ricky Cheung (20 August), and a session on "Current Development of Frozen Prepared Meal and Microwave Food" (21 August)

- Hosted by media veteran Jacky Chan, Chef's Dialogue features three renowned Hong Kong chefs who will share their tips on cooking, eating and ingredient selection (19 August)

Beauty & Wellness Expo - Rejuvenating the natural beauty from within (17-21 August)

The seventh Beauty & Wellness Expo will showcase a wide range of beauty, cosmetic, hairdressing, fitness, and wellness products. In addition to the major pavilions hosted by the Federation of Beauty Industry (H.K.), Hong Kong Hair & Beauty Merchants Association, International Beauty & Health General Union, Cosmetic & Perfumery Association of Hong Kong Ltd, and Hong Kong China Federation of Bodybuilding & Fitness, there will be new pavilions presented by the International CICA Association of Esthetics and Association of International Aesthetics Management, showcasing a wide range of Hong Kong-made beauty and skincare products to satisfy consumers who are looking for both beauty and fitness. For instance, the Advanced Derma Laser Skin Peel that is infused with natural extracts from seven alpine botanicals (Booth: 3E-B02), the Cytopeutic Eczema Cream that helps purify and extract microRNA from natural stem cells (Booth: 3D-D14), the Pharmano 30-day Hair Growth Package (Booth: 3E-A22), Aroma Sachet with essences of verbena and mint (Booth: 3E-A19), and more. In addition, the Hieggo Pavilion will be exhibiting for the first time at the Beauty & Wellness Expo, bringing a wide range of health products, with Lawrence Cheng and other guests sharing wellness knowledge at the fair.

A series of informative and exciting activities have been scheduled during the Expo, including an "Introduction to Mental Health" sharing session organised by Mind HK (20 August); a preview of the 2023 IFBB Hong Kong Fitness Awards Charity Open Championship (18 August); a seasonal autumn/winter make-up demonstration by expert Edmon Wong (17 August); and seminars on topics such as Japanese manicure (18 August), slimming and nutritional dieting (20 August), and more.

Home Delights Expo - Igniting an ideal smart home (17-21 August)

The ninth Home Delights Expo showcases smart home products, kitchen appliances, kitchenware, tableware, and household products. The Avenue of Delights features over 40 exhibitors and several lifestyle brands, including Towngas, ZWILLING JA Henckels, A-Fontane, LAURASTAR, Tiger, and German Pool. The Expo will present new home products, including MasterMind, an AI massage chair equipped with voice control and bespoke functions (Booth: 3F-C02), the Bursa cassia seed and lavender herbal neck pillow (Booth: 3F-D18), a multifunctional electric cooker (Booth: 3F-A18), and the LAURASTAR IGGI Hygiene Handheld Steamer (Booth: 3F-D22).

This year, the Hong Kong Furniture and Decoration Trade Association pavilion continues to showcase home design elements that integrate technology into people's daily lives to build an ideal smart home. In addition, the Creative Corner provides a platform for young start-ups to promote and sell their products. Apart from cultural and creative products, the public can participate in exciting activities such as dried flower gift making workshops.

ICMCM - High-level experts will discuss the inheritance and innovation of traditional Chinese medicine (17-18 August)

The Modernized Chinese Medicine International Association, together with the HKTDC and eight scientific research institutions, present the latest International Conference of the Modernization of Chinese Medicine & Health Products (ICMCM), offering invaluable Chinese medicine insights and information for industry participants. This year's theme is "Inheritance and Innovation of Traditional Chinese Medicine", featuring 18 keynote speakers from the United Kingdom, Singapore, Japan, Korea, Mainland China, and Hong Kong who will discuss new Chinese medicine research and development and share successful product commercialisation cases. Running in a hybrid format, the conference stimulates and facilitates the exchange of ideas among speakers and participants. By attending the conference, registered Chinese medicine practitioners in Hong Kong may also apply for Continuing Medical Education (CME) credits.

Electronic payment with Consumption Voucher Scheme comes in handy and daily lucky draw

With the second instalment of the Consumption Voucher Scheme rolled out, the HKTDC has been encouraging exhibitors to embrace electronic payment methods to streamline transactions and enable a more convenient and efficient shopping experiences for the public. There will be a "Lucky Draw" taking place daily during the exhibition period with prizes including hotel accommodation and buffet vouchers, homeware, skincare products, gourmet food, health products and fitness classes.

Spending HK$200 or more on a single receipt allows visitors to enjoy one lucky draw entry, with a maximum of five entries per receipt. The HKTDC's promotional website, "August Happy Buy", continues to help the public keep abreast of the latest shopping information, various flash sales, "HK$1" offers and more than 160 shopping coupons will be given away. In addition, the HKTDC has also launched a "BYO Utensils for Bonus Rewards" campaign during the Food Expo and concurrent events to encourage people to support environmental protection, and some exhibitors give bonus offers to those who bring their own utensils.

E-tickets are available for sale at AlipayHK, Alipay (HKTDC's ticketing partner), which offers a HK$3 and Rmb3 discount for every transaction. Other sales outlets include the 01 Space e-ticketing platform, all 7-11 and Circle K convenience stores, and via the Octopus App. Physical ticket sales for the August exhibitions will not be available at the fairground. Instead, toll booths will be set up at the entrance to allow visitors to use their AlipayHK, Alipay, or Octopus card for admission instantly. The HKTDC has also extended the discounted morning and night admission tickets for the public to visit the exhibitions during non-peak hours on designated dates.

HKTDC Food Expo PRO http://foodexpopro.hktdc.com
HKTDC Hong Kong International Tea Fair http://hkteafair.hktdc.com
HKTDC Food Expo http://hkfoodexpo.hktdc.com
HKTDC Beauty & Wellness Expo http://hkbeautyexpo.hktdc.com
HKTDC Home Delights Expo http://homedelights.hktdc.com
The International Conference of the Modernization of Chinese Medicine and Health Products (ICMCM) http://icmcm.hktdc.com
August Happy Buy website http://ecoupon.hktdc.com/food/
Photo download: http://bit.ly/3KIbc1v

About HKTDC

The Hong Kong Trade Development Council (HKTDC) is a statutory body established in 1966 to promote, assist and develop Hong Kong's trade. With 50 offices globally, including 13 in Mainland China, the HKTDC promotes Hong Kong as a two-way global investment and business hub. The HKTDC organises international exhibitions, conferences and business missions to create business opportunities for companies, particularly small and medium-sized enterprises (SMEs), in the mainland and international markets. The HKTDC also provides up-to-date market insights and product information via research reports and digital news channels. For more information, please visit: www.hktdc.com/aboutus. Follow us on Twitter @hktdc and LinkedIn

Media enquiries

HKTDC's Communications and Public Affairs Department:
HKTDC Food Expo, HKTDC Beauty & Wellness Expo
Kate Chan, Tel: +852 2584 4239, Email: kate.hy.chan@hktdc.org

HKTDC Food Expo PRO, HKTDC Hong Kong International Tea Fair, ICMCM
Frankie Leung, Tel: +852 2584 4298, Email: frankie.cy.leung@hktdc.org

HKTDC Home Delights Expo
Clementine Cheung, Tel: +852 2584 4575, Email: clementine.hm.cheung@hktdc.org

Source: HKTDC

Copyright 2023 ACN Newswire . All rights reserved.