HONG KONG, Aug 24, 2023 - (ACN Newswire) - Asia's premier fashion event CENTRESTAGE will be held from 6 to 9 September at the Hong Kong Convention and Exhibition Centre. The four-day event will feature runway shows, curated presentations, and interactive seminars and forums on fashion trends and sustainability. Cutting-edge concepts and designs will be unveiled at the event, which will shed light on the latest in fashion.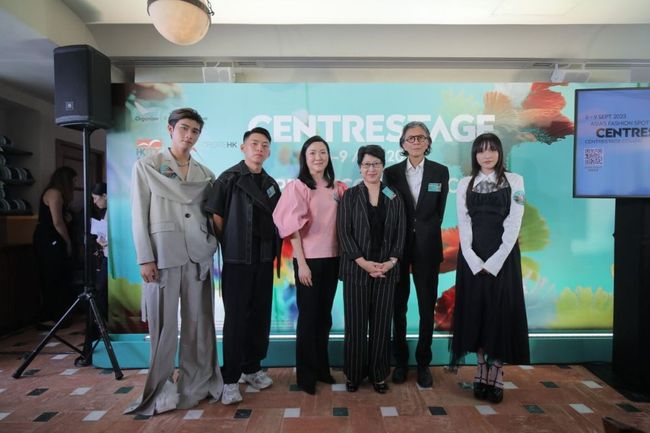 HKTDC's Deputy Executive Director Sophia Chong (3L), HKTDC Garment Advisory Committee Chairman Katherine Fang (3L) and The Hong Kong Research Institute of Textiles and Apparel CEO Edwin Keh (2R) share highlights of CENTRESTAGE and the latest industry trends at the CENTRESTAGE press conference.



The annual fashion extravaganza, now in its eighth year, is organised by the Hong Kong Trade Development Council (HKTDC), with Create Hong Kong (CreateHK) of the Government of the Hong Kong Special Administrative Region* as the Lead Sponsor.

Sophia Chong, Deputy Executive Director of HKTDC, said, "The public's awareness of health and well-being has grown exponentially in recent years. Appropriately, CENTRESTAGE embraces the theme ''Radiant Wellness" this year. With over 210 brands from 18 countries and regions participating, the exhibition is open exclusively to fashion buyers on the first two days, and welcomes both buyers and the public on the final two days, allowing fashionistas to browse the latest designs."

Emerging Designers Unveil Collections, Fusion of Local Fashion and Ballet

The opening gala show, CENTRESTAGE ELITES, spotlights the latest collection from acclaimed Hong Kong designer, Wilson Choi, and his premium streetwear brand, REDEMPTIVE. Wilson's designs have graced prominent runways around the world, including Paris Fashion Week, and he was a finalist for the YU PRIZE at Shanghai Fashion Week.

Additionally, the event will feature the debut of FETICO, a women's brand founded by Emi Funayama from Japan, who will present her Spring/Summer 2024 collection for the very first time. Emi, a recipient of the TOKYO FASHION AWARD and JFW NEXT BRAND AWARD in 2022 and 2023, respectively, infuses her designs with a captivating and timeless retro charm.

At this year's Fashion Hong Kong Runway Show, the talented dancers of the Hong Kong Ballet will showcase the latest collections from four renowned Hong Kong fashion brands: 112 mountainyam, ANGUS TSUI, DORISKATH and SUN=SEN.

CENTRESTAGE will also feature Brand Collections' Shows and Designers' Collection Shows. The former will showcase renowned Hong Kong fashion brands, while the latter will highlight the best creations from different fashion designers. The Hong Kong Kids Fashion Show which is always a hit with fashion-loving parents, will also be held.

Pioneering Sustainability in Fashion

CENTRESTAGE is thrilled to welcome esteemed institutions, such as the Hong Kong Polytechnic University's School of Fashion and Textiles (PolyU SFT), Hong Kong Design Institute (HKDI), Fashion Farm Foundation (FFF) and the Hong Kong Woollen & Synthetic Knitting Manufacturers' Association, which will present innovative creations from Hong Kong fashion brands.

Furthermore, the Indonesian Consulate General in Hong Kong, a first-time participant of CENTRESTAGE, Macau Productivity and Technology Transfer Center, and institutions and fashion showrooms from Japan and South Korea will bring their unique and vibrant designs to Hong Kong.

With sustainable fashion a growing trend, CENTRESTAGE will feature renowned brands and organisations that champion sustainable development. Participating brands include DETERMINANT, a local brand using sustainable dyeing techniques, and The Billie, a recycled fashion brand by Novetex Textiles. Hong Kong brands Absurd Laboratory, Rou So and WHY, Earlyink from Macau, XAVAN from Vietnam, and PCES and Pei-wen Jin from Taiwan and more will also be featured.

Heavyweight speakers from Novetex Textiles and Redress will host a seminar on sustainability. CENTRESTAGE will stage the final of the world's largest sustainable fashion design competition, the Redress Design Award 2023, organised by Redress with CreateHK as the Lead Sponsor.

Moreover, the Partners for Progress Forum held by the Hong Kong Research Institute of Textiles and Apparel (HKRITA) will look at how interdisciplinary collaboration drives innovation in the textile and apparel sector. Shanghai's Jiemian News, a subsidiary of Shanghai Media Group, will host its annual fashion summit at CENTRESTAGE to discuss trends, challenges and opportunities in fashion, make-up and skincare.

Giovanni Musillo, representing OnTheList, will analyse the latest market and consumer trends at the Fashion Trend Forum. Representatives from The Hong Kong Polytechnic University, Stratasys AP Ltd and CLO Virtual Fashion will also enlighten attendees about the latest developments in digital fashion.

Nurturing Local Talents, Discovering Stars of Tomorrow

CENTRESTAGE continues to shine a spotlight on local emerging design talents. The FASHIONALLY Collection #21, a fashion showcase held on the opening day on 6 September, will feature eight home-grown designer brands, including FromClothingOf, Lapeewee, MARCCH, MOODLABBYLORRAINE, POISSON, NONOBO, VO-YAGE, and WHY. Furthermore, three FASHIONALLY presentations will take place from 6 to 7 September, at which three emerging local fashion brands, Kin Yan Lam, the Hole, and IP-AXIS INDUSTRIAL, will unveil their latest creations.

The final of the Thread of Creativity - Fashion Design Competition 2023. organised by the Asian New Generation Creativity Design Association. will also take place at the event.

Furthermore, the finale of the Hong Kong Young Fashion Designers' Contest (YDC) will take place on 9 September, with MINI Hong Kong as the event's lead sponsor for the seventh consecutive year. An esteemed panel of judges, including Han Chong, the mastermind behind self-portrait, will select the contest winners. The 10 shortlisted designers will compete for multiple honours, including Champion, the Excellence Award and the Best Visual Presentation Award. For the My Favourite Collection Award, members of the public can vote for their favourite collection online from now until 8 September to be in with a chance to win one of five HK$3,000 Lee Gardens Area e-gift coupons, sponsored by Hysan Development. Vote now: https://bit.ly/YDC2023_VOTENOW.

This year's event will once again feature various digital fashion and artificial intelligence (AI) concepts. Among others, AI will be utilised to create AI models that will appear throughout the fairground, showcasing various designers' creations.

CENTRESTAGE will be held concurrently with the Hong Kong Watch & Clock Fair and the Salon de TE, providing attendees with a one-stop opportunity to explore both branded fashion and timepieces.

CENTRESTAGE X Watch & Clock Lucky Draw will be held on 9 September, offering participants a chance to win exciting prizes.

Websites
CENTRESTAGE: www.centrestage.com.hk
CENTRESTAGE Visitor Pre-registration: https://bit.ly/3QNzd7M
Fashion Hong Kong: https://www.fashionhongkong.com.hk/tc
Hong Kong Young Fashion Designers' Contest (YDC): www.fashionally.com/en
Photo Download: https://bit.ly/3qxWzqQ

Media enquiries
Best Crew Public Relations & Marketing
Diana Tang, Tel: +852 9199 6723, Email: diana.tang@bestcrewpr.com
Reni Kwok, Tel: +852 6291 4283, Email: reni.kwok@bestcrewpr.com

The HKTDC's Communications and Public Affairs Department:
Katy Wong, Tel: +852 2584 4524, Email: katy.ky.wong@hktdc.orgJanet Chan, Tel: +852 2584 4369, Email: janet.ch.chan@hktdc.org
About HKTDC

The Hong Kong Trade Development Council (HKTDC) is a statutory body established in 1966 to promote, assist and develop Hong Kong's trade. With 50 offices globally, including 13 in Mainland China, the HKTDC promotes Hong Kong as a two-way global investment and business hub. The HKTDC organises international exhibitions, conferences and business missions to create business opportunities for companies, particularly small and medium-sized enterprises (SMEs), in the mainland and international markets. The HKTDC also provides up-to-date market insights and product information via research reports and digital news channels. For more information, please visit: www.hktdc.com/aboutus. Follow us on Twitter @hktdc and LinkedIn

About Create Hong Kong

Create Hong Kong (CreateHK) is a dedicated office set up by the Government of the Hong Kong Special Administrative Region (HKSAR Government) in June 2009 to spearhead the development of creative industries in Hong Kong. From 1 July 2022 onwards, it is under the Culture, Sports and Tourism Bureau. Its strategic foci are nurturing talent and facilitating start-ups, exploring markets, promoting cross-sectoral and cross-genre collaboration, and promoting Hong Kong as Asia's creative capital and fostering a creative atmosphere in the community.

*Disclaimer: The Government of the Hong Kong Special Administrative Region provides funding support to the project only, and does not otherwise take part in the project. Any opinions, findings, conclusions or recommendations expressed in these materials/events (or by members of the project team) are those of the project organisers only and do not reflect the views of the Government of the Hong Kong Special Administrative Region, the Culture, Sports and Tourism Bureau, Create Hong Kong, the CreateSmart Initiative Secretariat or the CreateSmart Initiative Vetting Committee.

Source: HKTDC

Copyright 2023 ACN Newswire . All rights reserved.