HONG KONG, Sept 11, 2023 - (ACN Newswire) - Asia's premier fashion event CENTRESTAGE, organised by the Hong Kong Trade Development Council (HKTDC) with Create Hong Kong (CreateHK) of the Government of the Hong Kong Special Administrative Region (HKSAR)* as the Lead Sponsor, concluded successfully on Saturday. Extreme weather conditions temporarily suspended the fair on Friday, 8 September but the three exhibition days still attracted more than 7,700 buyers from 78 countries and regions visiting and making purchases. Notably, buyer numbers from the Middle East, Mainland China and ASEAN countries recorded significant growth, affirming the exhibition as a popular international platform for promoting and launching fashion brands.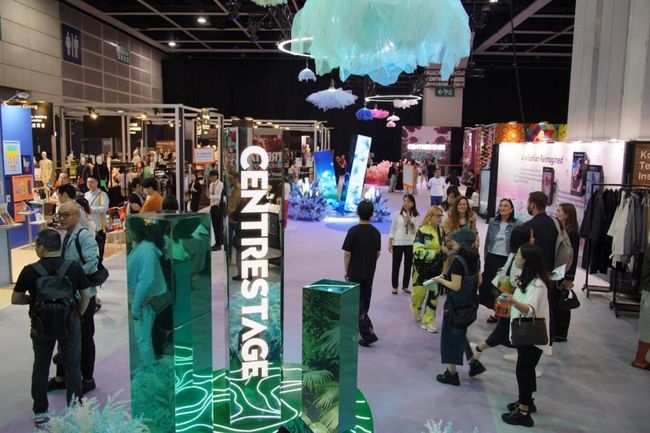 The eighth edition of CENTRESTAGE brought together more than 240 fashion brands from 19 countries and regions, attracting more than 7,700 trade buyers to visit and buy.



HKTDC Deputy Executive Director Sophia Chong said: "CENTRESTAGE brought together fashion brands from all over the world and serves as an important platform for promotion, trade and exchange in Asia. We actively invited local and overseas buyers to visit the show, including well-known retailers and buyers from France, the United Kingdom, Germany, Japan, Indonesia, and more. Our goal is to assist local brands in entering the international market and expand their business footprint. CENTRESTAGE stays closely attuned to global trends and, in this year's fair, has infused a substantial amount of digital fashion and sustainable development elements. We also provided valuable platforms for fostering the exchange of ideas, joining forces with the industry to drive innovation."

85% of respondents named Hong Kong as their top choice for physical trade fairs

To gauge fashion industry outlook and product-trend views, the HKTDC interviewed 350 exhibitors and buyers in an on-site survey during CENTRESTAGE.

Hong Kong-designed fashion products were of the same quality as those in developed markets, 67% of respondents believed, while 85% of respondents named Hong Kong as their top choice for physical trade fairs. This reflects Hong Kong's significant position in the global fashion industry.

Most respondents were optimistic view on overall sales for next year, with about 60% of respondents anticipating growth in sales within the next 1 to 2 years, while 37% even expected an increase within six to twelve months.

As business travel gradually resumed, 30% of participants anticipated a return of business growth to pre-pandemic levels within a year, while 26% believed it may take a year and half.

The rise in demand in emerging markets and recovering consumer purchasing power were seen as key business opportunities this year, with approximately 45% of respondents expressing this view for each aspect. Simultaneously, more than 60% perceived the fluctuations of global economy as the major challenge.

The pandemic impacted business operations but also accelerated the widespread move of business to online channels. For 47% of respondents, half or more of sales/purchases over the past six months were conducted online. Moreover, 78% of participants anticipated half or more of their sales/purchases would take through online channels in the next two years. Of the respondents 36% named hktdc.com Sourcing as their top online trading platform used in the past six months.

Industry highlights the importance of sustainability

The survey revealed a growing emphasis on sustainable fashion; 74% of respondents agreed this would be prevalent in the industry this year.

CENTRESTAGE opened to the public on its final day. More than 30 fashion shows and events were organised throughout the fair, attracting enthusiastic participation from both industry professionals and the general public. HKTDC partnered with various organisations to host events promoting sustainable development in the industry. The fair also featured the participation of multiple local and international fashion brands that embrace sustainable practices.

CENTRESTAGE has successfully created business opportunities for exhibitors and buyers. Established in 2019, the Hong Kong sportswear brand ARTY:ACTIVE uses 100% recycled fibre. Through CENTRESTAGE, the brand has connected with customers from Mainland China in the past, providing clothing design services. It also successfully entered the Malaysian market through another HKTDC event. The brand returned to CENTRESTAGE this year and achieved satisfying results. Founder Gary Tsang said: "Our aim was to promote our brand and expand into the international market. We are pleased to share that among the buyers we met at the fair, eight buyers from Thailand, Korea, Cambodia and Vietnam are planning to place orders, resulting in a total business value reaching seven-digit Hong Kong dollars. We have successfully accomplished all the goals we set for our participation."

Rachael Spink, Senior Buyer from Etoile Group, UAE, visited the fair to source fashions for their five Etoile La Boutique outlets across the Middle East, including Dubai, Abu Dhabi, Qatar and Saudi Arabia. She said: "We are striving to differentiate ourselves from other stores in the highly competitive Dubai market, which is why I am actively searching for new and exclusive brands. Our customers have a preference for unique fashion choices and I am delighted to discover such options among the talented designers at CENTRESTAGE. During HKTDC's business-matching meetings, we met five brands that demonstrated immense potential. If we proceed with placing orders from them, our estimated purchases would be approximately US$50,000."

Liu Xinyi, the Head of Buying of Chongqing's S.N.D Ltd., expressed that her visit to CENTRESTAGE exceeded expectations. She said: "In the past, we primarily focused on attending fashion weeks in Paris, Milan and Shanghai. This year marked my first time participating in CENTRESTAGE, and I was pleasantly surprised to discover a multitude of emerging design talents. The works of the students were incredibly stunning and mature. Additionally, I had the opportunity to meet with eight designers from Hong Kong, Japan, and Korea through business matchmaking meetings. I plan to further follow up with four of them, as it opens up new partnership opportunities for us."

Websites:
- CENTRESTAGE: www.centrestage.com.hk
- Fashion Hong Kong: www.fashionhongkong.com.hk/en
- Hong Kong Young Fashion Designers' Contest (YDC): www.fashionally.com/en
- CENTRESTAGE ELITES: https://www.youtube.com/watch?v=QKXxxT8ZmD4
- Photo download: https://bit.ly/3Likul3

Media enquiries
For more information, please contact Best Crew
Diana Tang, Tel: +852 3594 6443, Email: diana.tang@bestcrewpr.com
Reni Kwok, Tel: +852 3594 6443, Email: reni.kwok@bestcrewpr.com

The HKTDC's Communications and Public Affairs Department
Katy Wong, Tel: +852 2584 4524, Email: katy.ky.wong@hktdc.org
Janet Chan, Tel: +852 2584 4369, Email: janet.ch.chan@hktdc.org

About HKTDC

The Hong Kong Trade Development Council (HKTDC) is a statutory body established in 1966 to promote, assist and develop Hong Kong's trade. With 50 offices globally, including 13 in Mainland China, the HKTDC promotes Hong Kong as a two-way global investment and business hub. The HKTDC organises international exhibitions, conferences and business missions to create business opportunities for companies, particularly small and medium-sized enterprises (SMEs), in the mainland and international markets. The HKTDC also provides up-to-date market insights and product information via research reports and digital news channels. For more information, please visit: www.hktdc.com/aboutus. Follow us on Twitter @hktdc and LinkedIn

About Create Hong Kong

Create Hong Kong (CreateHK) is a dedicated office set up by the Government of the Hong Kong Special Administrative Region in June 2009 to spearhead the development of creative industries in Hong Kong. From 1 July 2022 onwards, it is under the Culture, Sports and Tourism Bureau. Its strategic foci are nurturing talent and facilitating start-ups, exploring markets, and promoting Hong Kong as Asia's creative capital and fostering a creative atmosphere in the community.

*Disclaimer: The Government of the Hong Kong Special Administrative Region provides funding support to the project only, and does not otherwise take part in the project. Any opinions, findings, conclusions or recommendations expressed in these materials/events (or by members of the project team) are those of the project organisers only and do not reflect the views of the Government of the Hong Kong Special Administrative Region, the Culture, Sports and Tourism Bureau, Create Hong Kong, the CreateSmart Initiative Secretariat or the CreateSmart Initiative Vetting Committee.

Source: HKTDC

Copyright 2023 ACN Newswire . All rights reserved.