HONG KONG, Sept 12, 2023 - (ACN Newswire) - Asia's leading fashion event CENTRESTAGE (Hong Kong International Fashion Showcase), organised by the Hong Kong Trade Development Council (HKTDC), with Create Hong Kong (CreateHK) of the Government of the Hong Kong Special Administrative Region (HKSAR)* as the Lead Sponsor, concluded successfully on 9 September. The grand finale of the event was the Hong Kong Young Fashion Designers' Contest 2023 (YDC), where 10 Hong Kong designers showcased inspiration and creativity in their collections, adopting a variety of styles. Their performance was in line with the Everything is Inspiration theme this year and highlighted the infinite possibilities Hong Kong's fashion-design industry presents. Celebrities Kay Tse, Ansonbean, Lagchun, Jamie Zhang, Indie band The Hertz, Sabrina Ng, Michael Chu, Rachel Leung, Natalie Ho, Wyllis Lam and CK Wong from STRAYZ, Carmina Lo, model Pete, rope skipper Pak Hung Cheung, stylist Ivan Lui and host Brian Chan attended the event.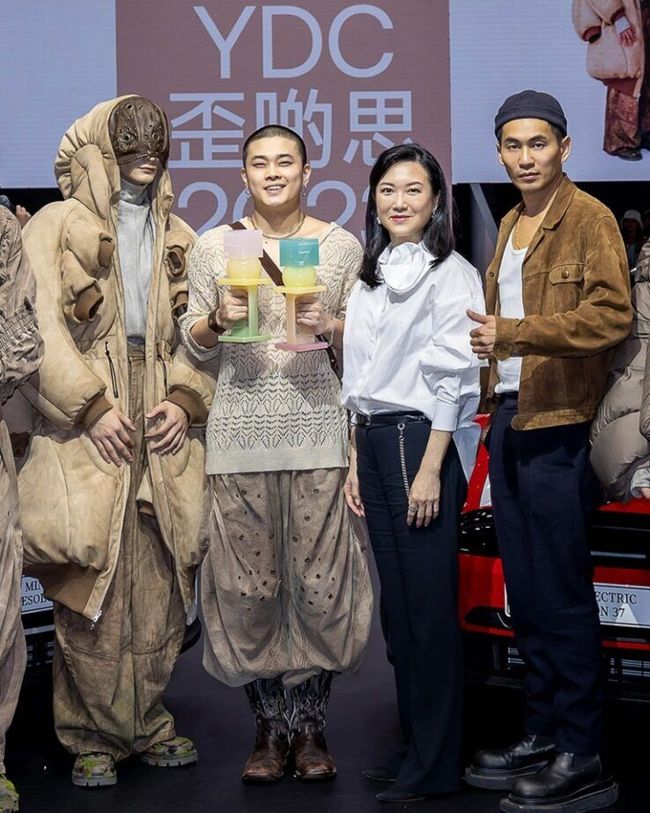 Champion and Best Visual Presentation Award: Jason Ying; Design: Holometabolism



The panel of professional judges selected winners from shortlisted entries, and Jason Ying emerged as champion and Best Visual Presentation Award winner, receiving a cash prize and one-month internship at self-portrait studio, sponsored by Fang Brothers Knitting Ltd.

The winners at YDC 2023 are as follows:

Champion and Best Visual Presentation Award: Jason Ying; Design: Holometabolism

Excellence Award: Johnson Chong; Design: Last Chance Hiking With My Mum

My Favourite Collection Award: Tiger Chung; Design: Whispers From The Nomad - A Folk Horror Tale

Jason Ying graduated from the Queensland University of Technology in Australia two years ago and has been working for a year to perfect his skills in pattern marking and sewing. He is obsessed with structure and form and has incorporated his curiosity for deconstruction and metamorphosis into his creations. In his exploration and imagination of the differences between humans and other species, he attempts to construct the diversity of evolution by using silhouettes, detailed joints and colours. Describing his win, he said: "It's so amazing. I still can't believe it. It feels like I'm in a dream. I want to keep working hard but still need to think about what the next step will be."

Heavyweight judges offer valuable feedback to YDC participants

This year's YDC featured a prestigious panel of judges comprising esteemed figures from the fashion industry and media. The heavyweight judging panel included Katherine Fang, Chairlady of the Hong Kong Trade Development Council's Garment Advisory Committee, who served as the Chief Judge. Other guest judges included Han Chong, Founder and Creative Director of self-portrait; Yu Masui, a fashion journalist and digital content creator; Victoria Tang-Owen, Founder and Creative Director of Thirty30 Creative and Victoria Tang Studio; Jonathan Lee, a brand strategy consultant; Cherry Mui, Fashion Director of Tatler Asia; and Jimmy Chan, APAC Head of Commercial at Goxip Group. Han Chong said: "My favourite moment is to see so many young talents in one place." Yu Masui shared his opinion: "Everyone has a unique style."

The Hertz performed with MINI x Wilsonkaki Collection

MINI Hong Kong continues its partnership as lead sponsor for the seventh consecutive year. MINI HK collaborated with Wilson Yip. His design brand, Wilsonkaki Spring/Summer 2024 collection showcased the MINI's incorporation of sustainability, love and inclusivity. The latest collection showcased at Tokyo Fashion Week. The Hertz performed their new song live for the first time on the runway of Wilsonkaki SS2024 collection.

For the first time, YDC is collaborating with CASETiFY to infuse the inspiration of the 10 shortlisted designers into limited-edition commemorative products of CASETiFY accessories. The four competition winners will also have the opportunity to collaborate with CASETiFY to launch an artist accessories collection, extending their designs to phone accessories. Through this collaboration, local fashion designers will be showcased on a broader stage. The collection will be available for public purchase from 9 October on the official website and all CASETiFY STUDiO stores in Hong Kong. By presenting the YDC performance ticket on the day of the event, customers can enjoy a 15% discount on a purchase at any store (terms and conditions apply).

CENTRESTAGE: https://www.hktdc.com/event/centrestage/en
Hong Kong Young Fashion Designers' Contest (YDC): https://www.fashionally.com/en/
Photo download: https://bit.ly/3Rj8kwe

Media enquiries
For more information, please contact Best Crew PR:
Diana Tang, Tel: +852 3594 6443, Email: diana.tang@bestcrewpr.com
Reni Kwok, Tel: +852 3594 6443, Email: reni.kwok@bestcrewpr.com

HKTDC's Communications and Public Affairs Department:
Katy Wong, Tel: +852 2584 4524, Email: katy.ky.wong@hktdc.org
Janet Chan, Tel: +852 2584 4369, Email: janet.ch.chan@hktdc.org

About YDC

The YDC aims to promote a new generation of local design talent, while creating opportunities to showcase their collections in front of global and local industry professionals at CENTRESTAGE. Organised by the HKTDC, the contest is considered one of the most prestigious events of its kind in the region, with a successful track record of past contestants becoming leading designers for fashion enterprises or establishing their own labels. To further promote the international visibility of local Hong Kong designers, in 2012 the HKTDC launched FASHIONALLY.com, an online platform that showcases the work of local labels and talents and links them with global industry insiders and opportunities.

About HKTDC

The Hong Kong Trade Development Council (HKTDC) is a statutory body established in 1966 to promote, assist and develop Hong Kong's trade. With 50 offices globally, including 13 in Mainland China, the HKTDC promotes Hong Kong as a two-way global investment and business hub. The HKTDC organises international exhibitions, conferences and business missions to create business opportunities for companies, particularly small and medium-sized enterprises (SMEs), in the mainland and international markets. The HKTDC also provides up-to-date market insights and product information via research reports and digital news channels. For more information, please visit: www.hktdc.com/aboutus. Follow us on Twitter @hktdc and LinkedIn

About Create Hong Kong

Create Hong Kong (CreateHK) is a dedicated office set up by the Government of the Hong Kong Special Administrative Region in June 2009 to spearhead the development of creative industries in Hong Kong. From 1 July 2022 onwards, it is under the Culture, Sports and Tourism Bureau. Its strategic foci are nurturing talent and facilitating start-ups, exploring markets, and promoting Hong Kong as Asia's creative capital and fostering a creative atmosphere in the community.

*Disclaimer: The Government of the Hong Kong Special Administrative Region provides funding support to the project only, and does not otherwise take part in the project. Any opinions, findings, conclusions or recommendations expressed in these materials/events (or by members of the project team) are those of the project organisers only and do not reflect the views of the Government of the Hong Kong Special Administrative Region, the Culture, Sports and Tourism Bureau, Create Hong Kong, the CreateSmart Initiative Secretariat or the CreateSmart Initiative Vetting Committee.

Source: HKTDC

Copyright 2023 ACN Newswire . All rights reserved.