BELVIDERE, NJ, April 05, 2023 (GLOBE NEWSWIRE) -- Edible Garden AG Incorporated ("Edible Garden" or the "Company") (Nasdaq: EDBL, EDBLW), a leader in controlled environment agriculture (CEA), locally grown, organic, sustainable produce and products, today provided an update on its sustainability initiatives, including the Company's participation in Walmart's Project Gigaton - an initiative to remove emissions in the global value chain by 1 billion metric tons (gigaton) by 2030.

Edible Garden's 2022 Project Gigaton impact included:
32 metric tons of materials recycled
200 barrels of oil conserved
2 tons of food waste avoided through donation
8,100 gallons of gasoline saved
136 metric tons of virgin plastic avoided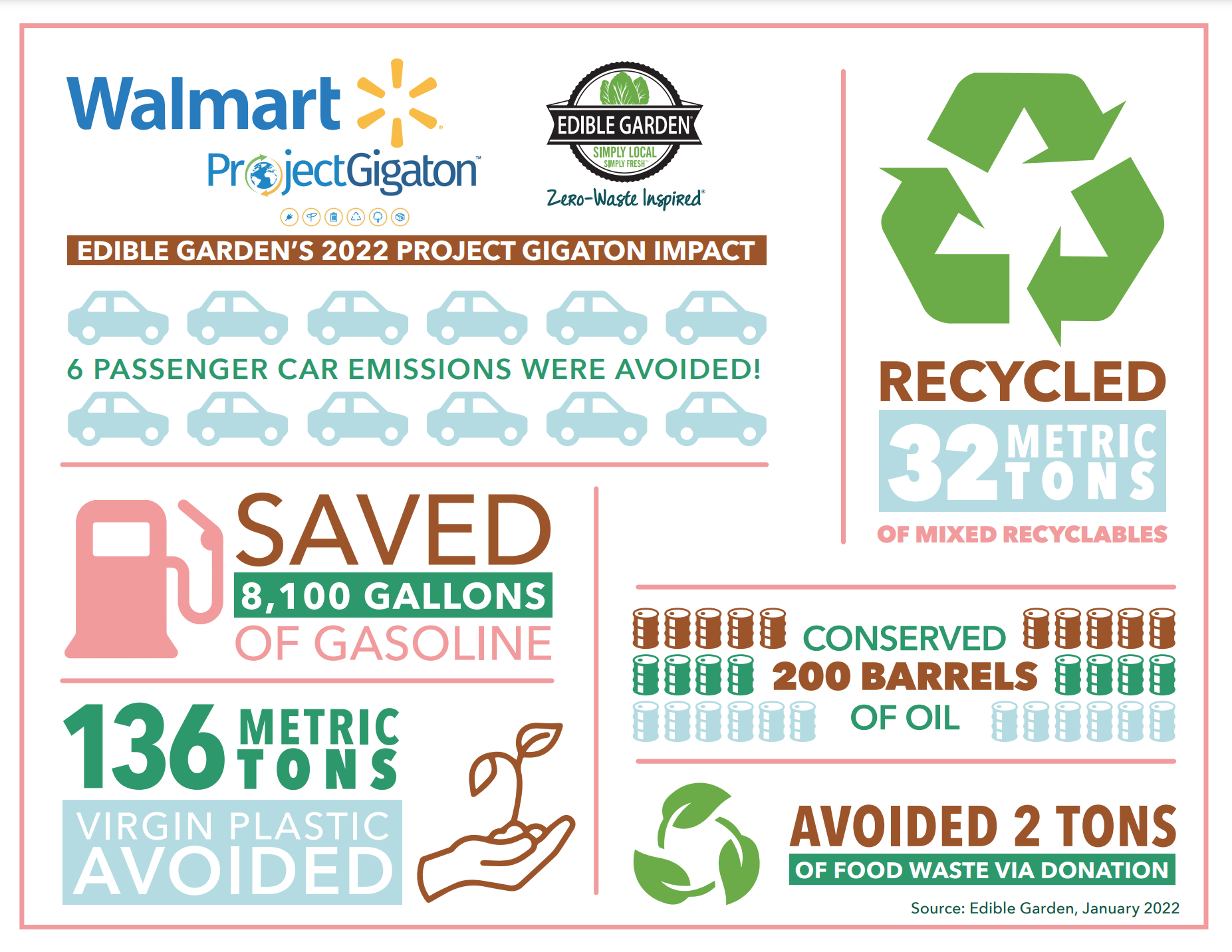 Edible Garden Reports on Sustainability Initiatives
Including Walmart's Project Gigaton
Mr. Jim Kras, Chief Executive Officer of Edible Garden, commented, "We were previously named a Project Gigaton "Giga Guru," due to our leadership and commitment to sustainability in the Controlled Environment Agriculture space. I am proud to report we have continued to reduce waste, while increasing overall supply chain efficiencies, utilizing solutions such as our patented, Greenthumb™ software. Our Zero-Waste Inspired® approach is intended to benefit both consumers and our retail partners. We are especially honored to collaborate with Walmart who clearly shares our vision for a more sustainable future."
The Company is also advancing sustainability initiatives, such as:
EPA-funded research partnership with the New Jersey Institute of Technology and the USDA to study the impacts of nanobubble technology in a CEA environment.
Partnering with University of Michigan's School of Environment & Sustainability and the University's Erb Institute, to develop and implement initiatives that address the environmental/societal impacts of the food industry by harnessing CEA farming.
Edible Garden Heartland greenhouse facility fulfilled the requirements and obtained all necessary certifications from both the USDA and PrimusGFS.


ABOUT EDIBLE GARDEN®
Edible Garden AG Incorporated is a leader in locally grown organic leafy greens and herbs backed by Zero-Waste Inspired® next generation farming. Offered at over 4,000 stores in the US, Edible Garden is disrupting the CEA and sustainability technology movement with its safety-in-farming protocols, use of sustainable packaging, patented GreenThumb software and self-watering in-store displays. The Company currently operates its own state-of-the-art greenhouses and processing facilities in Belvidere, New Jersey and Grand Rapids, Michigan, and has a network of contract growers, all strategically located near major markets in the U.S. Its proprietary GreenThumb software optimizes growing in vertical and traditional greenhouses while seeking to reduce pollution-generating food miles. Edible Garden is also a developer of ingredients and proteins, providing an accessible line of plant and whey protein powders under the Vitamin Way® and Vitamin Whey® brands. In addition, the Company offers a line of sustainable food flavoring products such as Pulp gourmet sauces and chili-based products. For more information on Edible Garden go to https://ediblegardenag.com/.
Investor Contacts:
Crescendo Communications, LLC
212-671-1020
EDBL@crescendo-ir.com
Attachment