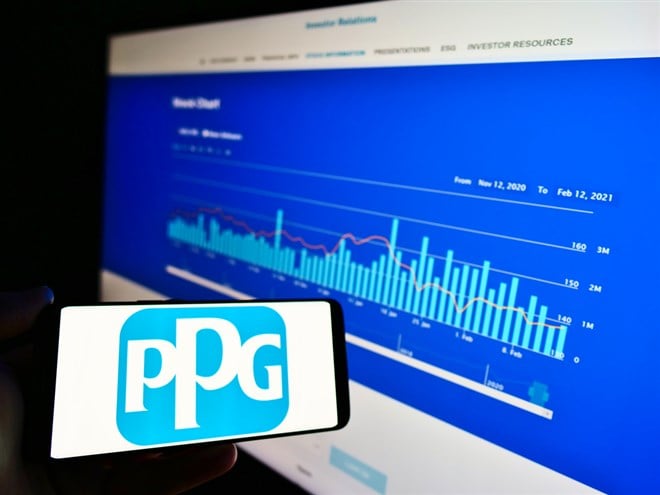 Shares of Dividend King PPG Industries (NYSE: PPG) are moving higher ahead of the Q4 earnings release, but that does not make it a buy. Results from competitor RPM International (NYSE: RPM) have the entire paint/coatings industry at risk of a slowdown. RPM reported mixed results and weak guidance that has shares of that stock down almost 20% from a recent high.
If PPG Industries, which reports later this week, has a similar outlook, shares of that stock could crater as well. Worse, shares of Sherwin-Williams (NYSE: SHW) will likely fall as well, and other materials/chemicals companies could fall with them. 
RPM International Gives Gloomy Forecast
RPM International's forecast is not without good news, the company is still expecting to grow, but the outlook for growth is receding. This means that rising prices are impacting demand, and now demand is slacking off enough that growth is in recession. If this turns into an outright decline in earnings, the market for this and stocks like it will surely fall. 
"While long-term visibility remains limited, economic conditions have recently become increasingly challenging as higher interest rates have negatively impacted construction activity, existing home sales, and overall economic activity. Additionally, some customers are temporarily moderating purchases as they normalize inventories in response to a more stable supply chain.
As a result, certain RPM businesses have experienced reduced customer demand, a trend expected to continue throughout the third quarter. Combined with headwinds from foreign currency translation and inflation, we are forecasting year-over-year adjusted EBIT growth to slow or possibly modestly decline for the first time in five quarters," said RPM CEO Frank C. Sullivan.
PPG Industries is expected to post sequential and YOY declines in revenue and earnings. The risk here is twofold: results could be tepid or even weak, and the outlook could dim, and it is already under pressure. The fiscal 2023 results are expected to improve margins, but revenue growth will be absent.
If revenue growth turns negative, the company will have a harder time improving margins and delivering on the expectation for bottom-line growth. 
The Housing Market Is Going To Hurt The Paint, Adhesive And Coating Industry 
The data coming out of the housing market is not good. Not only is there a sharp downturn in new home sales and permits, but the builders' forecast promises a double-digit business decline. Homebuilders from KB Home (NYSE: KBH) to D.R. Horton (NYSE: DHI) have reported sharp declines in new orders, backlogs and prices that promise only one thing, dwindling business and a reduction in earnings power.
They can paint the picture any way, but these conditions will persist until the FOMC has stopped hiking interest rates and brought them back down to reasonable levels. That may not happen until well into 2024, and what condition will the consumer be in then? 
Analyst Support For PPG Is Sketchy 
The analysts are Holding PPG Industries, which has a strong Hold rating but is down from a Buy just a few months ago. The price target has firmed in the last 30 days, but it, too, is down versus last year and assumes the stock is fairly valued at current price levels.
If the results or, more importantly, the outlook fails to impress, investors should not expect the analysts to help support the stock. If anything, the consensus will likely fall, given the expectation for a weak outlook. Turning to the chart, the price action is below a key resistance point that will need to be broken to attract new bulls and keep the price moving higher.
If the market can not get above this level, PPG Industries will likely retest the lows near $110 or lower.