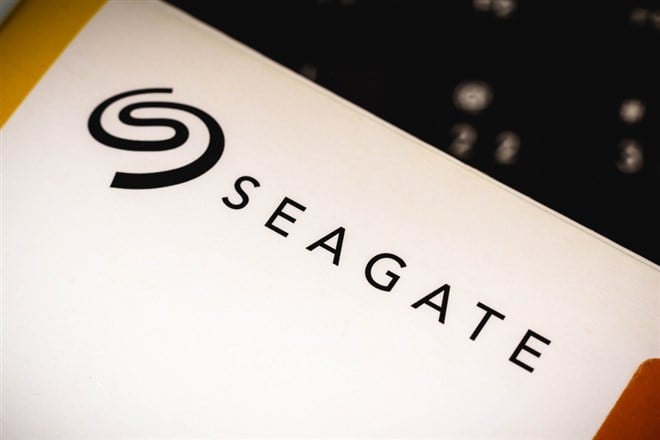 Data storage solutions giant Seagate Technology Holdings PLC (NYSE: STX) stock has been recovering since putting in a bottom of $47.47 in October 2022. Its recent fiscal Q2 2023 earnings weren't a smashing blowout, but they didn't shock investors with an extensive guide down either, as they've done in the past two earnings reports.
Investors braced themselves for another disappointment after guiding down its forecasts twice in five weeks before the end of 2022. Last year saw a cascade of warnings from storage makers, including competitor Western Digital Co. (NYSE: WDC) and DRAM producer Micron Technology Inc. (NASDAQ: MU).
Even the red-hot GPU makers like NVIDIA Co. (NASDAQ: NVDA) and Advanced Micro Devices Co. (NYSE: AMD) experienced normalization and cut their guidance.
Seagate may have set the bar too low as they came in above and eased investor concerns with a solid performance. Shares have rocketed back to the September lip line. Did Seagate lower the bar too low to make it easier to hop over this quarter? If so, has the stock overreacted to the upside this time with its relief rally?   
Has Normalization been Completed?
Investors wonder if the normalization from the pandemic demand shock has finally been completed. Markets overshoot to the upside and the downside. It's no secret that the pandemic triggered unprecedented demand for storage and chips. Stay-at-home mandates caused a demand shock further perpetuated by the supply shock during the reopening.
 Normalization is a reversion back to the mean process. Many tech companies have forecast the normalization to continue towards the middle of 2023.
Could the hangover that started in 2022 finally be in the rearview mirror? Is this a sign that the recovery is near or here? Remember that Seagate's fiscal year is two quarters ahead of its actual calendar year results.
Therefore, this fiscal Q2 2023 report was based on calendar year Q4 2022 results. They had noted that the normalization would continue through the first half of the new year. On the other hand, markets tend to react based on the next quarter or two.  
Calming Investor Sentiment
On Jan. 25, 2023, Seagate released its fiscal second-quarter 2023 results for the quarter that ended in December 2022. The Company reported a non-GAAP diluted earnings-per-share (EPS) profit of $0.16, beating consensus analyst estimates of $0.09 by $0.07. GAAP diluted EPS loss was (-$0.16), which reflects non-recurring charges taken in the quarter related to the restructuring.
Revenues fell (39.4%) year-over-year (YOY) to $1.89 billion, beating analyst estimates of $1.83 billion. Capex was reduced by more than (40%) sequentially. The Company reduced debt to $6 billion, down ($220 million). The quarter ended with 206 million ordinary shares and $770 million in cash and cash equivalents.
Inline Guidance
Seagate kept its fiscal Q3 2023 guidance in line with an EPS expected between $0.05 to $0.45 versus $0.30 consensus analyst estimates. The Company sees revenues of $1.85 billion to $2.15 billion versus $1.88 billion analyst estimates. 
CEO Comments
Seagate Technology CEO Dave Mosley commented, "Seagate is effectively managing through a tough macroeconomic environment. We delivered revenue and non-GAAP EPS slightly above our guidance midpoint in the December quarter and extended a decade-long trend of generating positive free cash flow." He explained that they are in an industry-leading position that positions them well for eventual market recovery. Seagate will roll out its 30-plus terabyte (TB) HAMR-based products enabled by 3-plus TB per disk densities in June.
Are Headwinds Dying Down?
CEO Mosley pointed out that three headwinds were the main culprit behind the slowdown. The China COVID-related slowdowns, bloated HDD inventories among cloud and enterprise customers, and a more cautious macroeconomic environment caused customers to tighten spending.
Two of the three may improve as China relaxes zero-COVID restrictions and U.S. companies work through their HDD inventories. The economy is the wildcard, but the U.S. Fed is closer to pausing rate hikes now than they were two quarters ago.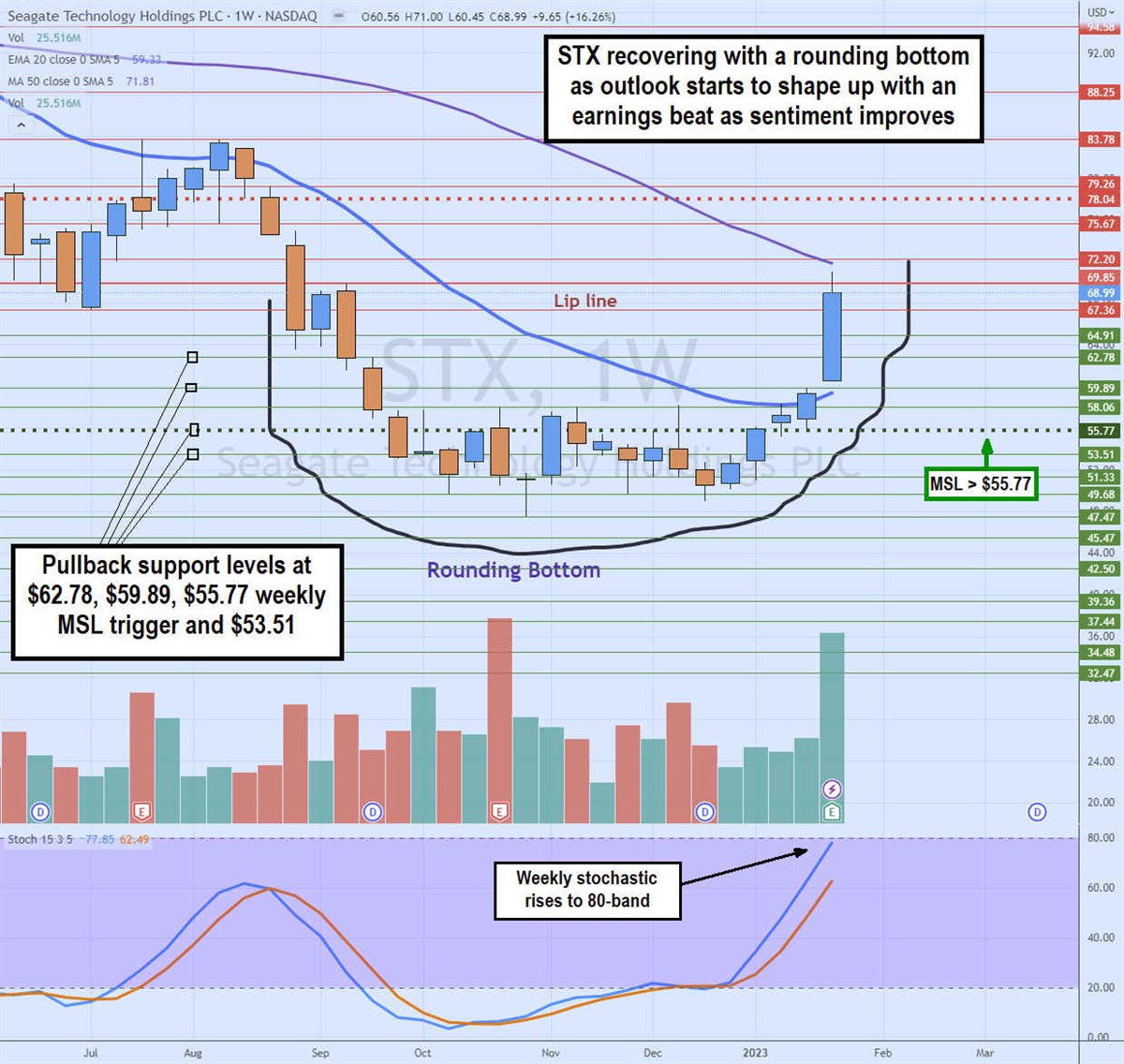 Weekly Rounding Bottom
STX weekly candlestick chart has been forming a rounding bottom, which has been the running theme with tech stocks in 2023. Shares started their descent off the $69.85 lip line in September 2022, bottoming out at $47.47 by October 2022. The weekly stochastic pushed back up through the 20-band to finally trigger the weekly market structure low (MSL) breakout through $55.77 in December 2022.
The stochastic has made a complete oscillation through the 80-band are shares rocketed through the weekly 50-period exponential moving average (EMA) at $59.33 to test the $69.85 lip line in its move towards the weekly 50-period MA resistance at $71.81.
A breakout through the lip line would trigger a retest of the weekly market structure high (MSH) sell trigger at $78.04. Pullback support levels are $62.78, $59.89, $55.77 weekly MSL trigger, and $53.51.