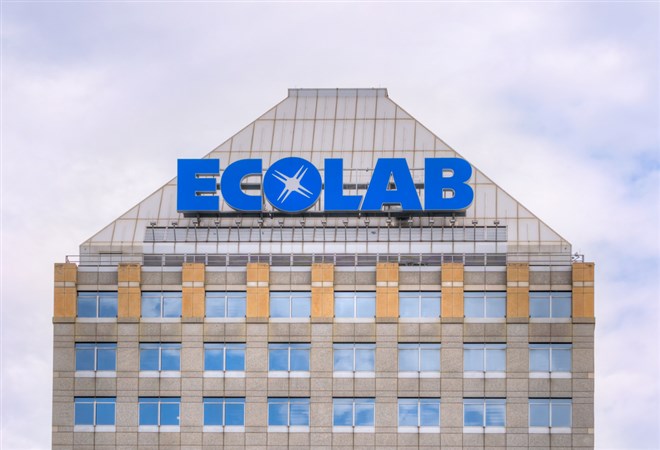 With the outlook for earnings trending lower, companies like Ecolab (NYSE: ECL) are coming into the spotlight. This company, as unexciting as it is, is producing growth in a no-growth environment and guiding for more of the same in F2023. This means that its 33X valuation may not matter for the market.
After all, you get what you pay for, and if what you want is what everybody else is looking for there's going to be upward pressure on the price action. And that's what we have with Ecolab. After a significant correction in share prices caused by the post-pandemic let-down, we have upward pressure in Ecolab price action, which is something to note because Ecolab is a Dividend Aristocrat. 
Ecolab Has Strong Quarter, Shares Pop
Ecolab had a solid quarter despite headwinds from currency exchange. The company's results are mixed with the analysts' consensus estimates but in a good way where top-line weakness is minimal and offset by solid margin and guidance. The company reported $3.67 billion in net revenue for a gain of 9.2% versus last year. This is $0.02 billion shy of the expectation and driven mainly by FX conversion. The FX-neutral revenue growth is reported at 12% with operating income growing by a more robust 14% on an adjusted basis. 
As reported, operating income grew by 3%, which is still above the Marketbeat.com consensus estimate. The company's margins were pressured versus last year but less than expected due to pricing power and organic growth. The adjusted $1.27 in EPS is down a penny from last year and missed the consensus by 2 pennies but was also affected by FX headwinds which shaved a dime off the result. 
The guidance is also strong. Ecolab only provided specific guidance for Q1 but qualified the outlook with a forecast for results to improve throughout the year. As it is, the company expects Q1 to see earnings growth of 0% to about 10% in 2023. 
"With additional pricing actions, easing inflationary pressures, new business wins, innovation, and further productivity benefits, we anticipate double-digit growth in adjusted operating income in 2023. This strong performance is expected to more than overcome the challenging environment to deliver quarterly adjusted earnings per share growth that accelerates towards our low double-digit historical performance," says CEO Christophe Beck. 
Ecolab, It's Not A Big Dividend, But It's Safe 
Ecolab is not a high-yielding stock because of its valuation. The high price multiple has a yield near 1.45% although it is a very reliable and growing distribution. The company boasted a 97% FCF conversion for the year which is something to crow about. This company, which has a nearly 25% cash flow margin, turns almost all of it into accessible and distributable cash flow. That's a sign of a strong balance sheet unencumbered by debt. Regarding the earnings, the company only pays 45% as dividends, so there is ample room for distribution increases to continue for many years. 
The Technical Outlook: Ecolab Bottoms, Reversal In-Play 
Shares of Ecolab have been under pressure for over a year, but that may be over. The market has shown signs of bottoming that are now confirmed by action after the Q4 release. The market is up more than 6% on the news and trading above the 30-day and 150-day EMAs. This has it in a position to continue moving higher, and that outlook is consistent with the indicators. MACD and stochastic show bullish signals that could lead to a sustained rally in share prices. The next target for resistance is at $170; a move above that could get above $180.