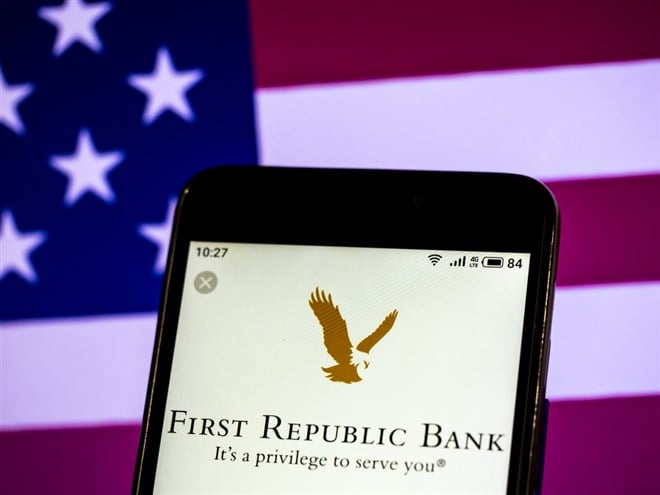 A coalition of the largest US banks, including Bank of America, JPMorgan, Citigroup, and Wells Fargo, plans to make sizable deposits at distressed First Republic Bank (NYSE: FRC) to bolster confidence in the banking system.
These megabanks are expected to deposit about $5 billion each into First Republic, while others like Goldman Sachs, Morgan Stanley, US Bank, PNC, and Truist are expected to contribute smaller amounts to the deal. US regulators are reportedly on board with the agreement, and the full details could be unveiled today, according to the Wall Street Journal.
First Republic Bank is one of many banks suffering a crisis of confidence in the wake of the failures of Silicon Valley Bank and Signature Bank. Many withdrawals from smaller banks like First Republic went directly to big money center banks like JPMorgan and Bank of America. This deal essentially gives FRC some of its lost deposits back in a calculated move by the big banks to restore overall trust in the banking system.
Who is First Republic Bank, and Why Are They Getting Bailed Out?
First Republic Bank is a San Francisco-based bank specializing in private banking and wealth management. The bank mainly caters to wealthy Bay Area executives, often those from the technology sector, offering them mortgages, lines of credit, wealth management services, etc.
First Republic's "similar DNA" to Silicon Valley Bank is one of the big reasons the bank is receiving significant withdrawals. Although FRC and SVB have very different business models, they do business with a similar demographic of Bay Area tech workers. However, while FRC primarily caters to wealthy tech executives, SVB largely focuses on tech and biotech startups.
In the wake of SVB's failure, many in the Bay Area technology industry are spreading their money around the banking sector instead of banking with just one institution. This results in significant outflows from FRC.
68% of FRC's deposits are uninsured by the FDIC, making its customers especially apt to move their money to safe havens.
As a result, First Republic Bank (NYSE: FRC) stock is taking a beating, down 75% since the beginning of the month. And both bond rating agencies, S&P and Fitch, downgraded FRC to "junk" status, meaning they're at an elevated probability of defaulting on their bonds.
Despite traders dumping FRC in Thursday's pre-market trading, the stock is catching a bid as the market digests the bailout news. The stock is up roughly 60% in regular session trading on Thursday.
Why Is There Suddenly a Banking Crisis?
Investors are aggressively selling bank stocks after two bank failures and widespread fear. The SPDR S&P Bank ETF (NYSE: KBE) is down 21% since the start of the month.
The basic business model of a bank is upside down right now. Back in the 1960s, many bankers lived by a simple rule: 3-6-3: pay 3% on deposits, lend those deposits at 6%, and be on the golf course by 3 p.m.
While the industry is very different nowadays, it demonstrates how a bank works. They gather capital cheaply, often through deposits, and then lend it. The profit is the spread between their funding rate, usually, the interest rate banks pay on deposits, and the interest rate they receive on loans.
The aggressive pivot to hawkishness from the Federal Reserve last year disrupted this. The Federal Funds Rate went from roughly 0% to 4.5% in a year. Short-term interest rates rose very quickly, and banks found themselves underwater in many ways.
The yield curve, or the differences in interest rates for different maturities, is inverted. This means short-term interest rates are higher than long-term rates, which is indicative of significant financial distress. Banks rely on short-term loans in the course of their business, so this is especially harmful to them.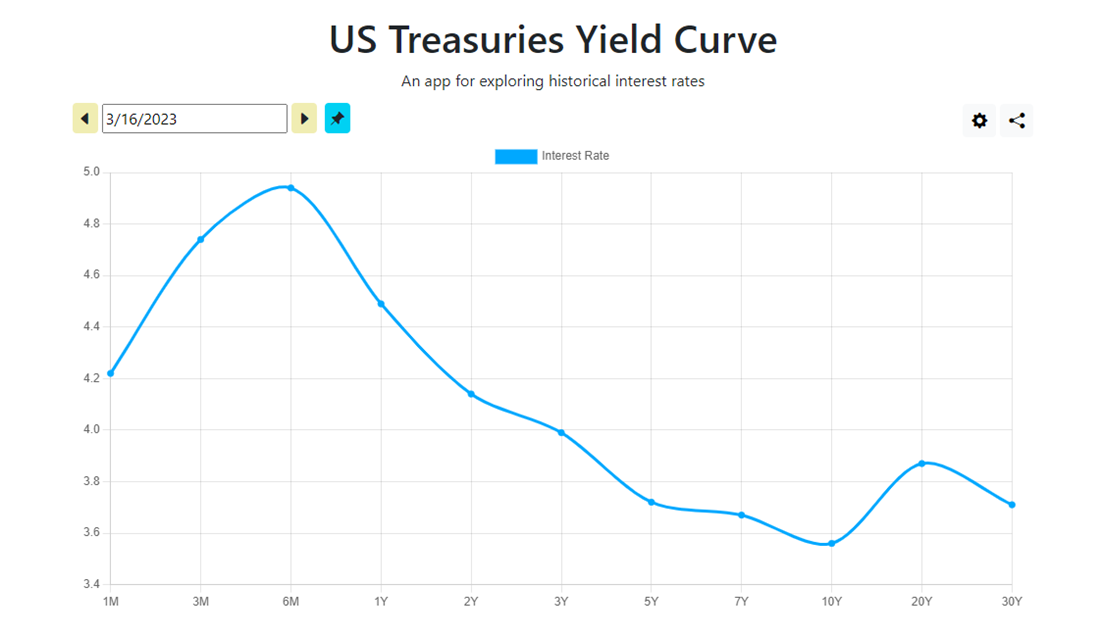 For instance, let's go back to 2021 when the Federal Funds Rate was roughly 0%. At this time, a bank might've given a fixed-rate mortgage to a customer with excellent credit at less than 3%. Now that money is locked up for 30 years, a yield possibly even lower than what the bank pays on its deposits.
Because interest rates were very low for a long time, much of a bank's loan book and securities portfolio is tied up in loans with meager yields. So when rates rise as rapidly as they did in 2022, it creates tremors in the financial system.
This was on display in the Silicon Valley Bank debacle. The bank selling long-term mortgage securities at a substantial loss was one of the catalysts that caused the run on the bank.
The Effort To Save the Banking System
The Federal Reserve unveiled the Bank Term Funding Program, a liquidity facility that banks can use to get short-term loans from the Federal Reserve. Essentially, it's the Fed's way of providing these banks money to fulfill withdrawals and get through this crisis of confidence.
The Federal Deposit Insurance Corp, or FDIC, has also ensured that even uninsured Silicon Valley Bank and Signature Bank depositors will get their money back by making an exception in using its Deposit Insurance Fund.
In the wake of these actions by regulators, many remain skeptical. After all, the government intervened in 2008, and the banking system still collapsed. So it might have reassured some when Michael Burry of "The Big Short" fame, famous for betting on a financial system collapse in 2008, approved of these plans.
The eccentric hedge fund manager took to Twitter to draw parallels between this week's bank bailouts and the Panic of 1907 when JPMorgan backstopped a bank amid a bank run. Here are his series of tweets about the crisis:
"This crisis could resolve very quickly. I am not seeing true danger here"
"In October 1907, Knickerbocker Trust failed due to risky bets, sparking a panic. Two others soon failed, and it spread. When a run began on a healthy Trust, J.P. Morgan made a stand. 3 weeks later the Panic resolved & markets bottomed. A stand was made this past weekend."
Bottom Line
Between the Federal Reserve's new liquidity facility, the FDIC making SVB and SBNY depositors whole, and now loans by the big banks to backstop First Republic, it's clear that regulators and industry leaders are making a valiant effort to cause a loss of confidence in the system.
First Republic cut its dividend after the close on Thursday, leading the stock to decline as much as 19% in extended-hours trading.