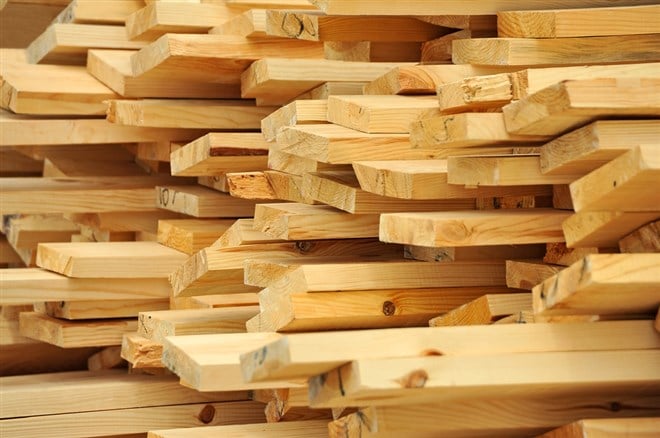 The United States housing market has experienced its largest decline since the 2008 housing crisis, causing a wave of repercussions and side effects across all markets, particularly within the lumber prices in the open market. Lumber and oriented strand board (OSB) are principal components of homes built in the United States. As a result, the outlooks of homebuilders may serve as strong leading indicators of where demand and prices for these materials may be headed next.
West Fraser Timber (NYSE: WFG) generates 65% of its revenue from the United States alone, as of their latest financial results. Therefore, any change in the direction or outlook of the underlying property markets will reasonably result in subsequent increases or declines in the fundamentals of lumber and OSB economics.
Unfortunately for the firm, the ISM manufacturing PMI readings have pointed to three consecutive quarters of contraction in the wood products industry. This development has been reflected in the unmistakable decline that lumber prices experienced following their tremendous rise in 2021.
With mortgage rates hovering near an 8% yield for 2022, most homebuyers have been willing to postpone purchases that had previously seemed to possess unstoppable momentum. These sudden changes to mortgage applications and subsequent real estate demand have increased the rate of homebuilder cancellations and sent US building permit readings to all-year lows.
Revenues, EPS and inventory drawdowns add to contractions 
Year over year, in 2021-2022, the climate looks dull for West Fraser posting contractions across its income statement. Revenues declined by 8%, driven by lower lumber demand by the U.S. and Europe - West Fraser's largest markets - from real estate construction taking a backseat. All of these contractions and declining new orders for the material and its finished products fed down to the bottom line metrics, especially the ones investors watch the most, such as P/E ratios. 
Earnings per share declined to $20.32 by the end of 2022 from $26.90 a year prior, slashing net income to shareholders by a whopping 25%. To make matters worse, inventory that sat for the entire quarter without incoming bids needed to be written down in value by approximately 13%, further accentuating the impact of working capital effects trickling down to the bottom-line contractions. 
West Fraser management has a history - and a successful record - of being shareholder focused; this is translated and incarnated in the firm's capital allocation policies. Knowing the negative effects of the last quarter on valued shareholders, what is management's response to adopting a hand-holding attitude during these challenging times?
Guidance and hand-holding
C-suite executives and management can sometimes fall prey to positive reinforcement patterns that bypass or ignore the questions that should be answered when things go wrong. This doesn't seem to be the case for West Fraser, as management has provided guidance aligned to the current lumber market experience, as tough as it may be. 
The contracting quarter brought investors lower volume levels and higher CAPEX figures. Management has stuck to its expansion strategy through acquisitions in fast-growing markets and brownfield projects to support housing market recoveries and renovations in the next bullish cycle.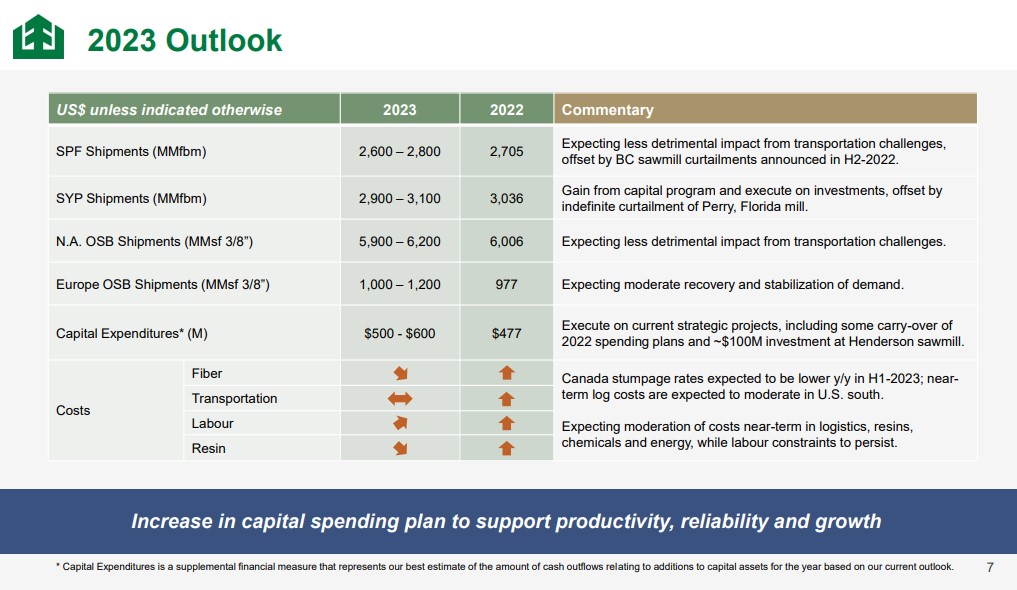 Management isn't afraid to post a 2023 outlook that looks similar to the results seen for 2022. Stagnant shipment volumes and higher capital expenditures can potentially turn some investors away from the prospects of any upside in the stock price. However, some participants are betting in the complete opposite direction.
Starting with West Fraser's treasury, management has opted to buy $4.2 billion USD worth of stock in 2022 for an average share price of $83. This price range is extremely important for outside shareholders, as this price is below the latest NAV per share value of $97.50 and a book value per share of $102.6. 
Considering these above valuations, some analysts see the target for this stock as an easy win, with a consensus target price in line with book value for $103.50 representing an upside of 36.83%. This consensus price target, which is based on book value, may not fully value the company's potential upside earnings once lumber and real estate markets normalize. This could ultimately warrant a more bullish sentiment and make the stock worthy of a spot on investors' watchlists.