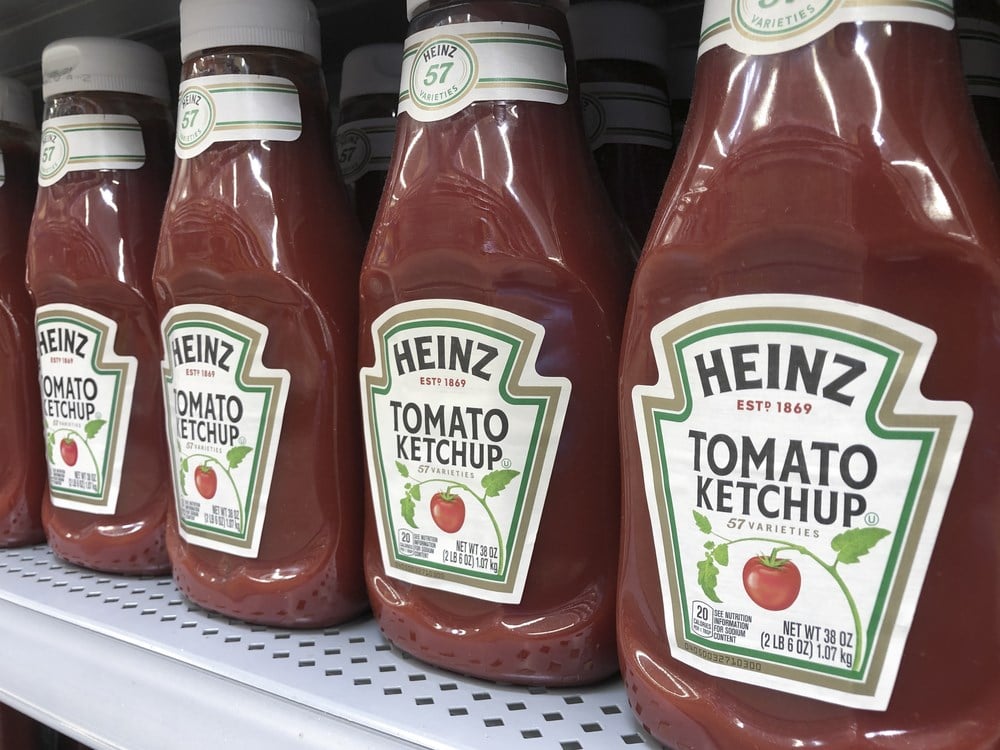 The private label trend in the U.S. continues to accelerate as retailers offer these generic food items under their own brands and logos. This is not a new concept. European grocery stores are known for having nearly 50% of their products sold under their private label. This is why major European chains like Aldi and Trader Joe's in the U.S. are so popular. High inflation has also driven more consumers toward private-label food products as they find the quality comparable to national brands at nearly half the cost. Supermarket chain operator The Kroger Co. (NYSE: KR) has stated that high inflation has caused even higher-income shoppers to try private label foods and emphasizes private-label items as a key growth driver.
Private-label food sales grew to more than $30 billion last year. Here are two private label food manufacturers cashing in on the growing adoption of private label foods.
This Illinois-based food manufacturer makes and distributes private label foods ranging from broth, cereals, and candy to beverages, snacks and teas in the U.S. and internationally. In 2016, TreeHouse Foods acquired Conagra Brands Inc. (NYSE: CAG) private label manufacturer operations for $2.7 billion.
The company saw revenues climb to $4 billion in 2022 as net sales rose 22% YoY. It expects full-year 2023 net sales to grow 20% to 27% YoY. While inflation has enabled margins to expand from raising prices, volumes have pulled in. However, the company continues outperforming the rest of the private label market.
TreeHouse CEO Steve Oakland summed it well during its Q4 2022 earnings conference call, "The pressure on today's consumer is significant. Shoppers are seeking value, and the private label value proposition continues to gain momentum, supporting unit share gains, which we've now seen for the last 54 consecutive weeks."
UBS Upgrade
On Mar. 20, 2023, UBS initiated coverage on THS with a Buy rating and a $60 price target. Analyst Cody Ross believes Treehouse is in the early innings of its earnings beat and raise cycle driven by secular tailwinds. He also believes that the divestiture of its meal prep business helps the company be more focused while minimizing the complexity. Treehouse is poised to lead low-cost private label manufacturing due to its scale advantage.
He commented, "We expect incremental capacity to free up for THS as supply chain disruptions moderate, which should enable the company to capitalize on the increased demand for PL (private label) products." Treehouse Foods analyst ratings and price targets can be found on MarketBeat.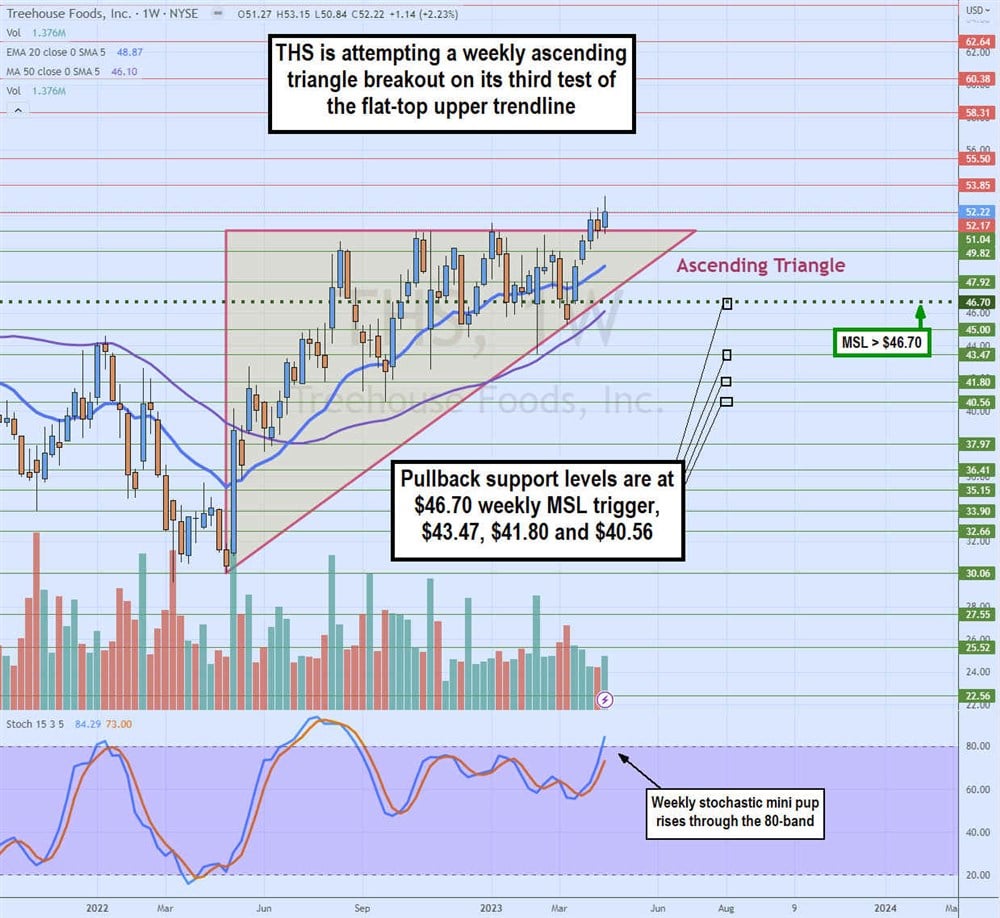 Weekly Ascending Triangle Breakout
The THS weekly candlestick chart shows a breakout attempt on the weekly ascending triangle. The triangle commenced in May 2022 when it bottomed at $30.06. THS was able to stage a rally towards the $51.04 resistance, which evolved into a flat-top resistance and upper trendline. THS triggered a weekly market structure low (MSL) breakout through $46.70 to retest the flat top resistance twice before failing.
Each pullback has bounced off a higher lower to set up the immovable object's triangle pattern, which is the flat top resistance at $51.04 versus the unstoppable force, the rising diagonal trendline. The weekly stochastic bounce through the 80-band drove THS shares to break out through the $51.04 resistance, but it will need to hold above there to confirm the breakout. Pullback support levels are $46.70 weekly MSL trigger, $43.47, $41.80 and $40.56.
This company is known for its famous condiments and snacks like ketchup mayonnaise, salad dressing, macaroni, and cheese. The company does over $26 billion in annual sales serving over 40 countries. They own globally "beloved" brands like Oscar Meyer, Orde-Ida, Velveeta, JELL-O, Philadelphia Cream Cheese, Classico and Maxwell House Coffee. While Kraft is a global brand, they also have a thriving private label business.
They manufacture private label soups. However, it doesn't private label ketchup, which owns a 60% market share in the U.S., but rather a non-competing category with its branded products, soup. With KHC stock, you get a prominent brand name, one of the world's largest food processors, and private label business activity. Shares trade at 14X forward earnings and pay a 4.08% annual percentage yield. Kraft Heinz analyst rating and price targets can be found on MarketBeat.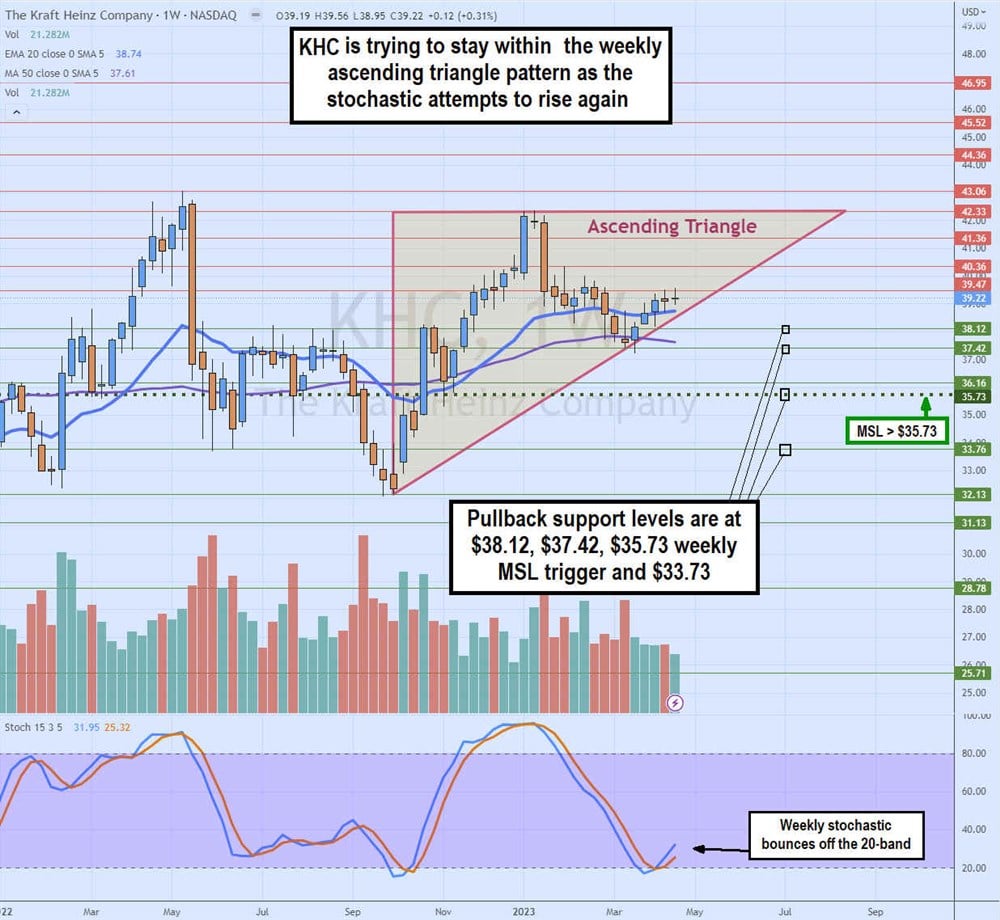 Weekly Ascending Triangle
The weekly candlestick chart on KHC has an ascending triangle that started after the bottom at $32.13 in October 2022. It staged a breakout through the $35.73 weekly market structure low (MSL) to peak and form the flat-top trendline at $42.44. Shares fell back down to the $37.42 rising trendline to stay within the triangle as the weekly stochastic attempts to bounce up through the 20-band. The weekly 20-period exponential moving average (EMA) support is trying to rise at $38.74, followed by a flat weekly 50-period MA support at $37.61. Pullback support levels are $38.12, $37.42, $35.73 weekly MSL trigger and $33.73.