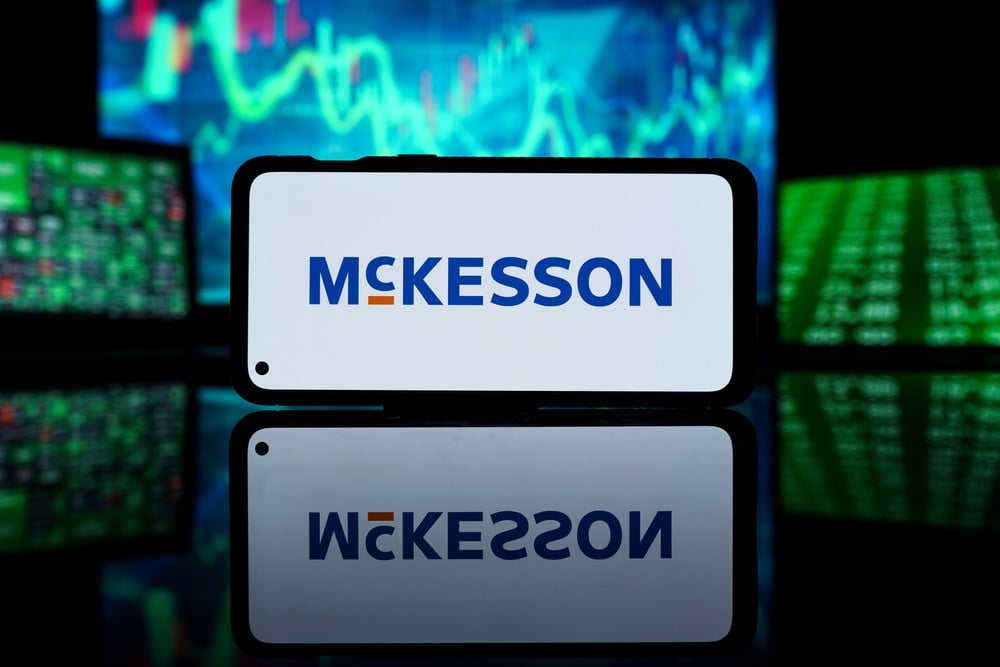 McKesson Corp. (NYSE: MCK) is among the elite group of stocks breaking out of bases and approaching new highs. While there have been numerous breakouts recently, many are out of patterns forming well below multi-year highs; McKesson is within striking distance of its highest price ever.
 here's a bullish trend in place on McKesson stock, with a 7.42% gain in the past week, on trading volume 50% higher than normal.  
On May 8, the company reported results for the fiscal fourth quarter of 2023. Earnings came in at $7.19 a share, up 23% from the year-earlier quarter. Revenue was $68.9 billion (yes, you read that correctly), a gain of 4%. McKesson earnings data show that the company beat on both the top and bottom lines.
The company said it expects net income in a range of $26.10 to $26.90 per share for fiscal 2024, which would mark growth of 1% to 4%. It also raised long-term growth targets for its operating segments.  
McKesson analyst ratings show a consensus view of "moderate buy," with a price target of $424.75, an upside of 8.08%. Given the recent upside momentum trends, it's not difficult to see the stock reaching that target in the coming months. 
Following the earnings report, four analysts lifted their price targets for McKesson.
The stock gapped up 5.47% immediately following the report. 
Healthier Than Its S&P Sector
Prior to the post-earnings rally that began on May 9, McKesson had already been a strong price grower within the S&P 500. It's outperformed the S&P healthcare sector, of which it is a component, on a one-year, three-year, and five-year basis. McKesson stock posted a gain in 2022, while the healthcare sector as a whole wobbled along with the broader market. 
McKesson stock has been an outstanding gainer for investors, but it's not part of a glamor industry; it's not one of those big pharmaceuticals that get a lot of headlines. 
Irving, Texas-based McKesson is a healthcare services and information technology company. It distributes pharmaceuticals and medical supplies. The company provides technology solutions, in the form of software and consulting services, to retail pharmacies, hospitals, clinics, and health systems. It also offers business and clinical services, such as revenue cycle management, consulting, and analytics to help healthcare providers improve their financial and operational performance. McKesson also offers logistics and supply-chain services for healthcare companies and pharmacies, among other lines of business.
Covid Business Winding Down
In the earnings conference call, management noted that the company's contract with the U.S. government to distribute Covid-19 vaccinations and test kits is due to expire in July. Sales of those products had already been declining, and the company said it expects the impact from Covid-related items to be immaterial to fiscal 2024 results.
However, CEO Brian Tyler said, "We've gained invaluable experience, deepened our relationship with government partners, and proven our value, capabilities, and expertise." That's a hint that the company may be in line for additional government contracts, unrelated to Covid, in the future. 
In more good news for McKesson, as the pandemic fades into the past, Tyler noted that healthcare business that was put on pause has now returned. "We've seen prescriptions come back, oncology visits come back," he said, citing ambulatory surgery centers as an example of a business that's rebounded. He also cited the potential for McKesson from increased healthcare digitization. 
Dividend Increases
McKesson dividend data show the company has a 15-year track record of increasing its dividend; the current yield is $0.55% with an annual payout of $2.16 a share. 
The company also has a share buyback program and plans to repurchase approximately $3.5 billion of shares in fiscal 2024. 
The stock is close to breaking out of a first-stage base with a buy point north of $401.78. The current base undercut the previous structure low, which is often a good sign, as it can attract buyers seeking a lower valuation. 
McKesson stock seems to have the fuel to send it above that previous high in the coming weeks. It's currently buyable, for investors looking for an early entry point. However, use caution, as it could always pull back briefly before surpassing that prior high, as it seems likely to do.