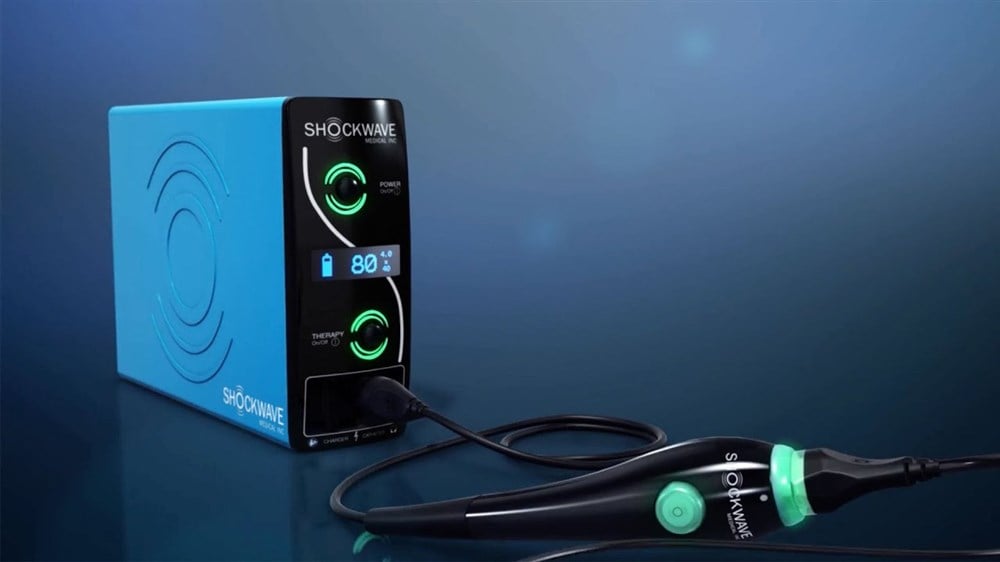 Shockwave Medical Inc. (NASDAQ: SWAV), the largest component within the iShares Russell 2000 ETF (NYSEARCA: IWM), briefly cleared a cup-with-handle buy point on May 12, but reversed lower along with the broader market.
In its young life as a public company, Shockwave has already rewarded investors with fast sales and earnings growth. But that could be just a hint of bigger gains for shareholders: News reports citing unnamed sources suggest that it may be the target of an acquisition by much larger medical gear maker Boston Scientific Corp. (NYSE: BSX). 
Shockwave is a medical device maker focusing on intravascular lithotripsy (IVL) technology to treat complex calcified cardiovascular disease. That's a condition in which plaque builds up in the arteries, then hardens and causes narrowing of the blood vessels. That's dangerous because it can restrict blood flow and oxygen supply to vital organs, increasing the risk of heart attack, stroke, and other serious conditions. 
Shockwave's  IVL technology uses sonic pressure waves to crack and modify problematic calcium deposits, restoring blood flow. 
Double-Digit Price Gains
Shockwave, which went public in March 2019, is very much in the window when young companies often post big price gains. Its recent returns are as follows:
1 month: 19.15%
3 months: 64.15%
Year-to-date: 44.06%
1 year: 102.92%
In March, Shockwave announced the full commercial availability of its K, following FDA approval in August. The L6 catheter is designed to modify calcification in otherwise difficult-to-treat lesions. 
The company reported first-quarter results on May 8, easily beating analyst views on the top and bottom line, as you can using MarketBeat's Shockwave earnings data. 
The company earned $1.03 a share, up 164% from the year-earlier quarter, and smashing views of $0.81 a share. Revenue came in at $161.1 million, up 72%. Wall Street had been eyeing sales of $147.30 million.
Boosted Revenue Guidance
For the full year, Shockwave aspects revenue in a range between $700 million and $720 million, which represents 43% to 47% year-over-year growth. That's higher than the previous full-year sales guidance of  $660 million to $680 million.
The company says its products are improvements over the traditional angioplasty balloons and stents that have been used to treat calcified plaque. It says those traditional treatments can result in a greater number of complications. 
Shockwave has outlined its growth strategies, which include: 
Addressing unmet clinical needs in multiple large markets.
Advancing its IVL System as a common treatment for calcified artery diseases.
Growing its specialized sales force throughout the world.
Building a robust body of clinical evidence.
Developing new products.
Driving profitability by scaling business operations to achieve cost and production efficiencies.
For investors, that's a pretty thorough plan, and it appears to be working.
Topping Wall Street Views
The company's three-year sales growth rate is 150%. The stock went public in 2019, and the company became profitable in 2022. In the first quarter, Shockwave revenue came in at $161.1 million, 72% higher than the year-earlier quarter and trouncing analysts' call for $147.3 million. 
Earnings grew 164%, to  $1.03 per share. Shockwave earnings data show the company exceeding bottom-line views by $0.22.
Although Shockwave quickly rocketed to have the largest company in the Russell 2000, it's still fairly small, with a market capitalization of $10.81 billion. 
That actually qualifies it for mid-cap status, and Shockwave is indeed tracked within the SPDR S&P MIDCAP 400 ETF Trust (NYSEARCA: MDY). The seeming discrepancy in market-cap characterization isn't really a big deal; the Russell 2000 index simply compiles the bottom 2,000 stocks within the Russell 3000 broad index. 
Riding The Rollercoaster
As a young, small-ish company, Shockwave has a somewhat high beta of 1.18. The Shockwave chart shows some wide price swings; on more than one occasion, the stock has formed a consolidation that's undercut the prior structure low. That's not necessarily a bad thing, as it can make the stock more attractive to investors seeking a lower entry point. However, it could also shake out others who don't have the stomach for a rollercoaster ride.
Nonetheless, as noted above, those who have stuck with Shockwave have been rewarded with big gains. 
The stock is currently in buy range after clearing the cup-with-handle base.