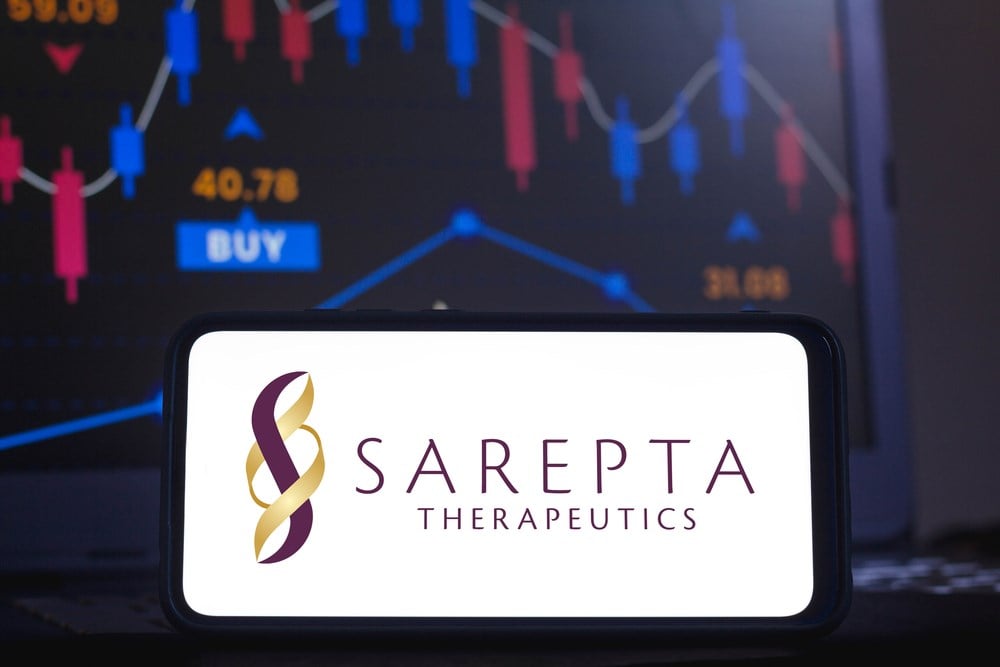 Sarepta Therapeutics Inc. (NASDAQ: SRPT) jumped nearly 31% on May 15, after a Food and Drug Administration committee gave a thumbs up to the company's experimental gene therapy to treat Duchenne muscular dystrophy. 
Trading on Serepta stock was halted on May 12 before the panel met to review the company's SRP-9001 gene therapy for the condition, which is rare. In previous reviews, regulators were not ready to OK the treatment, with some panelists saying the company hadn't provided evidence of the drug's effectiveness. 
With the May 15 price move, the company's market cap increased by more than $2 billion in the session. Shares closed at $157.19, up $36.99 in more than four times average trading volume. 
The May 12 panel makes recommendations to the FDA; it doesn't have full authority to approve new treatments. A final decision on SRP-9001 is expected on May 29. 
There's more that's significant about these developments. Massachusetts-based Sarepta is seeking accelerated FDA approval for SRP-9001. This regulatory pathway allows for the expedited approval of drugs that address serious or life-threatening conditions, and which provide meaningful benefits over existing treatments. 
Additional Studies Needed
Accelerated approval is based on preliminary evidence of effectiveness, and the drug maker is required to conduct additional studies to validate the treatment's benefits.
If granted, SRP-9001 would be the first gene therapy to get the accelerated OK. 
While biotech is crawling with young, unproven, unprofitable, venture-backed Sarepta is like the parent who accompanied the kids to a punk rock club. Sarepta stock went public way back in 1997, and has had plenty of ups and downs over the years. As the May 15 price action shows, biotechs are constantly at the mercy of regulators, in addition to clinical trial results. 
Regulators' approval or rejection, even temporary, can result in a biotech stock moving sharply in either direction. The same is true for either a good or bad result from clinical trials. 
For example, in January 2021, Sarepta shares plummeted more than 51% in one session, as Phase II study results were not, to say the least, well accepted. The company went back, did more studies, and the stock is up 91% since then. 
$1.15 Billion Payment From Roche
The new treatment (which if approved and commercialized will undoubtedly have a better name than SRP-9001) is being developed with Swiss-based Roche Holding AG (OTCMKTS: RHHBY). Roche made an upfront payment of $1.15 billion to Sarepta for development of the Duchenne muscular dystrophy treatment.
According to a 2019 Sarepta news release, the deal included another $1.7 billion in regulatory and sales milestones, as well as royalties on net sales.
As you might expect from a biotech company that's been public for nearly 26 years, Sarepta does generate revenue from a commercialized product portfolio. Its three-year revenue growth rate is 34%. In the most recent quarter, sales came in at $253.5 million, up 20% year-over-year. Sales have been growing at double-digit rates in the past eight quarters. 
Net income has been more elusive, although there have been a few profitable quarters here and there, as you can see using MarketBeat's Sarepta Therapeutics earnings data. 
Wall Street expects Sarepta to earn $5.69 a share in 2024. 
The stock is up 21.31% year-to-date and up 138.27% in the past year. 
Analysts Boosting Price Targets
Sarepta Therapeutics analyst ratings show a consensus view of "moderate buy." Analysts have a price target of $169.25, an upside of 7.67%.
After the FDA panel meeting, Bank of America, UBS, and Credit Suisse boosted their price targets on Sarepta. As of now, Sarepta remains in the speculative zone, due to lack of profitability and continued uncertainty about SRP-9001.
For investors who don't mind that uncertainty, the stock is currently in a buy range, having closed on May 15 less than 2% below a recent structure high of $159.84. 
Watch for the stock's movement on May 29, when the FDA is expected to either issue its next statement regarding the approval of SRP-9001. That could be the catalyst for another big move. Until then, potential investors may want to exercise some caution, as there's still potential for a big downdraft. If it does rocket higher on FDA approval, that's a good sign that more gains are likely to follow, and there's still time to buy.