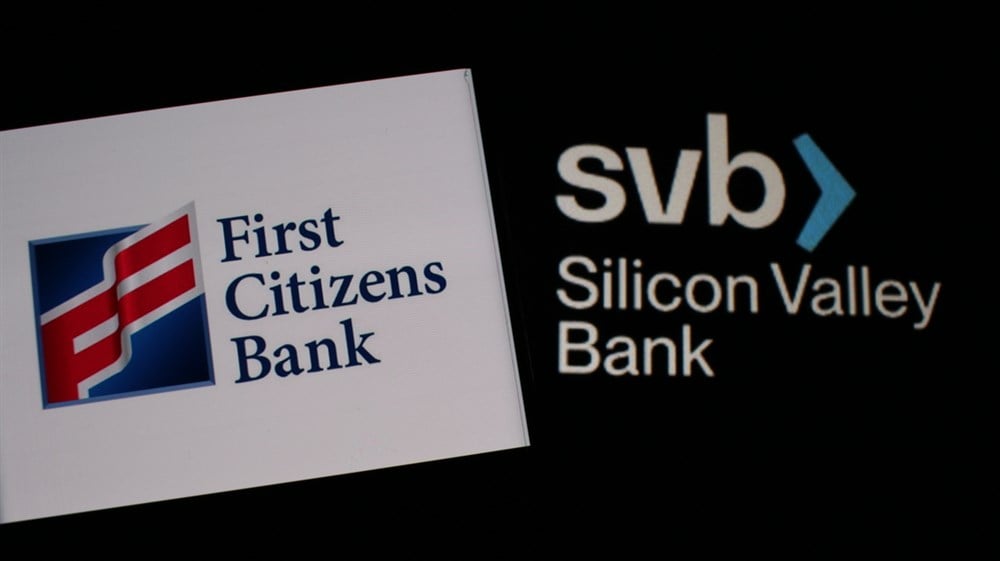 You may not recognize the name First Citizens BancShares Inc. (NASDAQ: FCNCA), but you almost certainly know the name of the financial institution it acquired: Silicon Valley Bank.
Since that acquisition, First Citizens stock has been on a tear. The stock is in a buy zone, after pulling back into a shallow consolidation below a May 18 high of $1,345.43. It's currently holding 11% above its 50-day average, following huge price moves after the SVB purchase.  
First Citizens, a North Carolina-based large cap nearly doubled its assets when it closed the deal in March to purchase SVB's deposits and loans. Seventeen bank branches once under the SVB banner are now operating as First Citizen Bank branches. 
First Citizens shares have posted the following returns:
1 month: 17.54%
3 months: 100.06%
Year-to-date: 69.64%
You can easily track the stock's day-to-day price movements using the First Citizens BancShares chart, set to a candlestick or bar view. 
Laid Off 500 Workers
You wouldn't expect such a corporate transaction, conducted after such dramatic events, to go entirely smoothly. In a move that's not entirely surprising, First Citizen laid off almost 500 SVB employees in late May. According to reports, the layoffs accounted for less than 3% of First Citizens' employee headcount. 
First Citizens has emphasized that it has reached out to SVB customers to reassure them of the company's commitment to retaining their business. It's also retaining SVB's revenue-generating personnel, as well as essential operations staff. 
In June, First Citizens announced that Marc Cadieux, a 30-year SVB veteran, was named president of Silicon Valley Bank's commercial banking business. Several other key executives from that team were also retained after the acquisition. 
Keeping Revenue-Generating Teams
That's important for future growth, as it indicates that First Citizens isn't doing any kind of mass housecleaning; instead, it's keeping established, revenue-generating teams in place. 
First Citizens Bank also sued British bank HSBC Holdings plc (NYSE: HSBC) for its part in an apparently orchestrated scheme to recruit 42 former SVB employees. 
As of yet, that lawsuit has had no meaningful effect on either bank's share price.
When First Citizens reported first-quarter results on May 10, the stock gapped up 7.45% in heavy trading volume. That big move came despite the bank missing analysts' bottom-line views. Without the SVB acquisition, the company was expected to earn $20.09 per share, below Wall Street's consensus estimate of $21.17 per share.
But the report gave investors plenty to like. 
One-Time Gain Of $9.82 Billion
As a result of the acquisition, First Citizens' net income included a one-time gain of $9.82 billion, net of tax. That gain resulted in earnings of  $9.52 billion, up from $257 million in the previous quarter. That amounted to earnings of $653.64 per share, compared to $16.67 per share in the fourth quarter of 2022.
The bank presented the numbers sequentially, rather than on a year-over-year basis, to illustrate the dramatic shift. 
On a year-over-year basis, earnings were up 3,814%. 
There are clearly some hitches to work out. For example, in the earnings conference call, First Citizens' chief financial officer Craig Lockwood Nix acknowledged that the bank's capital ratios are currently well above target ranges, and the bank expects to keep them elevated through this year and next. 
As part of the acquisition, banking regulator FDIC agreed to cover some losses related to SVB loans, but First Citizens is keeping extra cash on hand to cover its part, as well. Given that regulators are expected to increase banks' capital requirements in the not-so-distant future, that puts First Citizens in a good position, relative to its capital ratios. 
Analysts See Triple-Digit EPS Growth
Analysts forecast First Citizens' earnings to grow 123% this year, to $150.20 per share, following the SVB acquisition. Next year that's seen growing at a more normalized rate of 17%, to $175.32 a share. 
In the current quarter, First Citizens expects to generate $430 million to $460 million in noninterest income. It expects the legacy SVB business to generate close to $130 million to $150 million per quarter. That's about half of what the pre-acquisition business was generating, but First Citizens CEO Frank Holding said, "We are expecting the run rate to be slightly less than half of that given client attrition, especially in some of the off-balance sheet suite products."