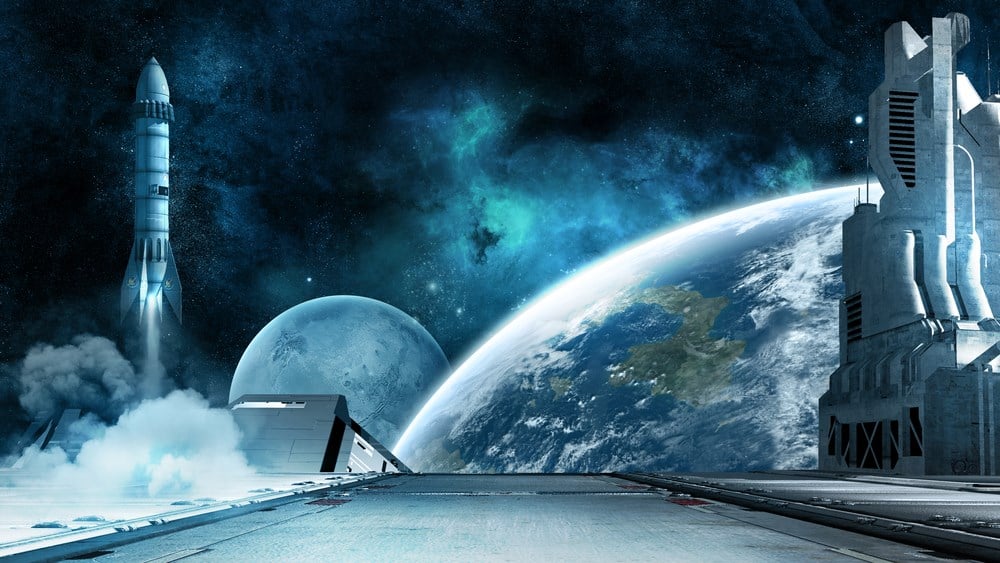 The space industry is big business, and it will only get bigger. According to Grand View Research, the global space tourism market was valued at $695.1 million in 2022. However, it's expected to grow at compound annual growth rate (CAGR) of 40.2% between now and 2030.  
And whether you like him or not, Elon Musk is a big reason for the growing interest in this sector. Musk's privately held (for now) Space-X was the first private sector firm to move cargo to and from the International Space Station. That was over 10 years ago. And Musk continues to have ambitious plans to explore Mars.  
For now, the headlines in this sector focus on space tourism which is allowing high net worth individuals travel within and across the Earth's orbit. But many government and private research organizations are pouring money into research and development activities that focus on space exploration.  
That reminds me of the saying, you drive for show and putt for dough. While the idea of traveling to outer space may be exciting (or not), it's important to know where the real money is being made in this sector, at least in the short term. Here are three stocks that could take off like a rocket for disciplined, long-term investors.  
With the Posturing Over, the Growth Can Begin 
In late February, I explained to MarketBeat investors my belief that Rocket Lab USA, Inc. (NASDAQ: RKLB) was a nice-to-have but not a must-have stock. One reason for my hesitancy was the company's reliance on government contracts at a time when the federal budget was being closely scrutinized as part of the debt ceiling negotiations.  
As it turns out, defense spending was excluded from the negotiations. But does that mean that all systems are go?  
Maybe and maybe not. For speculative reasons, RKLB stock offers compelling value at just around $6 per share. However, retail investors have to understand that this will still be a heavy lift. Institutional investors are staying away from a stock for a company that is unprofitable and trades below $10 per share. And short interest in the stock is over 9%.  
That being said, the company, which provides launch services and space systems solutions for the space and defense industries, reports earnings on August 8. RKLB stock is up 54% since its latest report after showing strong year-over-year revenue growth. If the company repeats that trick, the company may show investors why analysts have been raising their price targets.  
A Swiss Army Knife for the Space Industry 
One way to invest in the space sector is to invest in the companies that provide some of the vital products and services that will be needed. That's where Leidos Holdings, Inc. (NYSE: LDOS) comes in.  
The company's mission is to "embrace and solve some of the world's toughest challenges." It does this, in part, by providing technical expertise in areas critical to deep space exploration and human spaceflight projects. The company contracts with companies in the defense and intelligence industries in addition to several civilian agencies.  
And for investors looking for a tangible connection to the space sector, the company's Dynetics subsidiary recently announced a partnership with NASCAR to design a next-generation lunar terrain vehicle.  
LDOS stock is down 15% in 2023, but earnings are expected to grow by 11%. That being said, the company missed on earnings by about 8% in its first quarter earnings so investors may be taking a wait-and-see approach. That could be to your benefit if you like its valuation of around 18x earnings and a dividend that has a yield of 1.61% which is close to the sector average of 1.73%.  
A Safe Space Stock with Multiple Revenue Streams
When investors think of Lockheed Martin Corporation (NYSE: LMT) the defense sector is frequently the first thing that comes to mind. But the company also has a robust space division that is likely to grow as demand for space exploration grows. 
If you look at a company like Rocket Labs as the company that helps launch things into space, Lockheed Martin is the company that makes some of the "stuff" that gets launched, specifically satellites and space transportation systems.  
In the first quarter of 2023, the company's space business posted year-over-year revenue growth of 16% and operating profit growth of 13%. This is still a small part of the company's overall business, but therein lies the opportunity for risk-conscious investors. By investing in a "space adjacent" company, you stand to get many of the benefits while hedging your risk.