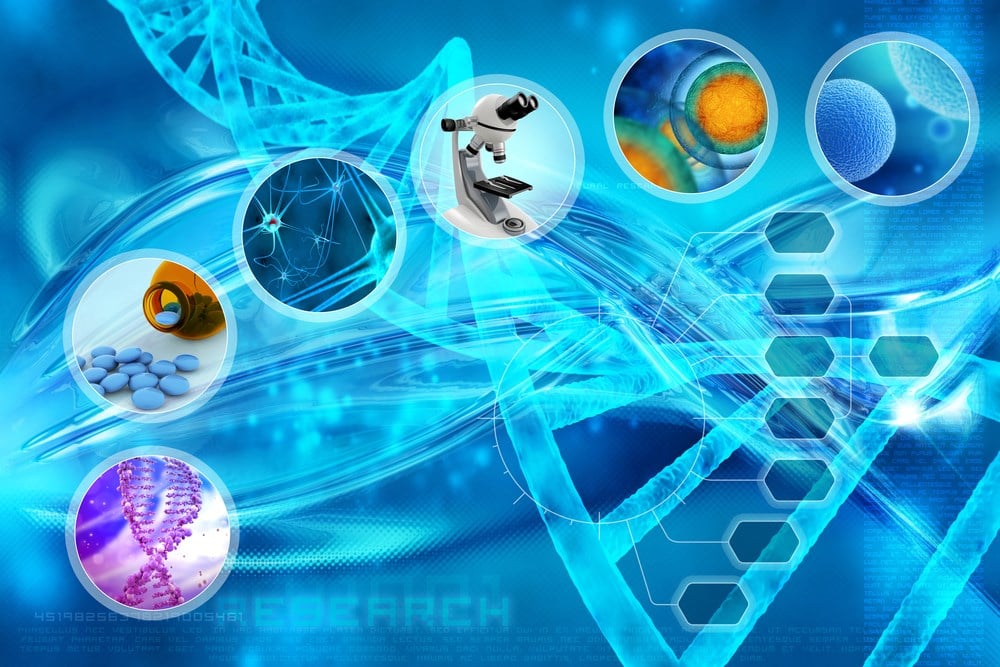 News of a $50 million investment by artificial intelligence (AI) leader Nvidia Co. (Nasdaq: NVDA) into AI-powered drug discovery company  Recursion Pharmaceuticals Inc. (NASDAQ: RXRX) more than doubled share prices. It also shined the spotlight on AI-powered drug discovery and the potential for quicker, better and more personalized drug therapies being developed using AI.
One of the benefactors of this spotlight is a UK-based clinical-stage pharma tech company, Exscientia plc (NASDAQ: EXAI). The company currently has five projects in the pipeline and competes with AI-drug discovery leader Schrodinger Inc. (NASDAQ: SDGR). AI drug discovery has the potential to cut preclinical research costs between 20% to 40% resulting in around a 15% increase in approved biotech therapies.
AI-Drug Pioneer
Exscientia takes credit for having the first AI-designed drugs to enter human clinical trials. It also credits itself as the first AI system to demonstrate improved clinical outcomes and repeatable 10X productivity in drug candidate creation. The company partners were Bristol Myers-Squibb Co. (NYSE: BMY), which received funding from the Bill and Melinda Gates Foundation, Softbank Group Co. (OTCMKTS: SFTBF) and Sanofi (NASDAQ: SNY) for its projects.
Projects Pipeline
Exscientia has five projects in its pipeline. Its small molecules are designed to target and block the activities of specific receptors that are responsible for pain, inflammation and cancer.
Its EXS21546 targets the A2A adenosine receptor, which is involved in many cellular processes, including pain, inflammation and cancer. Its small molecule drug is a selective A2A adenosine receptor antagonist, which blocks the receptor activities, thereby neutralizing its role in inflammation, pain and tumor growth. It's currently in Phase 1 clinical trials with patients with rheumatoid arthritis.
Bristol Myer-Squib Collaboration
EXS4318 was developed in collaboration with Bristol Myers-Squibb to target PKC-theta, a protein kinase key driver of many autoimmune, inflammatory and immunological diseases. EXS74539 targets LSD1, reducing amyloid plaque formation and improving cognitive functions in animal models of Alzheimer's. EXS73565 targets and blocks MALT1 protease, a protein involved in cancer development. It plans to use in patients with solid tumors in upcoming clinical trials.
ELUCIDATE (GTAEXS617) Enrolls First Human Patient
On July 10, 2023, Exscientia announced the first human to be enrolled in its phase 1 clinical trial for ELUCIDATE, GTAEXS617. It's designed to block CDK7 for the treatment of advanced solid tumors. Patients with advanced solid tumors, including colorectal, pancreatic, head and neck, breast and ovarian and non-small cell lung cancer, will be used in the study in collaboration with GT Apeiron, a Chinese biotech.
Exscientia Chief Quantitative Medicine Officer Dr. Michael Krams commented, '617 was created to solve critical design challenges not met by traditional drug discovery methods, focusing on on-target potency, selectivity and safety.
Combined with our unique ability to gather data from primary patient samples to predict response, we believe our '617 program exemplifies the power of the various ways in which we create value through our precision medicine platform. We look forward to enrolling additional patients into the ELUCIDATE trial and anticipate that '617 if approved, could meaningfully improve treatment outcomes for patients."
Sanofi Deal
In 2022, Exscientia signed a lucrative deal with Sanofi to design up to 15 small molecule targets across oncology and immunology. The company can earn up to $343 million per target in potential payments of $193 million for research and development and up to $150 million for commercial milestones.
Sanofi gave a $100 upfront investment with the potential for $5.2 billion in total payments. The company can co-invest in clinical studies to receive royalties at rates up to 21%.
Exscientia analyst ratings and stock price targets are at MarketBeat.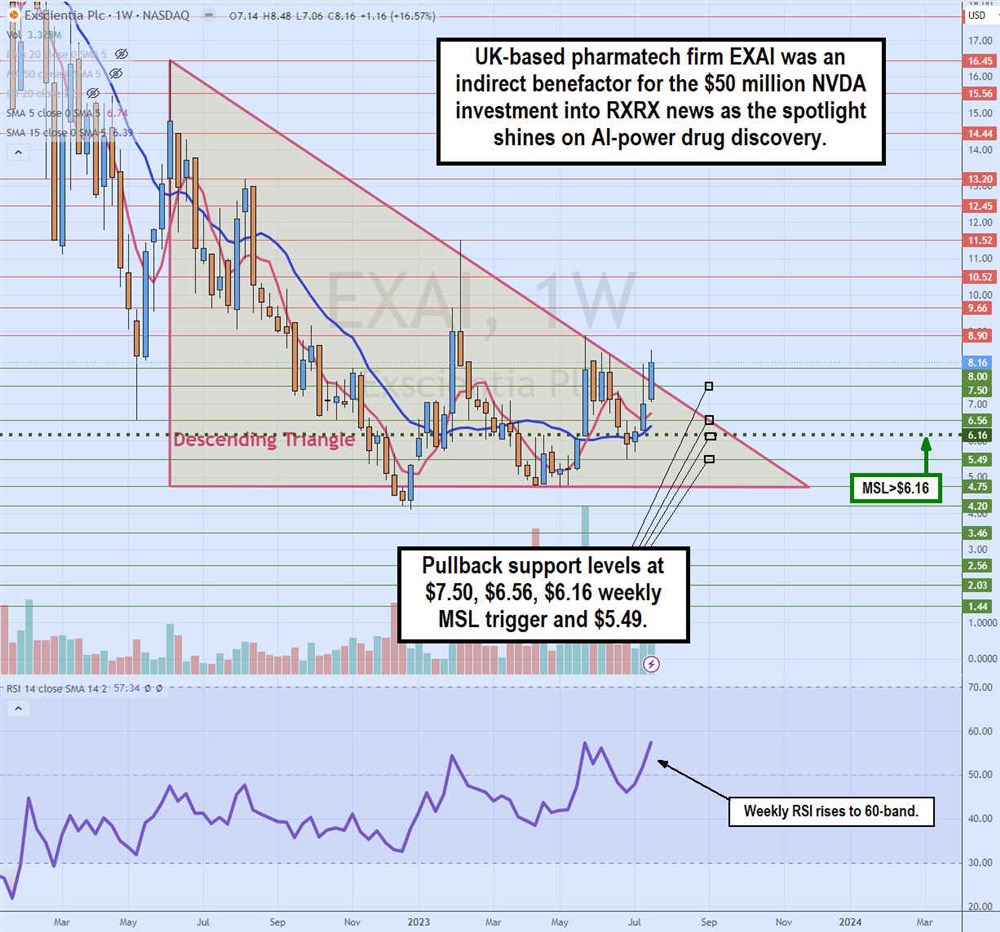 Weekly Descending Triangle Breakout
The weekly candlestick chart for EXAI illustrates a weekly descending triangle breakout pattern identical to the breakout pattern for RXRX. The weekly triangle started forming after peaking at $16.45 in June 2022. EXAI shares collapsed to a low of $4.20 by December 2022.
Each bounce attempt peaked at lower highs forming the descending trendline heading towards the apex with the flat-bottom lower horizontal trendline at $4.75. EXAI formed a weekly market structure low breakout through the $6.16 trigger in May 2023 as shares were capped again at the descending trendline.
It wasn't until the NVDA investment in RXRX news turned the weekly relative strength index (RSI) momentum oscillator back towards the 60-band in July 2023 that the breakout finally occurred through the $7.50 descending trendline. Pullback supports are at $7.50, $6.56, $6.16 weekly MSL trigger and $5.49.