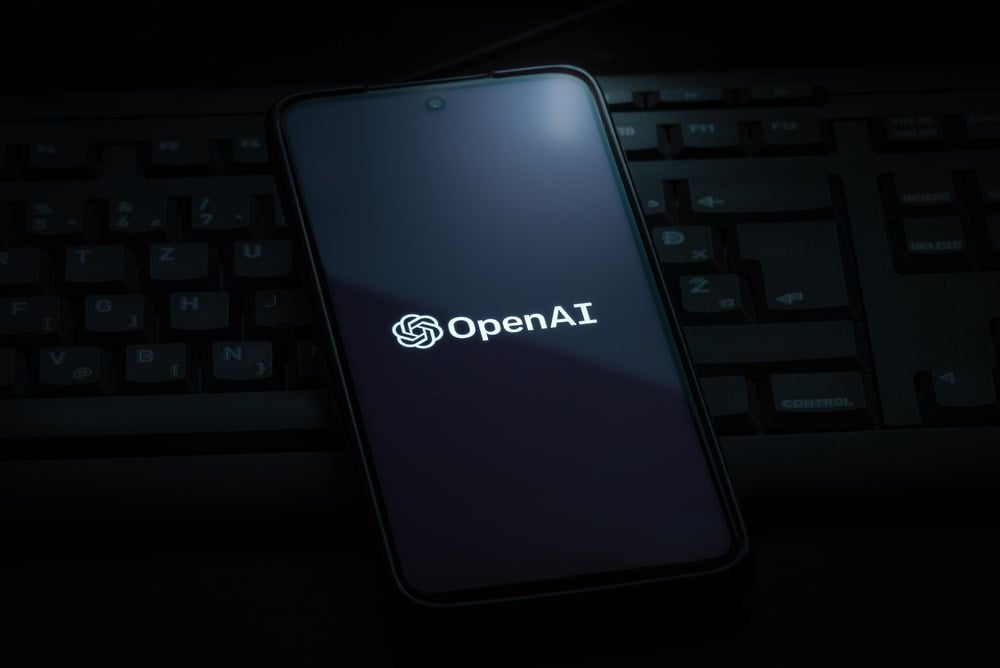 As artificial intelligence consumes more media and investor attention, some investors are considering AI research lab OpenAI. If you're an investor asking yourself, "How can I buy Open AI stock?" — you're in for some unfortunate news. The company is currently privately owned and not on any major stock exchange. 
However, while you cannot buy Open AI stock directly, there are a few stocks you can invest in to gain exposure to the blooming artificial intelligence industry. Read on to learn how to invest in OpenAI through associated stocks and ETFs and learn more about how OpenAI is changing the current artificial intelligence landscape. 
What is OpenAI?
Best known as the company behind AI sensation ChatGPT, OpenAI is an artificial intelligence research organization. The company's stated goal is to develop artificial intelligence and make that research as widely available to the general public as possible. OpenAI operates as two segments: the non-profit OpenAI Inc. and its for-profit subsidiary OpenAI L.P. Its ultimate goal is to create, develop and distribute highly autonomous systems to replicate human performance and speech patterns. 
Founded in 2015, OpenAI is notable for its Generative Pre-trained Transformer (GPT) tech, developed to produce coherent and human-like text from information available on open search engines. Additional projects from OpenAI include image generation software Dall-E and AI-generated translation software Whisper.  
At the forefront of artificial technology, many investors wonder how to buy OpenAI stock or ChatGPT stock. Is OpenAI a public company? Unfortunately, it is not currently possible to buy Open AI stock because the company is a privately held research institution. While you cannot search an OpenAI stock ticker, you can make an AI stock buy and gain exposure to the company by investing in stocks and ETFs associated with OpenAI. 
Can You Buy OpenAI Stock?
To understand why investing in OpenAI stock is impossible, you must understand the difference between privately owned and publicly owned companies. The companies that offer shares of stock on exchanges like the New York Stock Exchange and the tech-forward NASDAQ are publicly traded companies. 
As the name suggests, public companies are those owned by shareholders from the general public who elect to purchase shares of stock. These companies are subject to heavy regulation and scrutiny from the Securities Exchange Commission and must disclose financial and income information to investors.   
On the other hand, private companies are not publicly traded; you cannot buy into them as easily as buying a share of stock from companies like Apple or Meta. Instead, a small collection of investors hold ownership and shares. Private companies enjoy the benefits of more flexibility in reporting and managing income but don't fundraise publicly like public companies. 
As of August 2023, OpenAI is a privately held company, meaning that there is no OpenAI ticker or stock symbol you can search for to invest through. The company's hybrid structure, composed of both nonprofit and profit-oriented companies, has contributed to founders' hesitancy to offer shares to retail investors. 
When Will OpenAI Have its IPO?
Companies can shift from private to public ownership during an initial public offering (IPO). 
An IPO is a process through which a private company offers its shares to the public for the first time, entering the public stock exchange. During an IPO, the company's financial information and business strategy are disclosed to potential investors. The stock market determines the company's value once the shares are sold to the public. IPOs offer opportunities for both investors to buy shares and companies to access funding but come with strict conditions corporations must meet. 
When will OpenAI go public? Due to its hybrid model, OpenAI's leadership has stated that the company has no plans to pursue an IPO. It appears that the question of "Is OpenAI on the stock market?" will remain "no" for the foreseeable future — a disappointment for investors looking for innovative tech stocks. 
How to Buy OpenAI Stock
How can you invest in OpenAI if the company doesn't yet have a stock listed for sale? While you cannot currently buy OpenAI stock, you can prepare yourself if the company does decide to seek an IPO. Use the following steps to stay prepared — and prime yourself for additional AI investment opportunities. 
Step 1: Open a brokerage account.
The first step to buying or selling any share of stock is to open a brokerage account. Brokerage accounts are accounts issued and approved by licensed stockbrokers, companies that may buy and sell assets on behalf of customers. 
Many types of brokerage accounts range from flexible taxable to retirement-oriented accounts like IRAs and come with tax advantages. Research the types of brokerage accounts, open an account of your choice and practice investing in a few assets to prepare yourself if OpenAI decides to pursue an IPO. 
Step 2: Familiarize yourself with the tech market. 
Artificial intelligence is only a small part of the overall tech market, with OpenAI representing only a small portion of the AI industry. Consider researching and investing in other top-rated tech-oriented stocks to understand the AI market better. Researching and investing in companies that support the booming tech industry can help you stay current with market news, learning more about public companies aiming towards objectives like OpenAI. 
Step 3: Stay up to date with company updates.
As you enter and explore the market, you should stay updated with OpenAI's company announcements and corporate blog. Remain dynamic and interested in OpenAI's continued development to be prepared if the company decides to pursue an IPO. 
More interested in being an early investor than you are in OpenAI specifically? Hundreds of unique companies pursue IPO yearly, giving investors unprecedented access to early stock sales. MarketBeat's list of upcoming IPOs offers a convenient place to explore companies set to go public next month. 
5 Related OpenAI Stocks to Invest in
While you might not currently be able to invest in OpenAI, you can always enter the artificial intelligence market with other publicly traded options. The following tech companies are also conducting artificial intelligence research similar to OpenAI. 
Alphabet Inc.
Alphabet Inc. (NASDAQ: GOOG), the parent company of Google, is known for its extensive AI research, with projects like Google AI working to improve learning processes. In August of 2023, it showcased a total net income of more than $59 billion and a total market capitalization in the trillions. Alphabet may be an ideal choice for investors looking for AI exposure while investing primarily in blue-chip options.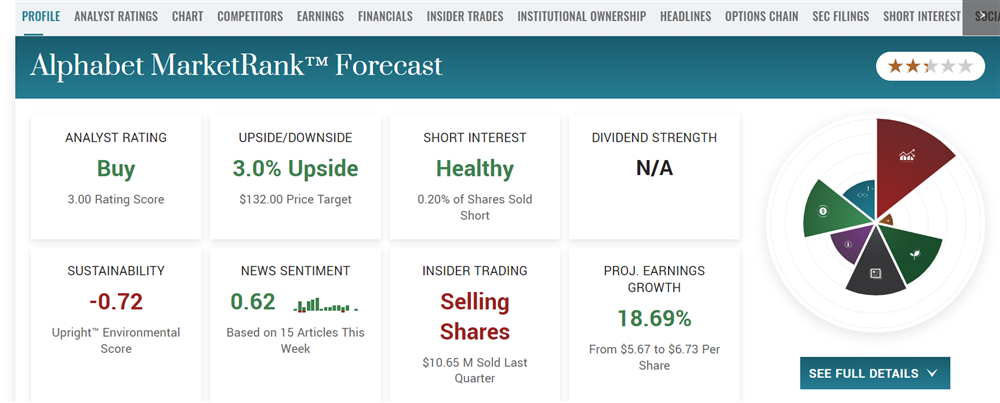 NVIDIA
NVIDIA (NASDAQ: NVDA) is one of the world's largest microchip manufacturers, but the company also invests heavily in artificial intelligence capabilities. For example, one of NVIDIA's most prominent investments is in AI startup Recursion, which committed to an AI streamlined focus in July 2023. Nvidia's investment in Recursion involves using its AI expertise and cloud platform to accelerate the training of AI models for drug discovery, which can benefit investors in both the tech sector and the healthcare sector.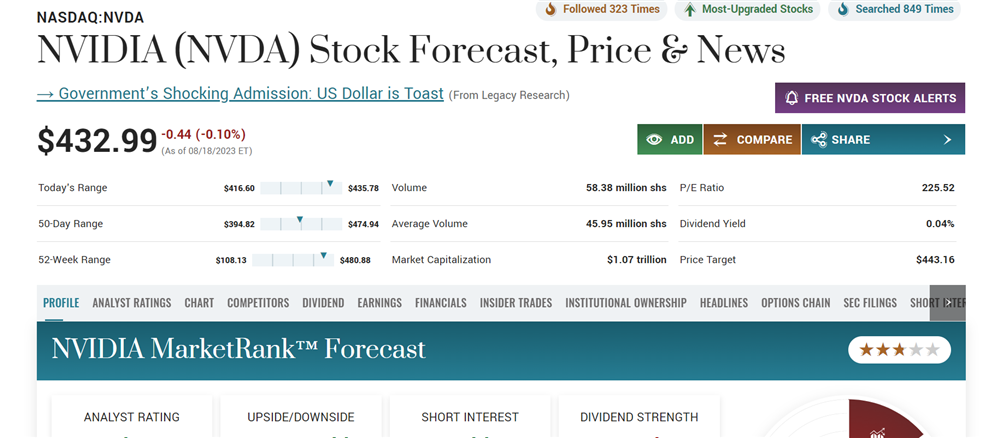 IBM
IBM (NYSE: IBM) is a prominent technology conglomerate with a history of AI research and development. Its Watson AI program is a prominent example, supporting question-and-answer inputs and producing results that mimic human speech. In August 2023, IBM had a total market capitalization of $128 billion, making it a top AI-related stock.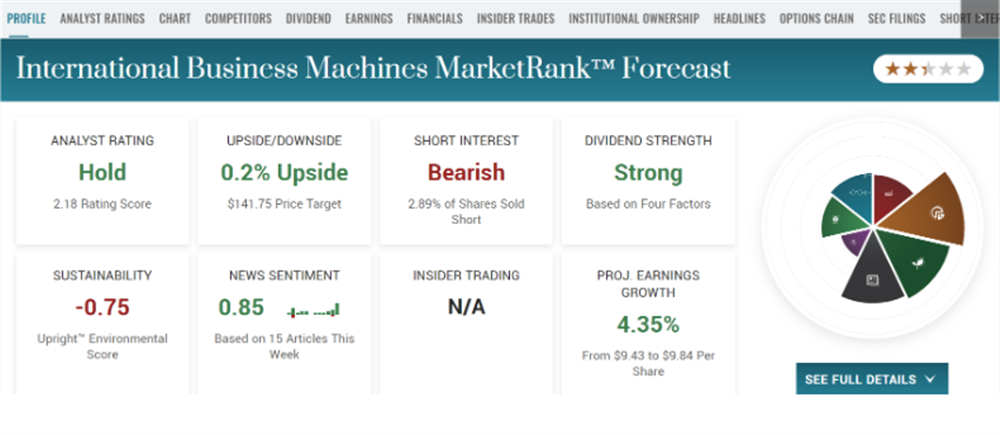 Microsoft
Microsoft (NASDAQ: MSFT) could be a viable option if you're interested in major blue-chip companies with AI investments. With its Azure AI platform, Microsoft offers a comprehensive suite of AI tools, including machine learning and natural language processing. AI integration spans products like Microsoft Office and Azure cloud services, providing easier access for individual users engaged in Microsoft products. In August of 2023, the company had a total market capitalization of $2.35 trillion, making it one of the largest companies currently operating on the American stock market.  

Meta Platforms
While Meta Platforms (NASDAQ: META) is best known for its Facebook social media network, the company is also present and active in the AI sphere. Its artificial intelligence laboratory, Meta AI, dates back to 2013, and works alongside institutions like the NYU's Center for Data Science. Meta's current AI research focuses on computer vision and human speech processing. In 2023, it also announced its open-source LLaMA (Large Language Model Meta AI), a 65B parameter large language model similar to ChatGPT software. 

5 ETFs with Exposure to OpenAI
While OpenAI's private status means that you won't find its stock included in ETFs, there are options that investors can use to invest in similar AI endeavors. Consider these top tech-oriented ETFs, which offer exposure to generative technology similar to OpenAI. 
Roundhill Generative AI & Technology ETF
While OpenAI doesn't currently offer a stock, you can invest in similar generative chat technology by investing in the Roundhill Generative AI & Technology ETF (NYSE: CHAT). CHAT is actively managed, meaning it takes a more dynamic approach to selecting assets for inclusion. While this fund's holdings are more concentrated than other options (it has just 39 holdings in August of 2023), its lower per-share price can present a unique entry point for less experienced investors.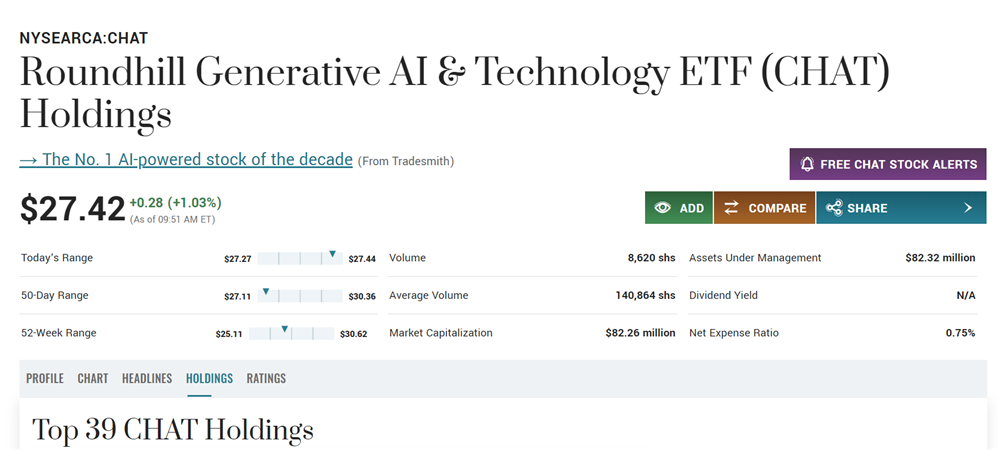 Global X Robotics & Artificial Intelligence ETF
The Global X Robotics & Artificial Intelligence ETF (NASDAQ: BOTZ) is an exchange-traded fund that invests in companies associated with the development of AI. Some of the fund's top holdings are in stocks like NVIDIA, Intuitive Surgical (NASDAQ: ISRG) and private AI development companies like ABB Ltd. In August 2023, the fund held $2.23 billion in assets.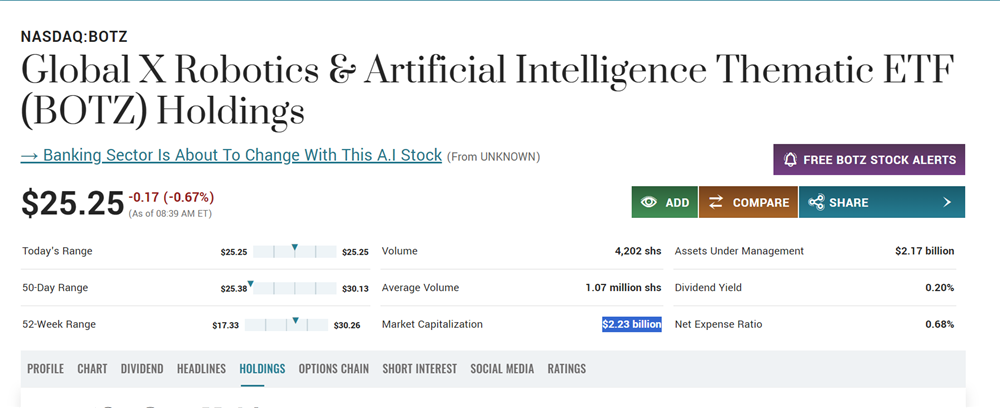 ROBO Global Robotics & Automation ETF
The ROBO Global Robotics & Automation ETF (NYSE: ROBO) is a fund designed to provide investors access to companies at the forefront of technology innovation, including AI-driven robotics and automation. No individual item in the fund makes up more than 4% of its holdings, offering a diverse set of offerings for investors. However, with an expense ratio of almost 1%, ROBO can be a more expensive option than other ETFs on our list.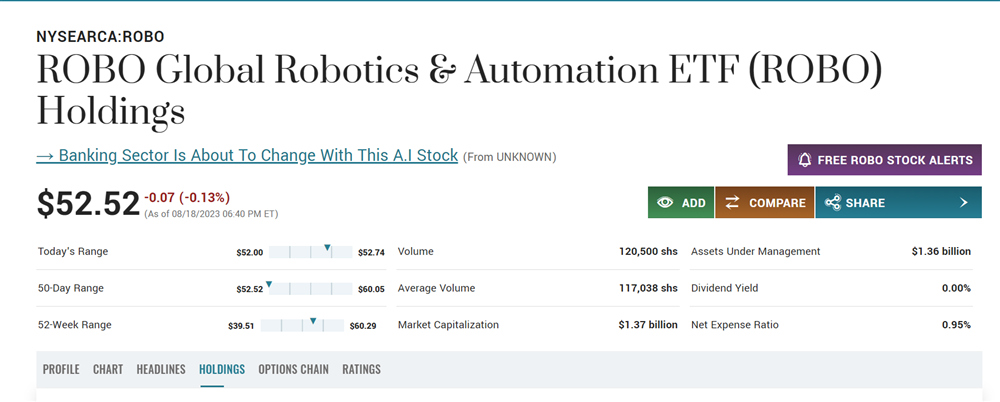 First Trust Nasdaq Artificial Intelligence and Robotics ETF
With international exposure making up almost half of the fund's assets, the First Trust Nasdaq Artificial Intelligence and Robotics ETF (NASDAQ: ROBT) can be a strong option for AI investors looking for international exposure. While 57% of the fund's assets are U.S.-based, it also includes other top international options from Japan, France and the United Kingdom. Its market capitalization in August 2023 was $381 million.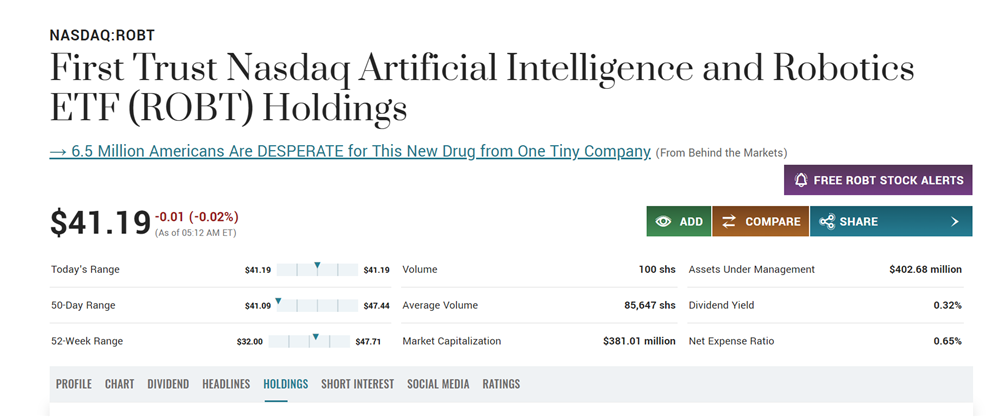 iShares Exponential Technologies ETF
Investors searching for a tech fund with a lower expense ratio, the iShares Exponential Technologies ETF (NASDAQ: XT) could be an appealing option. With a net expense ratio of 0.46%, costs are lower than other tech-oriented ETFs, meaning you'll have the opportunity to keep a larger percentage of your dividends. XT's holdings spread across various tech sectors, including robotics and automation. 
Investing in AI
While AI is an exciting sector with boundless potential for investors, it's important to remember that new technology can create volatile investments. Invest in AI as a small portion of an overall diversified portfolio, and consider opting for an ETF over individual stocks if you're still new to the market. When you invest in an ETF, you gain exposure to all of the underlying assets listed in the holdings list, offering an effortless layer of diversification.