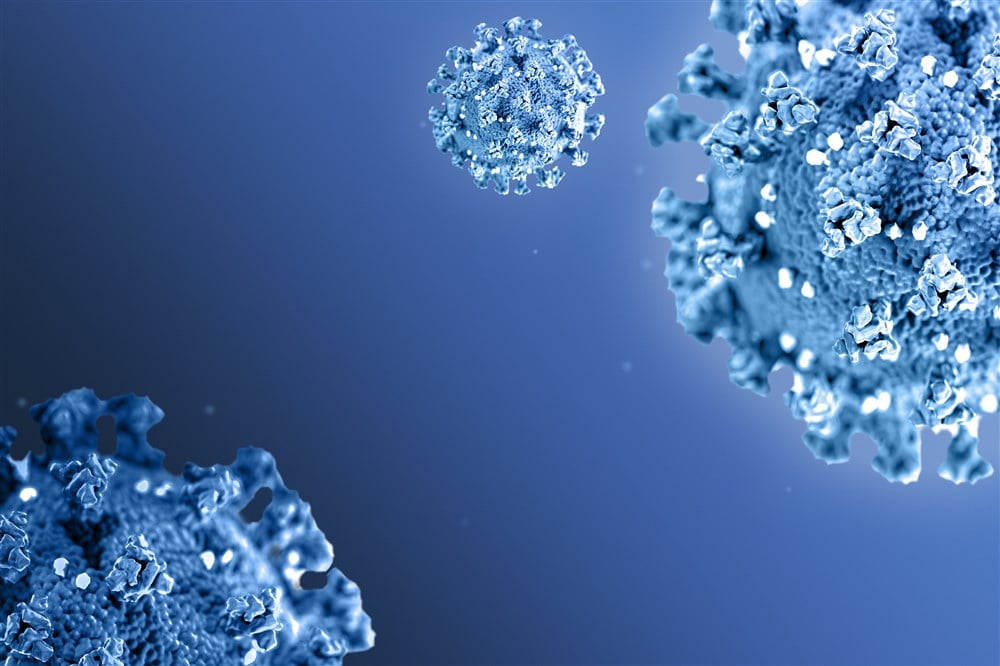 The cold and flu season is upon us, but COVID-19 cases and hospitalizations have also increased recently. The Centers for Disease Control (CDC) will be voting on updated COVID-19 vaccines at a meeting scheduled for September 12, 2023. Updated vaccines are awaiting regulatory approval that are effective against the proliferation of various strains, including the Omicron EG.5 variant, which is responsible for 22% of new infections, and the XBB.1.5 subvariant. The new vaccines will be available in late September after the vote recommendations and FDA approval.
The CDC reported that COVID-19 cases have increased 19% since the end of August. Mask mandates have been reenacted in regions with rising COVID cases at offices, schools and healthcare facilities. Lions Gate Entertainment Co. (NYSE: LGF.A) has implemented a mask mandate on two floors of its headquarters in Hollywood.
The pandemic has made people more conscious about healthcare, but complacency may be kicking in. Litigation among the biotechs continues, but it's not stopping the rollout. A new slate of COVID booster vaccines is expected to be rolled out in September 2023. Here are 3 stocks to keep on your watchlist for the upcoming COVID-19 booster season.
The most widely used COVID-19 vaccine in the U.S., produced in collaboration with Pfizer and BioNTech SE (NASDAQ: BNTX), received European Commission authorization on its new vaccine targeting the Omicron XBB.1.4 variant. The name of the vaccine is Comirnaty, which is approved for adults, children and infants older than six months.
Comirnaty is a messenger-RNA (mRNA) vaccine. mRNA is a molecule that trains the immune system to fight specific diseases. It carries blueprints for cells to produce the spike protein found on the surface of the COVID-19 virus (SARS-CoV-2), which the immune system attacks by producing antibodies and T-cells that remember how to fight it in the future. This enables the immune system to be able to combat COVID-19 infections.
However, it's worth noting that the mRNA doesn't remain in the body as it breaks down and is disposed of by the body in time. It's important to understand that the vaccine does not introduce the live virus that causes the disease; the mRNA only carries blueprints to identify the protein or spike protein in the case of COVID-19.
Patent Infringement Lawsuits Galore
Many biotechnology companies are suing Pfizer and BioNTech under allegations of patent infringement for lipid nanoparticle technology (LNP). While Moderna is being sued, it is also suing Pfizer and BioNTech. LNP is responsible for delivering the mRNA to cells to create spike proteins for which the immune system will make antibodies to build defenses.
In a nutshell, without LNPs, the mRNA would not be able to reach the cells before being digested and rendered useless. Alnylam Pharmaceuticals Inc. (NASDAQ: ALNY), Arbutus Biopharma Co. (NASDAQ: ABUS), CureVac N.V. (NASDAQ: CVAC) and Genevant Sciences are suing Pfizer, BioNTech and Moderna for various patent infringements. They are seeking a cut of the revenues but not are not attempting to stop vaccine production or distribution. The various stages of the lawsuits may take years to play out.
Pfizer analyst ratings and price targets are at MarketBeat.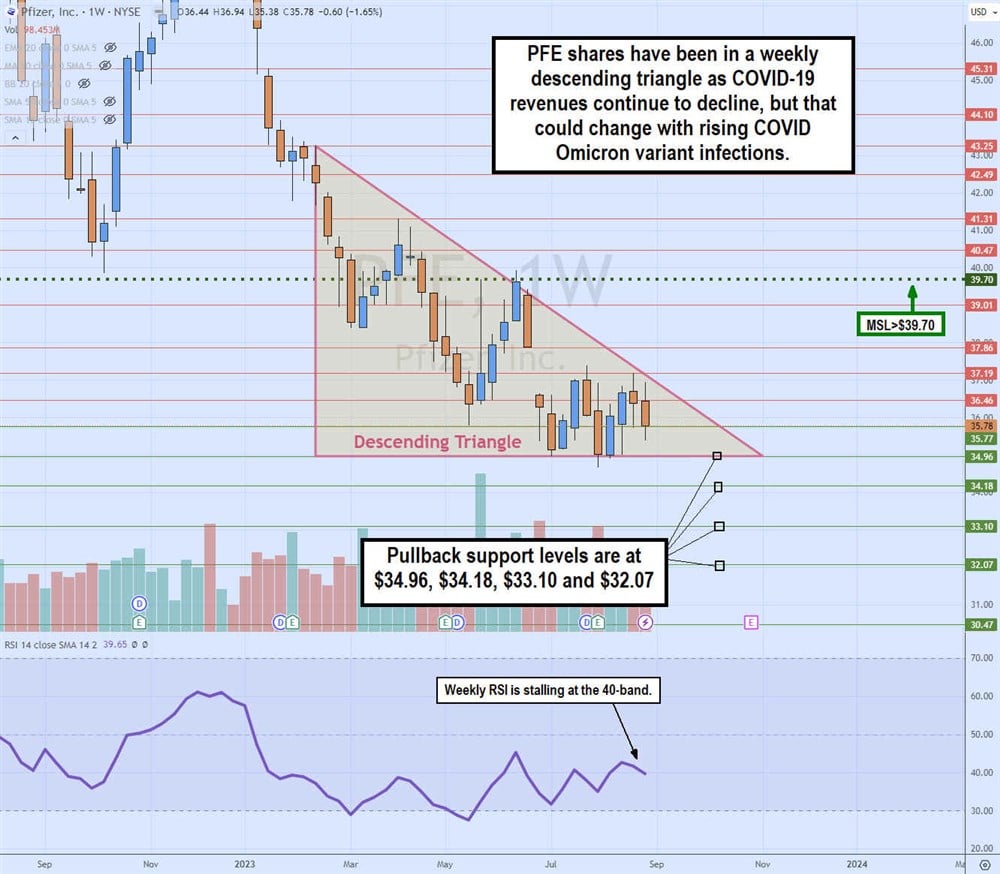 Weekly Descending Triangle Pattern
The weekly candlestick chart on PFE illustrates the descending triangle formed after peaking at $43.25 in February 2023. The flat-bottom horizontal trendline of the triangle is at $34.96. The descending trendline has rejected each bounce attempt at a lower high as it gets closer to the apex point. PFE formed a market structure low (MSL) trigger at $39.70, but that's nowhere near triggering.
The relative strength index (RSI) oscillator is stalled at the 40-band. As the apex nears, PFE will break out through the descending or flat-bottom trendlines. Pullback supports are at $34.96, $34.18, $33.10 and $32.07.
Moderna is the second most widely used COVID-19 vaccine in the country. It's also working on vaccines for Respiratory Syncytial Virus (RSV), influenza and cancer. Moderna stated that its new booster shots were effective against the Omicron subvariants. The variants have changed dramatically to a point where the original vaccinations may no longer be effective as the virus can evade the antibodies.
The new boosters enable protection against the original strain and provide better protection against the BA.4 and BA.5 strains of Omicron to induce broader immunity.
Lawsuits
Pfizer and BioNTech requested the U.S. Patent and Trade Office (USPTO) to reconsider and invalidate Moderna's overly broad mRNA-related patents. They contend that Moderna's patents covering any mRNA sequence encoding any beta coronavirus spike protein, as well as any lipid-based formulation for delivery, are too broad and should be deemed unpatentable.
On August 28, 2023, Alnylam Pharmaceuticals lost on two patent infringement cases against Moderna but still alleges five of its patents related to LNP technology were violated in producing its Spikevax COVID vaccine.
Moderna analyst ratings and price targets are at MarketBeat.
Novavax was a promising early contender in the race for a COVID-19 vaccine, but delay after delay set the company back. Its vaccine, Nuvaxovid, was limited to distribution in Canada and foreign countries outside the U.S. as Pfizer and Moderna dominated vaccinations domestically. Novavax saw its shares plunge from $331.68 in February 2021 to the $4 range in 2023.
However, this time around, Novavax is trying to stay ahead of the curve, attempting to get a CDC recommendation for its booster in time for the 2023 COVID-19 and influenza season. It is working on a combination of COVID and influenza vaccine in one, which is in phase 2 trials. Shares recently exploded to the upside on a surprise Q2 2023 profit of 58 cents per share when analysts were expecting a loss of $1.33.
Even more surprising was the upbeat guidance for full-year 2023 revenues to come between $1.3 billion and $1.5 billion, beating analyst estimates of $1.44 billion.  
Nuvaxovid Effective Against Omicron Variant EG.5
Novavax announced that its COVID booster was proven successful in neutralizing the XBB1.16.5 and EG.5.1 strains in non-human primates. It has filed with the FDA and CDC for approval, along with many foreign health agencies. The company sees a potential of 80 million to 100 million doses in the U.S. if approved.
September 12 will be an important day to mark on the calendar. This underdog has $5.32 in cash and a whopping 42% short interest, which could spark a short squeeze if approved.
Novavax analyst ratings and price targets are at MarketBeat.