--News Direct--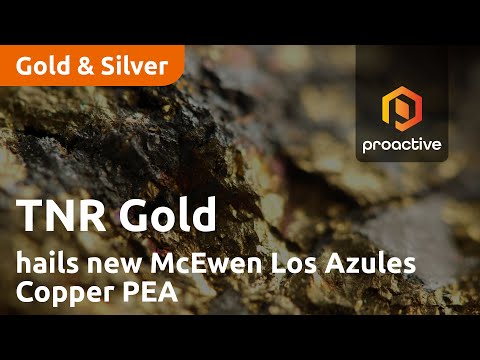 TNR Gold Executive Chairman Kirill Klip joins Thomas Warner from Proactive London to discuss the impact of a new preliminary economic assessment (PEA) for the Los Azules Copper Project. The project is being developed in Argentina by McEwen Copper, which is majority-owned by McEwen Mining Inc (TSX:MUX, NYSE:MUX), and has garnered major investment from industry heavyweights like Rio Tinto and Stellantis.
Klip highlights the increase in the mineral resource estimate at the project, with total copper increasing by a substantial 27.6%, with significant boosts in both indicated and inferred resources. This underscores the magnitude of the project, with estimated copper production of 182,000 tonnes over the first five years of operations and 145,000 tonnes over the following 27 years. He suggests that the competitive production cost of $1.07/lb and a short payback period of 3.2 years make it an attractive prospect even in challenging economic conditions.
For shareholders of TNR Gold Corp, this new PEA brings the potential valuation of the company's royalty holding to over $30 million. In response to the belief that the market share prices don't reflect the true value of their assets, TNR Gold Corp has launched a share buyback scheme to optimise shareholder returns.
Contact Details
Proactive Investors USA
+1 347-449-0879
na-editorial@proactiveinvestors.com
View source version on newsdirect.com: https://newsdirect.com/news/tnr-gold-executive-chairman-hails-new-mcewen-los-azules-copper-pea-218144643