--News Direct--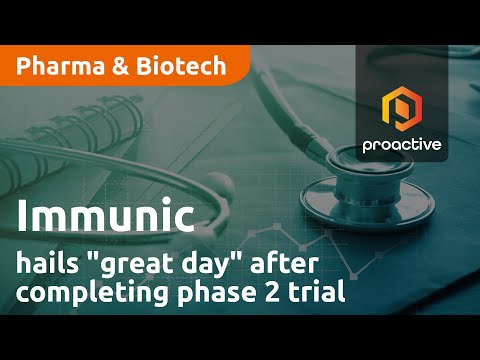 Immunic Inc (NASDAQ:IMUX) President and CEO Dr Daniel Vitt speaks to Thomas Warner from Proactive after the biotechnology company announced the completion of the enrolment of its phase 2 CALLIPER trial of lead asset vidofludimus calcium (IMU-838), in patients with progressive multiple sclerosis (PMS).
Dr Vitt explains that 467 patients have been enrolled across various sub-indications including primary progressive, secondary active, and non-active secondary progressive MS. He calls it a "great day for the programme." The trial aims to assess the efficacy of IMU-838 and Dr. Vitt highlights the focus on biomarkers, particularly the neurofilament light chain (NFL), a protein indicative of active disease.
Anticipated next steps include an interim analysis set for release this fall, which will examine biomarker benefits for different sub-indications. Dr. Vitt also reflects on what he considers a successful 2023 so far, with positive data emerging from Immunic's colitis maintenance and IMU-856 celiac disease programs.
Contact Details
Proactive United States
+1 347-449-0879
View source version on newsdirect.com: https://newsdirect.com/news/immunic-ceo-hails-great-day-after-completing-imu-838-phase-2-trial-enrolment-801372157