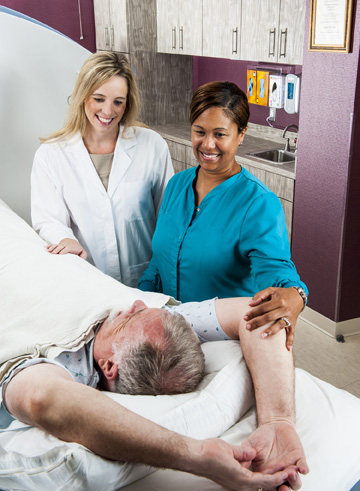 (NewsUSA)

- Lung cancer kills more people each year than breast, colon and prostate cancers combined. To address this, new federal recommendations have nearly doubled the number of Americans eligible for lung cancer screening.
Increased use of these annual CT scans, which detect the disease early, can save up to 60,000 lives in the United States each year.
The U.S. Preventive Services Task Force (USPSTF) now recommends screening people ages 50-80 with a 20 "pack-year" or more smoking history. If you smoke, or used to smoke, a pack of cigarettes per day for 20 years, or two packs per day for 10 years, that's a 20 pack-year smoking history. Insurers must cover USPSTF-recommended exams.
"Lung cancer screening and improved therapies save lives," says American Cancer Society Senior Vice President of Cancer Screening Robert Smith, PhD. "Expanded screening coverage is a leap forward for lung cancer care."
The new guidelines nearly double the number of Black people eligible for screening. Black people get the disease earlier in life -- often with lighter smoking histories.
"Expanded coverage can address racial and regional disparities and spur lung cancer care equity," says Prevent Cancer Foundation Founder and Chief Executive Officer Carolyn Aldigé. "Black men are the most likely Americans to die from lung cancer."
Medicare covers screening for beneficiaries ages 55-77 with a 30 pack-year history, but is considering expanded coverage. Doctors and patients must discuss risks, benefits and smoking cessation (if the person still smokes) before a scan is ordered.
"Consistent Medicare and insurer coverage would boost screening and save lives," says GO2 Foundation for Lung Cancer Co-Founder Laurie Fenton Ambrose. "Doctors, patients and insurers must make this happen."
If you think this screening can help you, talk to your doctor. Less than 15% of those eligible for screening are tested.
"This exam can save more lives than any cancer test in history. Doctors should talk to eligible patients today," says American College of Radiology® (ACR®) Lung Cancer Screening Committee Chair Debra Dyer, MD.
Screening is not an excuse to keep smoking, but a chance to help people who smoke to quit and reduce smoking's impact on them and those around them.
"Finally, we have a test that can change the face of lung cancer to a survivable one. More coverage means more people tested and saved," says National Lung Cancer Roundtable (NLCRT) Chair Ella Kazerooni, MD.
Visit NLCRT.org for more information.