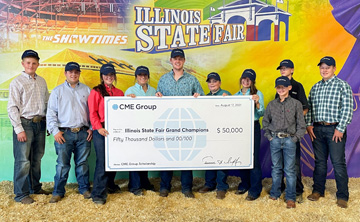 (NewsUSA)

-You herd it here first, the Illinois State Fair is back again this year, providing a way for skilled young farmers to show off their hard work and demonstrate their expertise in the agricultural industry.
Agricultural education is an important priority for CME Group. During this year's Governor's Sale of Champions, student exhibitors were presented with one-time scholarships totaling $50,000. Each of the ten Grand Champion exhibitors will receive a $5,000 scholarship, which will be used to advance their education. Recipients of the 2021 CME Group scholarships were: Ashtin Guyer (Crawford, IL), Brayden Wilson (LaSalle, IL), Cole Caldwell (Peoria, IL), Edward Hanson (Iroquois, IL), Ella Bobell (Logan, IL), Jess Hawk (DeKalb, IL), Landrey Freeman (Scott, IL), Maddox Horner (Jasper, IL), Nolan Hoge (McDonough, IL) and Owen Pree (Iroquois, IL).
"At CME Group our roots are in agriculture and we understand the critical role that farmers play in fueling the global economy," said Tim Andriesen, Managing Director of Agricultural Products at CME Group. "These students are the among the best and the brightest and we are proud to support them as they further their education and become the next generation of agricultural leaders."
Young ag enthusiasts also demonstrated their knowledge around identifying and managing livestock at this year's Illinois 4-H Livestock Skillathon on August 11th. During the Skillathon, participants were tested on management, equipment identification, breed identification, quality assurance and cattle marketing. CME Group, the world's leading and most diverse derivatives marketplace, spearheaded the cattle marketing portion to assess risk management skills and strategic decision-making abilities.
After intense competition, nine champions each received a $1,000 CME Group scholarship to continue their education. Recipients of the 2021 CME Group Skillathon scholarships were: Alyson Utegg (Grand Ridge, IL), Anna Curley (Good Hope, IL), Cole Paulek (Stonington, IL, Davis Howell (Maroa, IL), Hannah Miller (Chatsworth, IL), Jack Link (Gilson, IL), Lauren Wolters (Aviston, IL), Liam Steward (Mechanicsburg, IL) and Waylen Paulek (Stonington, IL).