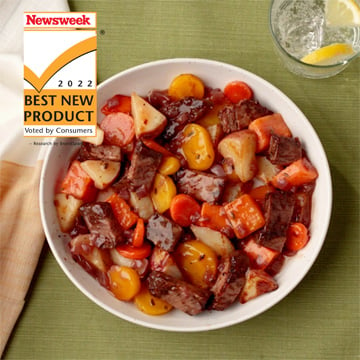 (NewsUSA)

- For the past two years, the pandemic has impacted our daily lives, and consumer priorities around healthy eating and cooking have shifted as more people are eating and cooking at home. The pandemic has also caused a change in dietary habits, and many people have gained weight, in what is known as the "Quarantine 15."According to a recent study by Nutrisystem, 76% of people gained as much as 16 pounds between March and July 2020.
With warmer weather and a sense of normalcy around the corner, many people are focusing once again on their health and wellness goals. Courtney McCormick, Corporate Dietitian at Nutrisystem, says "losing weight and eating healthy doesn't have to be hard," and offers these reasons on why frozen meals can be that solution you need to get back on track.
Frozen Meals are Portion Controlled
Frozen meals not only take the guesswork out of portion control and re-teach reasonable portion sizes, but single serving, portio-controlled meals, such as frozen meals, are also a proven method of weight loss, according to the Academy of Nutrition and Dietetics. Plus, many frozen options, like Nutrisystem's new premium meals are packed with protein, to keep you feeling full longer and help you stop reaching for that after dinner snack. 
Frozen Meals are Nutrient Rich 
"Frozen meals taste great and are good for you," says McCormick. The frozen food industry has been working hard to focus on adding plant-based ingredients, like vegetables, to frozen meals. In these meals, veggies are often harvested at the peak of freshness when they have the most nutrients.
Frozen Meals are Convenient
Frozen meals eliminate prep time in the kitchen. "You no longer have to spend significant time in the kitchen preparing a healthy dinner for the family," says McCormick. Frozen meals help get dinner on the table quickly. As an added bonus, many companies, such as Nutrisystem, will deliver meals right to your door.
Frozen Meals are Sustainable
According to a recent article, the average American household throws out about $1,500 in food waste each year. The USDA has similar data. "We all have good intentions of eating leftovers, but oftentimes they end up in the trash," says McCormick. With frozen meals, there is no need to store leftovers or over-purchase ingredients.
Frozen Meals are Versatile
Frozen meals leave the door open for creativity. Additional vegetables can be added to meals on the side as an accompaniment. Think sliced red peppers with hummus or a caprese salad. Frozen meals also cater to different tastes and include a variety of different flavors. There is something for every palate with frozen meals.
Now is the time to say yes to focusing on your health and wellness goals and embrace the convenience and versatility of frozen meals.
For more information, recipes and inspiration for healthy side dishes, visit leaf.nutrisystem.com.