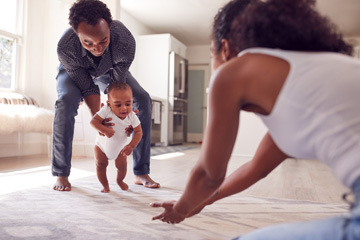 (NewsUSA)

- Keeping children safer while supporting their key milestones can be a challenge for parents, but the right products can help make these transitional times smoother so families can embrace and celebrate these exciting moments.
1. The Dreambaby® Oxford Carrier is the perfect item to help as parents step out with their baby and enjoy the warmer weather. The hip healthy carrier is ergonomically designed to provide optimal comfort and support for both parent and child. It can be used in three different carrying positions. The Oxford carrier can be part of many "firsts" in a baby's life like the first trip to the zoo or the first visit with friends and relatives. The carrier can accommodate children up to 33 pounds, the breathable material makes it comfortable in all weather conditions, and quick-fastening clips and releases makes any outing easier.
2. For families looking for smart storage solutions, the Dreambaby® Strollerbuddy® StrollAway® Over-the-Door Stroller Hanger helps keep strollers safely out of the way when not in use. It requires no hardware or tools to install or use, just slip it on the door and adjust the arms to accommodate the size of your stroller. The simple, folding design makes it easy to bring along on trips and cushioning keeps doors safer from scratches.
3. Potty training can be a challenge. The Dreambaby® Step-Up Toilet Topper helps make this milestone easier by giving toddlers 18M+ the confidence and independence they need to succeed. This essential toilet topper bridges the gap between floor-based potties and adult toilets. The contoured seat and non-slip base are designed to help little ones feel confident and secure while using the toilet. As a bonus, it's light and can even be disassembled easily to bring along when visiting the grandparents, it's a potty training must-have!
4. Graduating to a "big kid bed" is another big moment for your little one. Dreambaby's® Dallas Bed Rail makes the transition smoother and helps relieve the fear of falling out of bed at night. Great for most beds, including recessed beds up to Queen sized, the fold-down feature is extra convenient for bed-making or bedtime stories, while anchors help secure the mattress and hold the bed rail in place.
5. For areas children should not go, the Dreambaby® adhesive Lever Lock® for door handles helps keep children safer by limiting their access to spaces such as laundry rooms, garages, and storage rooms. The lock is designed to fit most lever-style door handles and engages and disengages easily, with no key needed.
Dreambaby® is a family-owned and internationally renowned company with more than 20 years of experience in developing affordable, high-quality child safety products.
Follow @dreambabysafety on social media and visit dream-baby.com to purchase baby safety solutions or find more information.