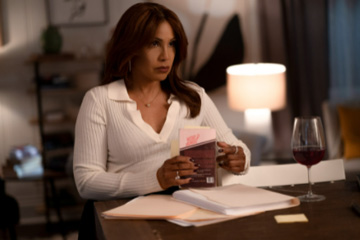 (NewsUSA)

- Spend your spring with saints and sinners, featured in fresh programming with star-studded casts from Lifetime Television.
The start of April brings a pair of new feature movies from the Fallen Angels Murder Club series starring Toni Braxton, who also serves as executive producer. The Fallen Angels Murder Club features Braxton as Hollis Morgan, an ex-con turned amateur sleuth who sets out to investigate murders in her book club. The April premieres include Fallen Angels Murder Club: Friends to Die For on April 2, which also stars Eddie Cibrian, followed by Fallen Angels Murder Club: Heroes and Felons on April 9 with Kelly Hu. The movies are based on the Fallen Angels Book Club book series by R. Franklin James.
In the first installment, the members of the Fallen Angels Murder Club must have two things in common -- a love for books and have a criminal record. Hollis Morgan (Braxton) meets both requirements. Left holding the bag in an insurance fraud scheme concocted by her ex-husband, Hollis has served her time and now hopes the court will pardon her conviction so she can fulfill her dream of becoming a lawyer. But when a member of her book club is murdered in a scene straight out of the previous night's novel, Hollis becomes the subject of police scrutiny. Refusing to get stuck with another bad rap, Hollis sets out to investigate her fellow club members.
After a second book-inspired murder, she races to identify the killer before she becomes the next victim.
In the second movie, the members of the Fallen Angels Murder Club must band together again as they search for answers surrounding the death of one of their own. Hollis finds herself at the center of the investigation when a journalist reporting on the murder also winds up dead. As bodies begin to stack up, and Hollis connects the dots, she must solve the murders before it's too late.
Next up in April are two new movies from Lifetime's Seven Deadly Sins Movie Anthology, "Wrath" and "Greed," premiering on April 16 and April 23. The movies are based on the popular books by Victoria Christopher Murray. T.D. Jakes, Shaun Robinson and Derrick Williams serve as executive producers. Viewers will spot some famous actors in key roles. Michelle Williams, of Destiny's Child fame, joined by Beyonce's mom, Tina Knowles-Lawson and Romeo Miller (aka Lil' Romeo) star in "Wrath," and Monique Coleman, best known for her role in High School Musical, joined by LisaRaye McCoy and Eric Benét, star in "Greed."
The "Wrath" and "Greed" movies can be seen as modern morality tales, showing what can happen when people stray from a more righteous path.
In "Wrath," single lawyer Chastity Jeffries (Michelle Williams) meets Xavier Collins (Antonio Cupo), who seems too good to be true -- handsome, smart and a lawyer as well. In fact, Xavier is too good to be true; his affection turns to obsession, and Chastity realizes that she has abandoned her principles in this relationship. As Xavier's jealousy and wrath escalate, Chastity confides in her mother Sarah (Tina Knowles-Lawson) and turns to her former childhood boyfriend Roger Thompkins (Romeo Miller). But in the end, Chastity must find the strength to save herself.
In "Greed," interior decorator Zuri Maxwell (Monique Coleman) had it all -- a fulfilling career, loving family and friends, and a good man, artist Stephon Gardner (Nathan Witte). But greed threatens to destroy everything when Zuri meets handsome benefactor and entrepreneur Godfrey Anderson (Eric Benét) and his fabulously wealthy aunt Miss Viv (LisaRaye McCoy). They have everything Zuri thinks she wants. As Godfrey romances her, she compromises her values and morals to gain access to the moneyed lifestyle she craves.
Visit mylifetime.com for more information about Lifetime's spring lineup and other programming.