The ANGL ETF: Your Angle on Fallen Angels?
July 16, 2021 at 09:00 AM EDT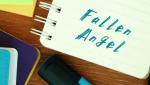 The VanEck Vectors Fallen Angel High Yield Bond ETF (NASDAQ: ANGL) holds nearly 300 corporate bonds born with investment-grade credit ratings that now reside in junk territory. It's possible that the exchange traded fund's ranks will thin in the coming months, but that could work in...