The founder of Beardo Marketing, Jessie Neal, is an entrepreneur and marketing specialist who empathizes with the headache other business owners often experience as they seek new customers for their products. "I've been there.
(PRUnderground) July 29th, 2021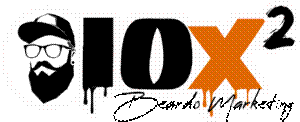 The best marketing practices for businesses change just as rapidly as technology and clients do. It used to be that a strong campaign included mail-outs, and now no business can do well without an online presence. Yesterday every young person was on Facebook, and today they are on TikTok. How does a company engage with potential customers when the marketing landscape is constantly shifting? What business owners need is a solid marketing plan that can easily adapt to the whims of its clients, and this is exactly what Beardo Marketing LLC provides: a free 8-page marketing plan that can be tailored to the business' goals and customer base.
The founder of Beardo Marketing, Jessie Neal, is an entrepreneur and marketing specialist who empathizes with the headache other business owners often experience as they seek new customers for their products. "I've been there. After graduating from college and receiving a two-year degree in web development and computer programming, I started my first website development company and was bitten by the entrepreneur bug. However, I quickly realized after a few months that a website is useless without traffic." He pauses to laugh a little. "That was a good realization to make! I learned quickly that the real success for a local business comes from having a complete online profile and a marketing plan that is practical, actionable, and adaptable."
Jessie pivoted quickly and started learning SEO, social media platforms, and pay-per-click so that he could give his clients what they needed affordably. "I re-branded my business to Beardo Marketing in 2017 and am now giving businesses what they need: a free 8-page marketing plan. I do this whether they purchase a service from me or not because I believe that value precedes purchase and that businesses should know exactly where they stand in their online presence so that they can make wise decisions in the future."
The free plan, he explains, is perfect for business owners who need a one-stop marketing solution that is affordable yet still highly effective. "It takes you step-by-step through the creation of a marketing strategy that can lead you to a stronger online presence," he says. "As we all know, that is where the majority of customers spend a great deal of their time, so knowing how to market to them in the space they 'live' in is incredibly important for a business. This free 8-page plan can help you do that."
In addition to the free plan, Beardo Marketing offers services in social media management, reputation management, lead generation, Facebook and Google PPC campaigns, SEO services both on and off page, and YouTube PPC. It is a full-service agency with 26 team members worldwide who are servicing businesses with any marketing needs they have. Each employee, Jessie says, feels the same thrill when they help a client achieve a big win. "We celebrate with them because we care deeply about their success."
Looking into the future, Jessie believes that as technology and AI progresses, the future of digital marketing will be largely run by automation and data technologies. "This will include advanced chatbots and SEO content scripts that change web content on the fly based upon the viewer visiting a web site and their recorded search history," he states. "I would love to see automated content on the fly! How exciting would that be, don't you think?"
He recommends that every business owner remember to take care of their body, their being, and how they think and process emotions. "Stay positive as much as you can. It's crucial that you maintain a healthy family/work balance and that you remind the people around you how important they are to you. If you do those three things, you will be on fire to produce more in your business."
Taking your company to the next level, of course, will include a personalized marketing plan. "Our 8-page plan really is free," Jessie says. "It has a lot of wisdom in it from Beardo Marketing that you can use to increase your customer base. Why not ask for it here and see how it can help you?"
About Beardo Marketing LLC
We are the company that gives away FREE 8 Page marketing plans. REMEMBER To always ask yourself when marketing: Do customers know about you? Can they find you? Do they trust you? Do they like you? Will they convert? Will they remain loyal? We specialize as a full service marketing agency bringing you services like web development, e com development, PPC campaigns on google, youtube, and facebook, social media management, reputation management, directory listings management, & SEO We pride ourselves in the fact that we can get you found on the web even if you have a very small budget to work with or if you're ready to scale. Come get your FREE marketing plan at our website and see where you stand in your online presence.
The post Beardo Marketing LLC: Empowering Businesses with a Free 8-Page Marketing Plan first appeared on PRUnderground.
Press Contact
Name: Jessie

Phone: +1 513-885-0006

Email: Contact Us

Website: https://beardomarketing.com/
Original Press Release.