Software developer iMyFone released a new Windows program called MirrorTo to help users cast their Android phone screen to a computer and control the phone screen via PC fluently.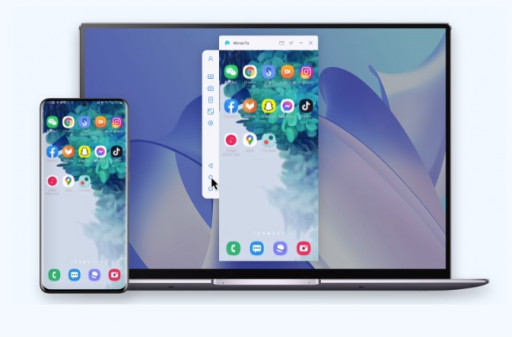 iMyFone MirrorTo
MirrorTo, an Android screen mirroring app produced by iMyFone.
SHENZHEN, China - September 23, 2021 - (
Newswire.com
)
Like always, iMyFone proved itself again as the leader of the software development market. Responding to the calls of its customers, it has rolled out an all-new Android screen mirroring app - iMyFone MirrorTo. It's a remarkable addition to the hot-selling products of iMyFone.
In today's day and age, many smartphone users love to stream their devices on a big screen to enhance the gaming experience and enjoy other mobile apps the way they are supposed to be. With this brand-new MirrorTo app, users can mirror their Android device screen onto the Windows computer with just a few clicks. Soon after the connection is established, MirrorTo offers an intuitive way to control everything that users stream on the big screen with the PC.
"We're happy to recommend this MirrorTo software to all Android users," said Sara Chan, Marketing Manager of iMyFone. "By displaying the mobile phone/tablet on a larger screen, people can show their work to others without restriction in conference, office, classrooms or other occasions, and enjoy watching mobile videos and playing mobile games on the computer. MirrorTo's keyboard mapping function can help people play mobile games smoothly on PC through keyboard and mouse."
Key features of iMyFone MirrorTo V1.0.0
iMyFone MirrorTo comes with all the impeccable features that users expect from a top-notch screen-mirroring app. Below is a curated list of its highlighted features:
1. Stable Connection
Provides a stable and consistent connection between the smartphone and PC. Unlike other mirroring apps, it doesn't cause any lag and promises a fluent connection to improve user experience.
2. Advanced Controller Options
What sets it apart from other players in the markets is its advanced controller options. Soon after the connection is established, MirrorTo enables users to control the device with a keyboard and mouse on the computer.
3. Intuitive and Customizable Keyboard keys
The primary purpose of MirrorTo is to provide a smooth gaming experience to the users, which is why it offers the most intuitive and highly customizable keyboards keys on the big screen.
Depending on the requirements, even first-time users can change or modify the controller settings without any hassle. Likewise, users can adjust the settings for any other app or service on their smartphone as needed.
These stellar features have made MirrorTo a talk of the town in the world of screen-mirroring apps.
About iMyFone
iMyFone is a world-renowned software development company that offers creative solutions for Android and iOS devices. Having millions of satisfied customers, iMyFone has established itself as the pioneer in the field of digital innovation, providing solutions to the latest issues in smart devices.
Press Release Service by
Newswire.com
Original Source:
iMyFone Launches MirrorTo Software for Android Screen Mirroring