The 146 kW ground-mounted solar array is located at Glover's Ledge, Antioch University's 81-acre teaching forest in New Hampshire.
(PRUnderground) April 26th, 2022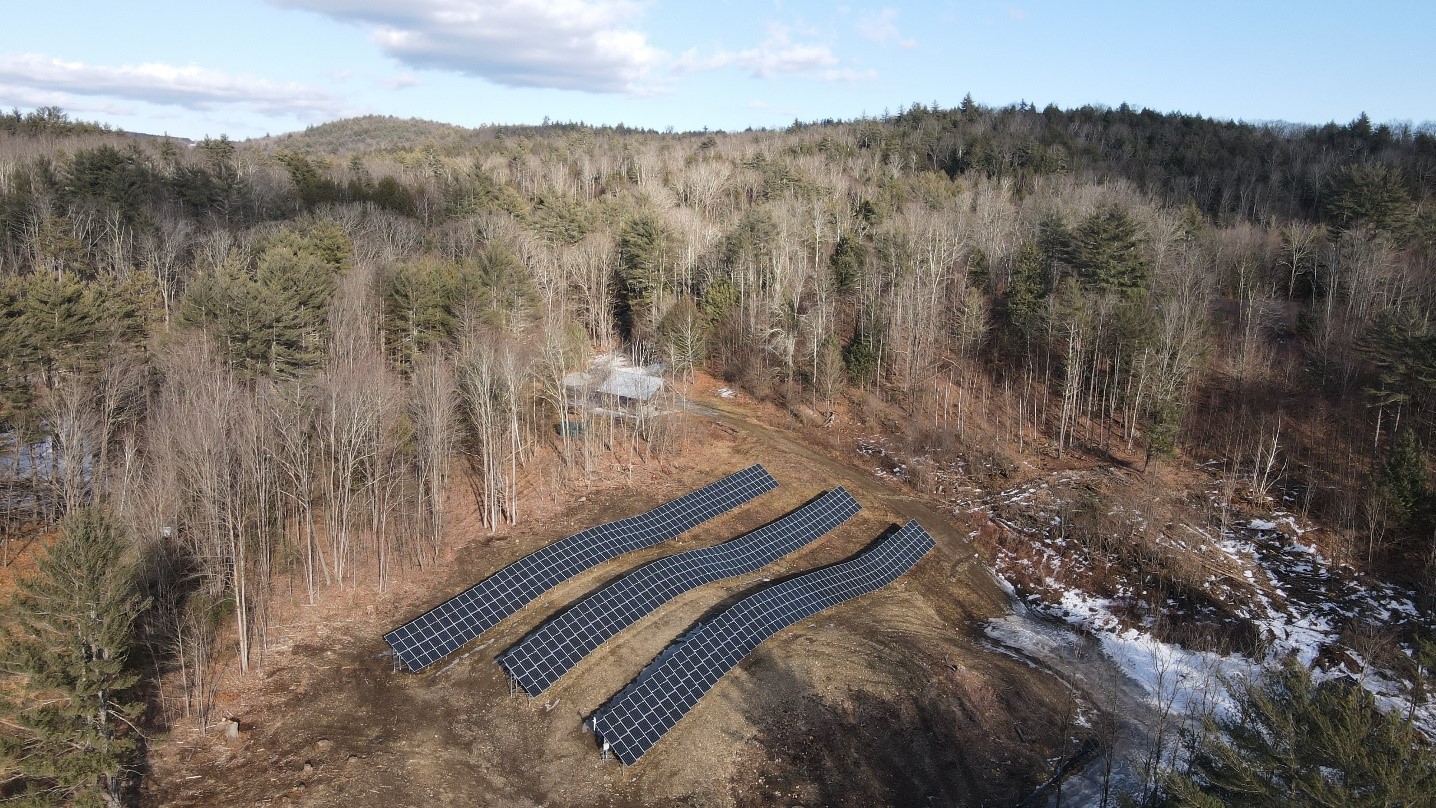 Antioch University is going solar. Comprised of 360 panels, the array will generate over 180,000 kilowatt-hours of energy, offsetting 281,000 pounds of carbon every year. For a university known for its prestigious environmental studies programs, this is a major step on its sustainability journey. The carbon offset is equivalent to planting over 2,100 trees.
Professor Peter Palmiotto, Chair of the Environmental Studies Department at Antioch University New England, is excited about what this means for Antioch University and more broadly the community we live in. "With the installation of this array, the work done through our Center for Climate Preparedness & Community Resilience, and the effort of our faculty, staff, and students I am proud of the tangible climate action Antioch is taking to mitigate climate change."
Founded as Antioch Putney Graduate School in 1964, Antioch University New England moved to its current campus in Keene in 1994. Its programs are rooted in social and environmental justice with a focus on uniting passion and purpose – which aligns it strongly with ReVision Energy's values as a 100% employee-owned Certified B Corp. Just as ReVision Energy uses business as a force for good, AUNE uses private education as a force for the public good.
The New England campus offers several environmental studies programs, including a PhD in Environmental Studies, two Master's degrees with numerous concentrations, and Certificates in Climate Resilience and Climate Change Education.
Mirroring ReVision's own mission to fight for future generations, AUNE's programs empower students to take climate action and thus builds the next generation of environmentalists. AUNE plans to incorporate its new solar array into its graduate education. Professors will be able to use the solar array to teach students about solutions to the climate crisis and incorporate real-time data from the array in modeling and other course projects.
Jude Nuru, an Antioch alumnus and co-owner of ReVision Energy, who also serves as their Director of Community Solar Initiatives, says, "Incorporating the ground-mounted solar array into the landscape at Glover's Ledge is a thoughtful integration of critical electricity production, environmental stewardship, and ecosystem protection. I'm grateful to be a part of both organizations that are dedicated to fighting the climate crisis."
On Thursday, April 28 at 2 p.m. Antioch University, along with solar energy partner ReVision Energy, will host a ribbon-cutting to celebrate the solar project. Public and media are welcome to attend.
About ReVision Energy
ReVision Energy is a 100% employee-owned solar company with offices in Montville and Portland, Maine; Brentwood and Enfield, New Hampshire; and North Andover, Massachusetts. With over 300 employee co-owners, 9,000 installations, and 19 years of experience, ReVision is New England's leading full-service renewable energy contracting company. ReVision is a Certified B Corp with a mission to lead the community in solving the environmental problems caused by fossil fuels while alleviating economic and social injustice. Learn more at ReVisionEnergy.com.
About Antioch University
Antioch University was founded in 1852 in Yellow Springs, Ohio. Its first President was Horace Mann, the father of public education in the United States. Antioch's mission is to provide learner-centered education to empower students with the knowledge and skills to lead meaningful lives and to advance social, economic, and environmental justice. Antioch University is a national university that includes campuses in Keene, New Hampshire; Yellow Springs, Ohio; Los Angeles; Santa Barbara; and Seattle as well as low residency or remote programs through the Graduate School of Leadership and Change and Antioch University Online. A bold and enduring source of innovation in higher education, Antioch University is a private, nonprofit 501(c)3 institution and has been continuously accredited by the Higher Learning Commission since 1927. Academic departments include Undergraduate Studies; Psychology, Counseling and Therapy; Education; Environmental Studies and Sustainability; Leadership and Management; and Creative Writing. For more information, visit antioch.edu.
The post Antioch University Celebrates New Solar Project at Glover's Ledge first appeared on PRUnderground.
Press Contact
Name: Karen Hamiltom

Phone: 3108043795

Email: Contact Us

Website: https://antioch.edu
Original Press Release.