AI-provider BigBear.ai's (BBAI) has been on a surge lately. Does it mean the stock is worth investing in now? Read on to find out…
Artificial Intelligence (AI) company BigBear.ai Holdings, Inc. (BBAI) saw its stock price surging 92.7% over the past month despite the company's announcement of a potential resale of up to 113,250,000 shares of its common stock. The firm will receive no proceeds from the sale.
However, with the massive buzz surrounding AI, investors must consider essential financial metrics to determine if BigBear.ai's stock is a worthy investment.
Assessing the Financial Performance of BBAI Over the Last Two Years
This series of data for BBAI shows a significant decrease in net income from -$7.84 in December 2020 to -$123.55 million in December 2021, representing a decline of over 1,500%. Net income then decreased slightly from -$123.55 million in December 2021 to -$191.61 million in June 2022, followed by a further drop to -$121.67 million in December 2022. Overall, the series shows a decrease in net income of more than 85% over the two-year period.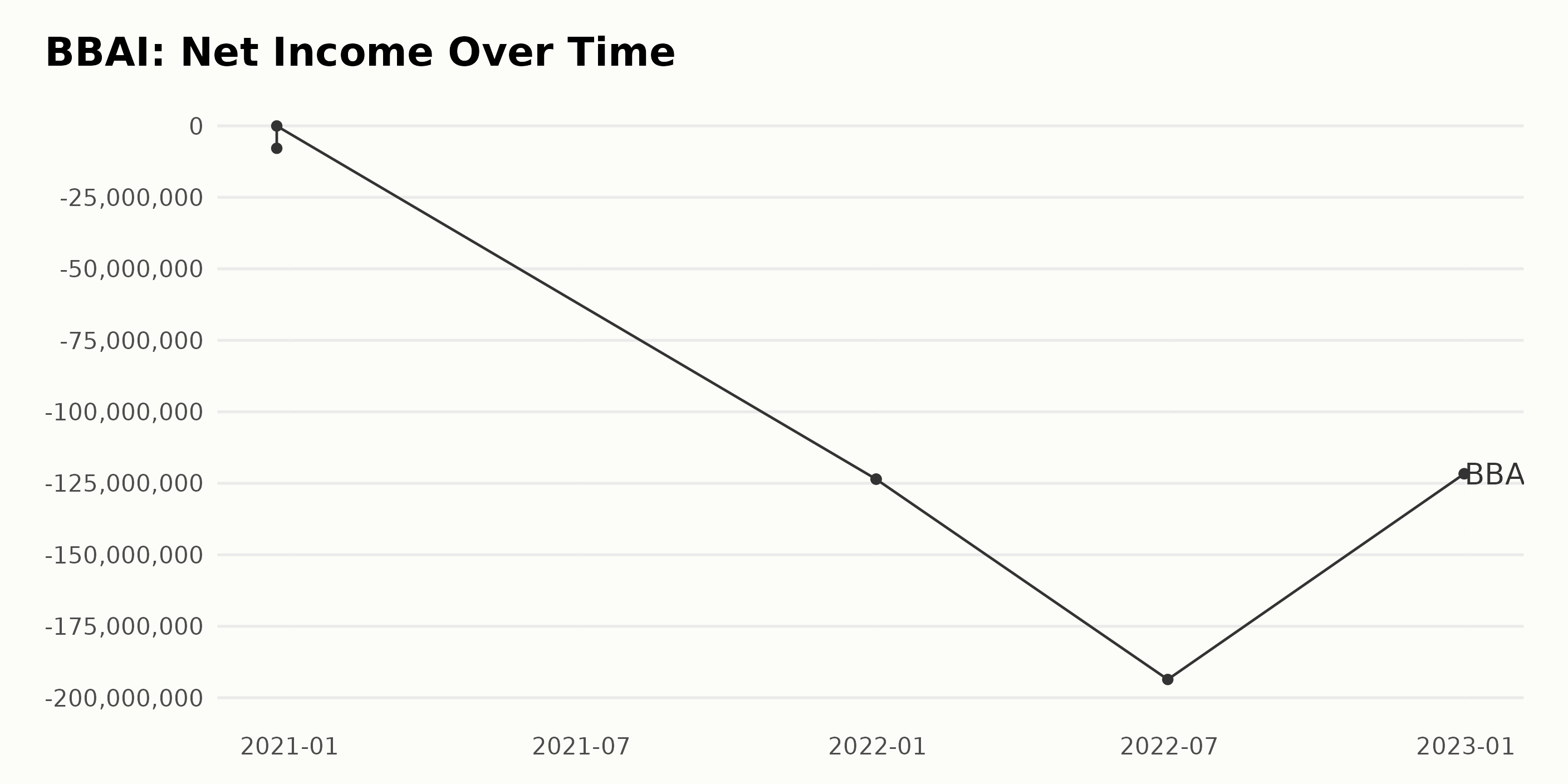 BBAI's revenue has seen a strong upswing over the past three years, from $31.6 million in December 2020 and increasing to $155 million at the end of 2022. The revenue had an impressive growth rate of 388% over this period. There have been minor fluctuations in the increased steady trend, with a slight dip in June 2021 and December 2021.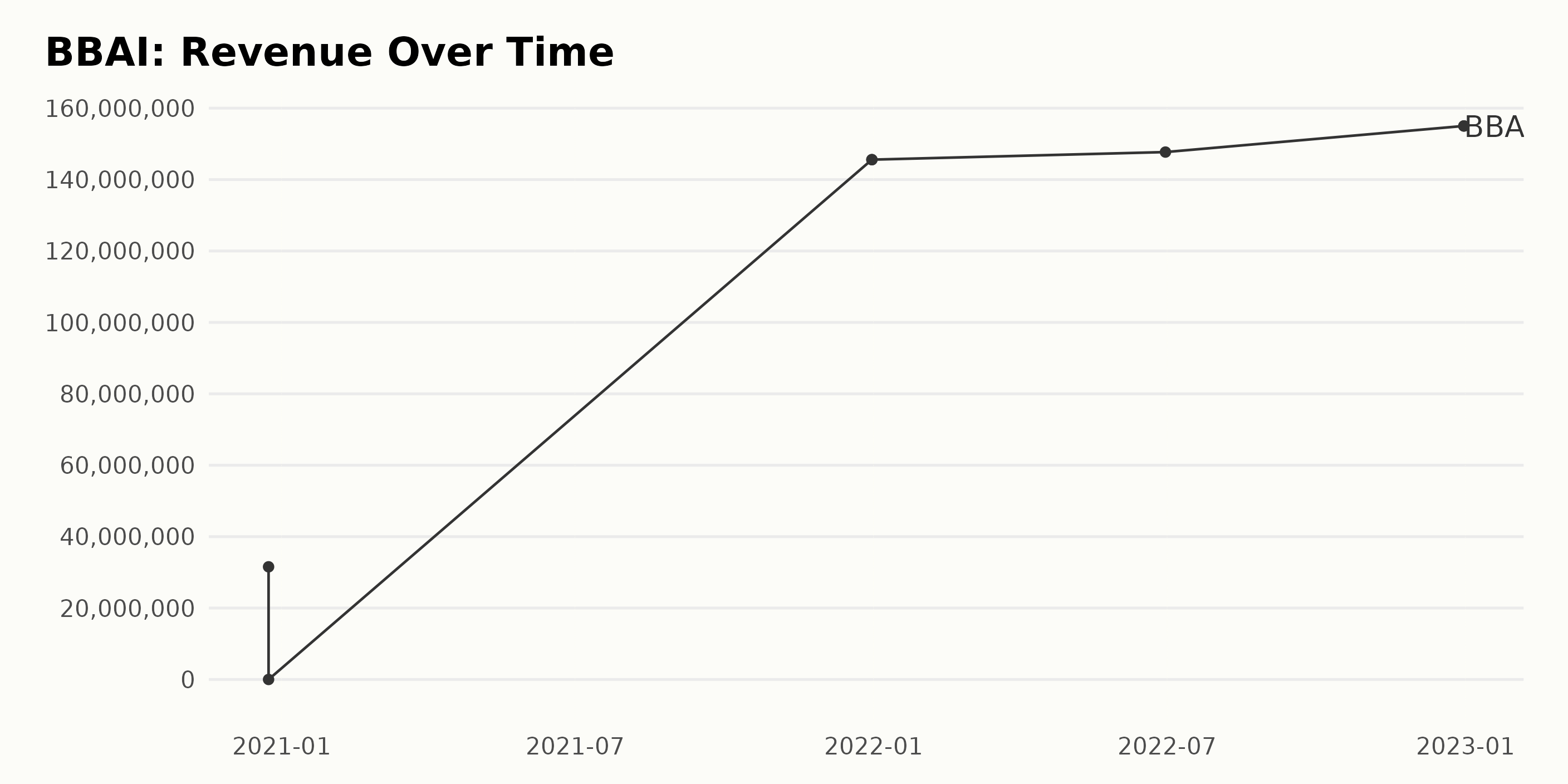 The gross margin of BBAI has fluctuated over the last three years. It peaked at 27.5% in December 2020, before decreasing to 23.4% and then again increasing to 27.7% in December 2022. There was a 4.2% decrease in gross margin between December 2020 and June 2022; however, this was followed by a 1.5% increase by December 2022. Overall, the gross margin of BBAI has decreased by 0.7% since December 2020.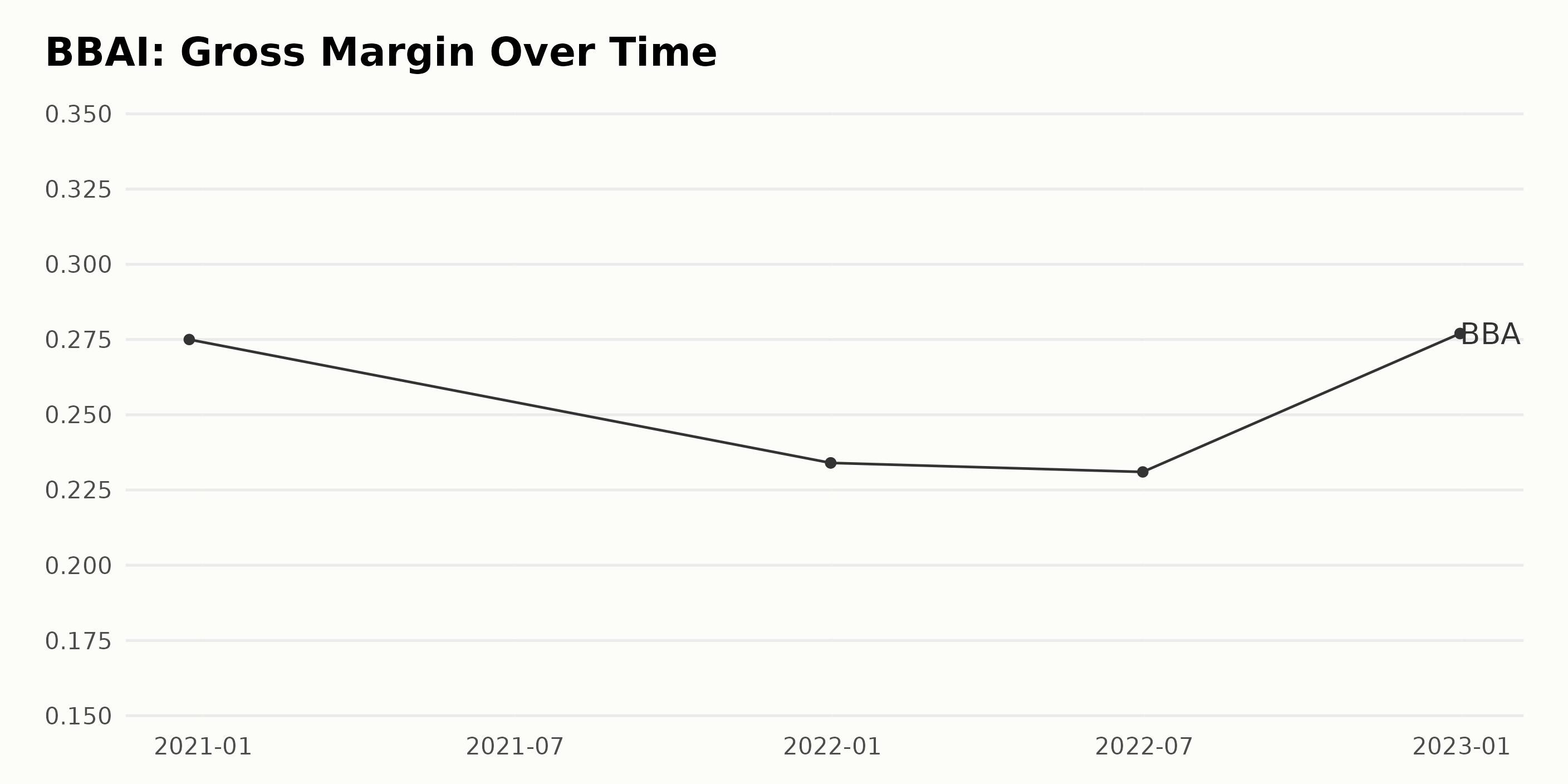 From December 31, 2021, to December 31, 2022, BBAI's asset turnover has shown a slight fluctuation. The initial asset turnover reported was 0.76 in December 2021 and then decreased to 0.66 in June 2022, and then increased to 0.68 by the end of December 2022. This gives a growth rate of -11%.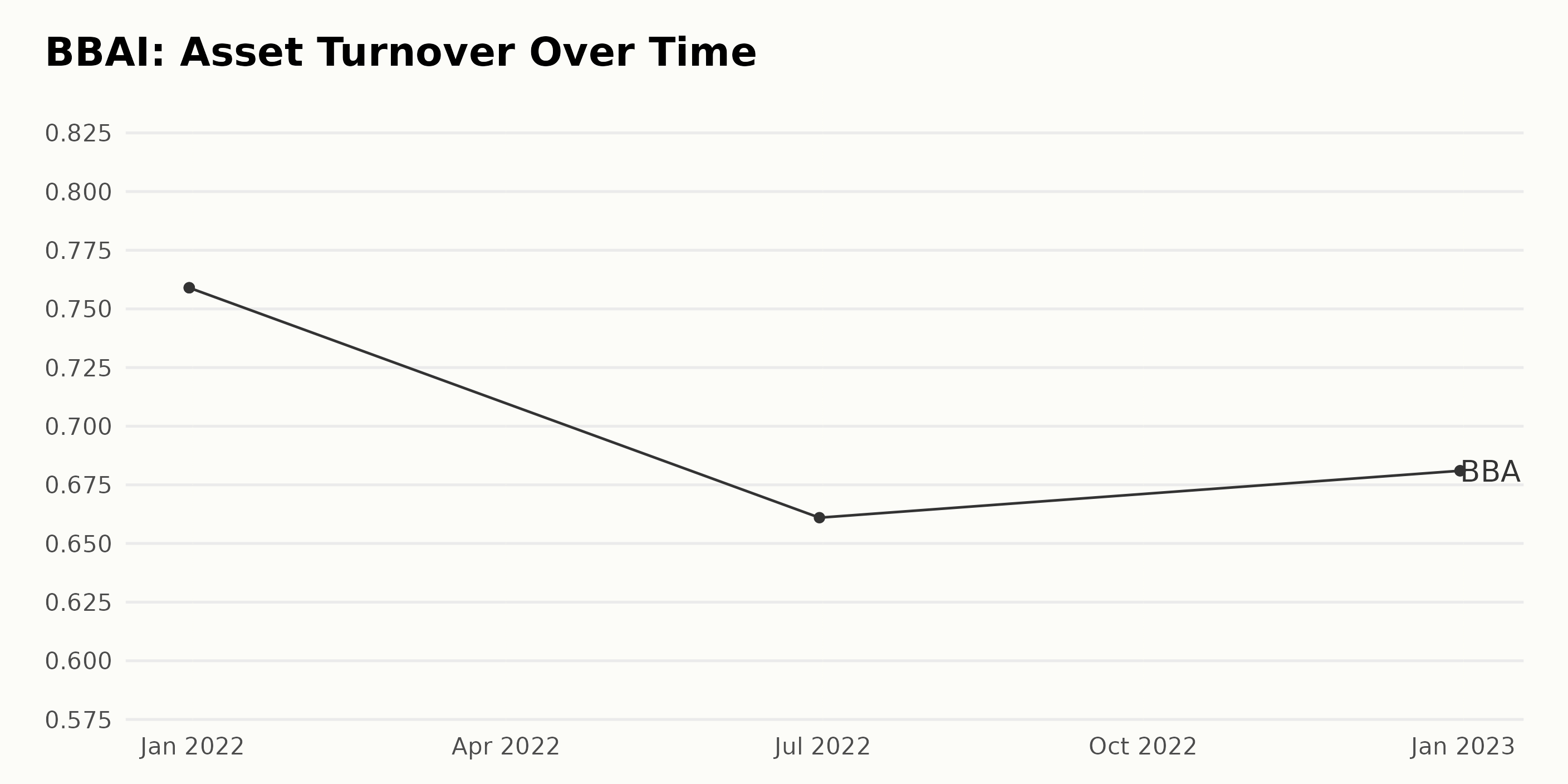 Tracking BBAI's Fluctuating Share Price
The share price of BBAI has been fluctuating over the given date range. The price began at $1.21 on October 21, 2022, decreased to $0.6525 on December 30, 2022, before increasing to $5.372 by February 10, 2023. Since then, the growth rate has been consistently decelerating, where the price decreased to $1.88 by March 24, 2023, and was back up to $3.525 by April 18, 2023. Here is a chart of BBAI's price over the past 180 days.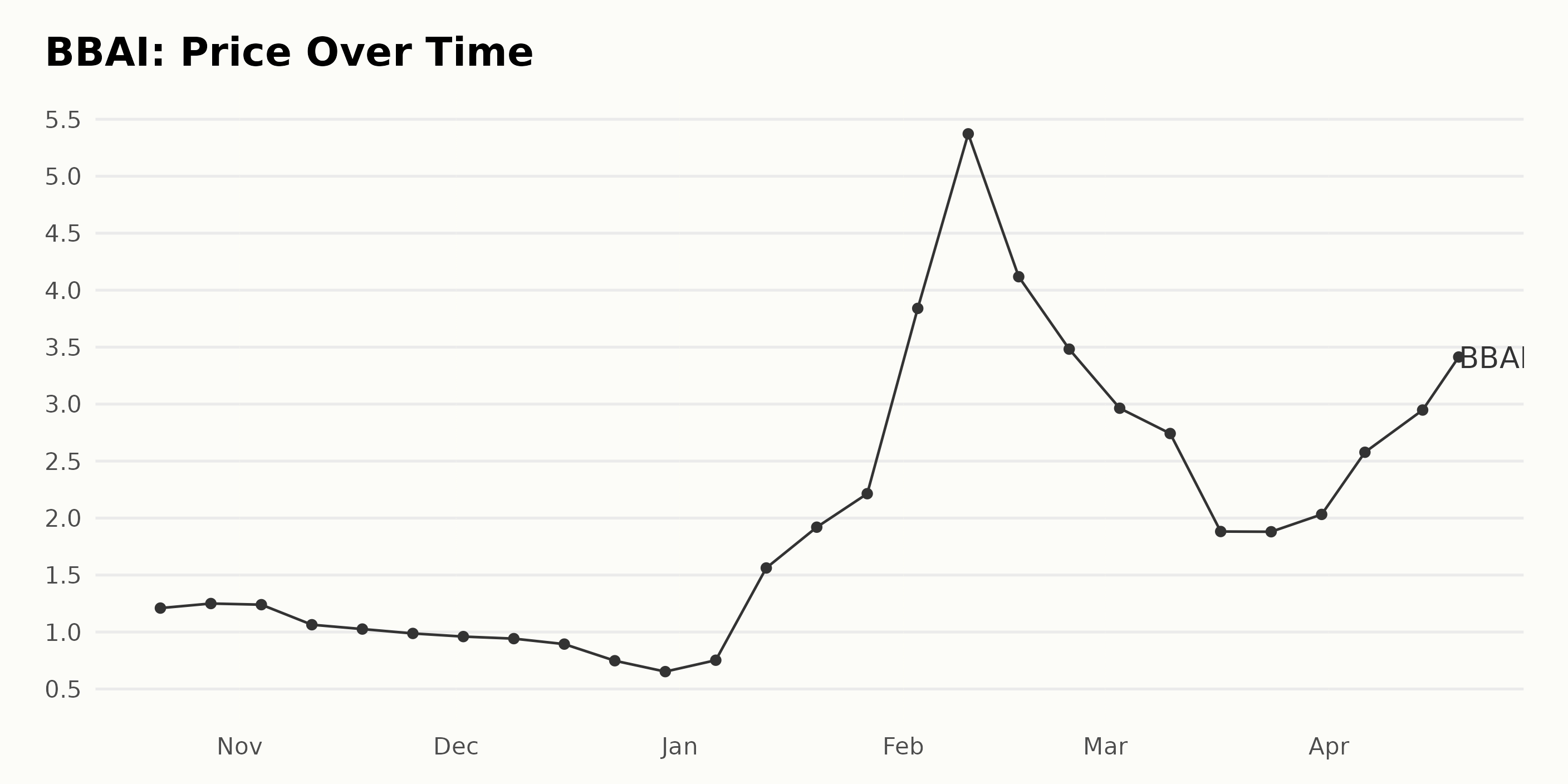 Ascending POWR Ratings for BBAI: Growth, Momentum, and Sentiment
The overall POWR Grade of BBAI has fluctuated between D and C over the past few weeks. Its latest value is a D, which indicates that its rank in the Technology - Services category is 72 out of 80 stocks. This suggests that BBAI's performance is average in its sector.
The POWR Ratings for BBAI have notable trends across various dimensions. The three most noteworthy dimensions are Growth, Momentum, and Sentiment. In October 2022, Growth had the highest rating of 11, and Momentum and Sentiment had ratings of 15 and 26, respectively.
By November 2022, Growth had risen to a rating of 37, and Momentum and Sentiment had increased to 16 and 53, respectively. December 2022 saw Growth reach its highest rating of 56, with Momentum and Sentiment rising to 18 and 74, respectively.
Moving into 2023, Growth remained fairly steady between 55 and 63, while Momentum peaked at 28 in March 2023. Sentiment constantly increased throughout the year, rising from 22 in April 2023 to 78 in January 2023. Finally, Value steadily increased overall throughout the period, reaching its highest rating of 68 in January 2023.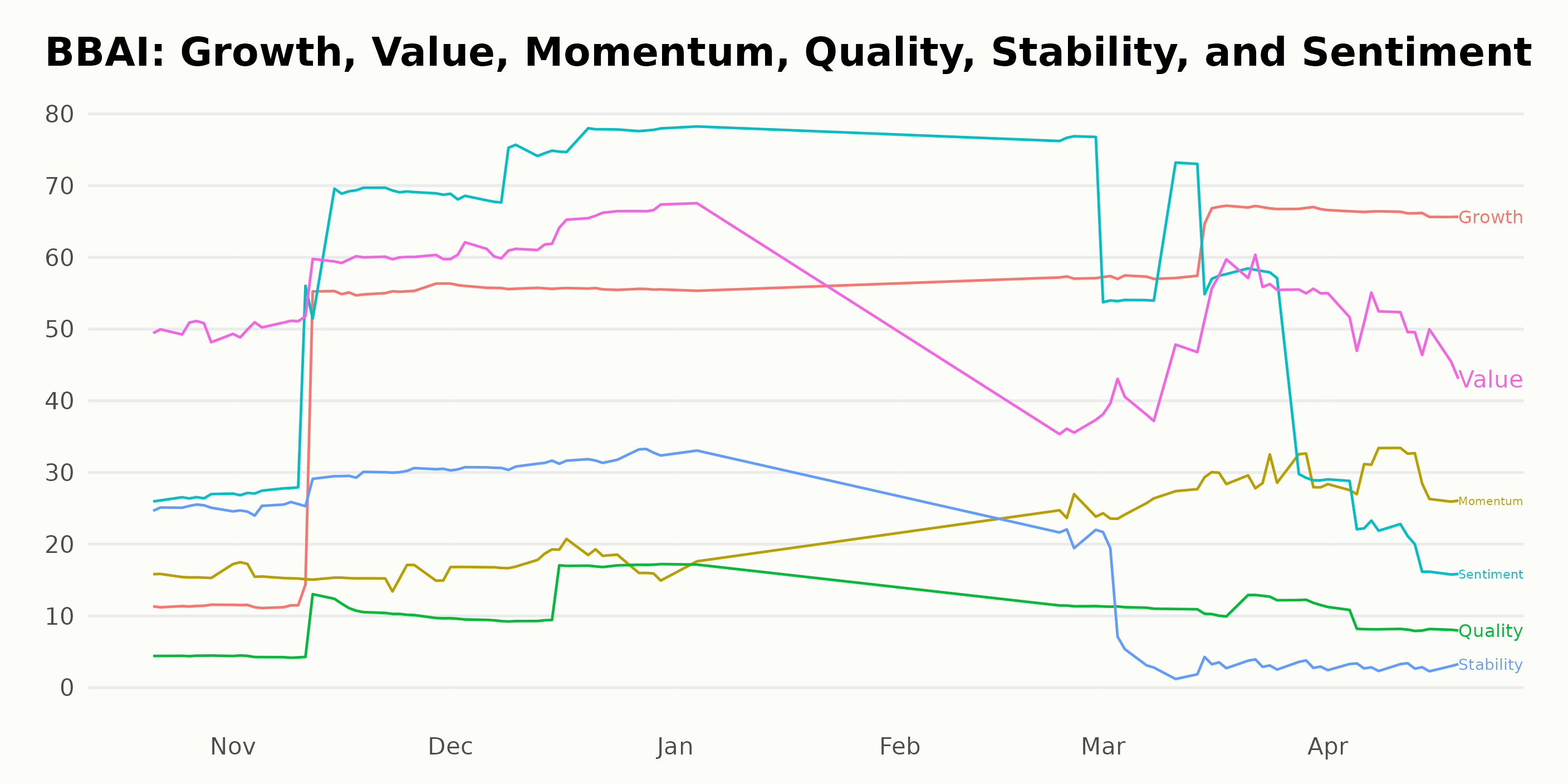 Stocks to Consider Instead of BigBear.ai Holdings, Inc. (BBAI)
Stocks in the Technology - Services sector that may be worth considering are Celestica Inc. (CLS), NetScout Systems Inc. (NTCT), and Box, Inc. (BOX) -- they have better POWR Ratings.
The Bear Market is NOT Over…
That is why you need to discover this timely presentation with a trading plan and top picks from 40 year investment veteran Steve Reitmeister:
REVISED: 2023 Stock Market Outlook > 
---
BBAI shares were trading at $3.22 per share on Wednesday afternoon, down $0.19 (-5.57%). Year-to-date, BBAI has gained 377.96%, versus a 8.77% rise in the benchmark S&P 500 index during the same period.
---
About the Author: Anushka Dutta
Anushka is an analyst whose interest in understanding the impact of broader economic changes on financial markets motivated her to pursue a career in investment research.
This AI Stock Surged More Than 90% Over the Past Month -- Should Investors Buy?
appeared first on
StockNews.com