Tech giant International Business Machine (IBM) topped bottom-line expectations by a wide margin, but its stock is down 10% this year. Is the stock a buy now? Read on to find out…
Shares of popular tech company International Business Machines Corporation (IBM) have experienced a 10.3% dip year-to-date. However, the company reported its first quarter results yesterday, surpassing the consensus EPS estimate by 9.7%. The company looks well-positioned to stay on its growth trajectory.
Moreover, IBM pays a $6.60 per share dividend annually, which translates to a 5.22% yield on its current price. In the first quarter, the company returned $1.5 billion to shareholders through dividends. Additionally, for the full year 2023, IBM expects constant currency revenue growth between 3% and 5%. The company also reiterated its anticipation of $10.5 billion in free cash flow, up more than $1 billion year-over-year.
Let's look at some of IBM's key financial metrics to understand why it could be wise to wait for a better entry point in the stock.
Tracking IBM's Financial Performance Over 2 Years
The series of reported net income for IBM showed an initial growth rate of 28% from June 2020 to September 2020. However, this growth slowed over the following periods as net income dropped over 30% from December 2020 to March 2021.
Across the rest of the series, there were fluctuations in growth, with slight drops and rises, until June 2022, when there was a 200% increase compared to September 2021. The last value of the series, recorded in December 2022, shows a total increase of 106% since June 2020.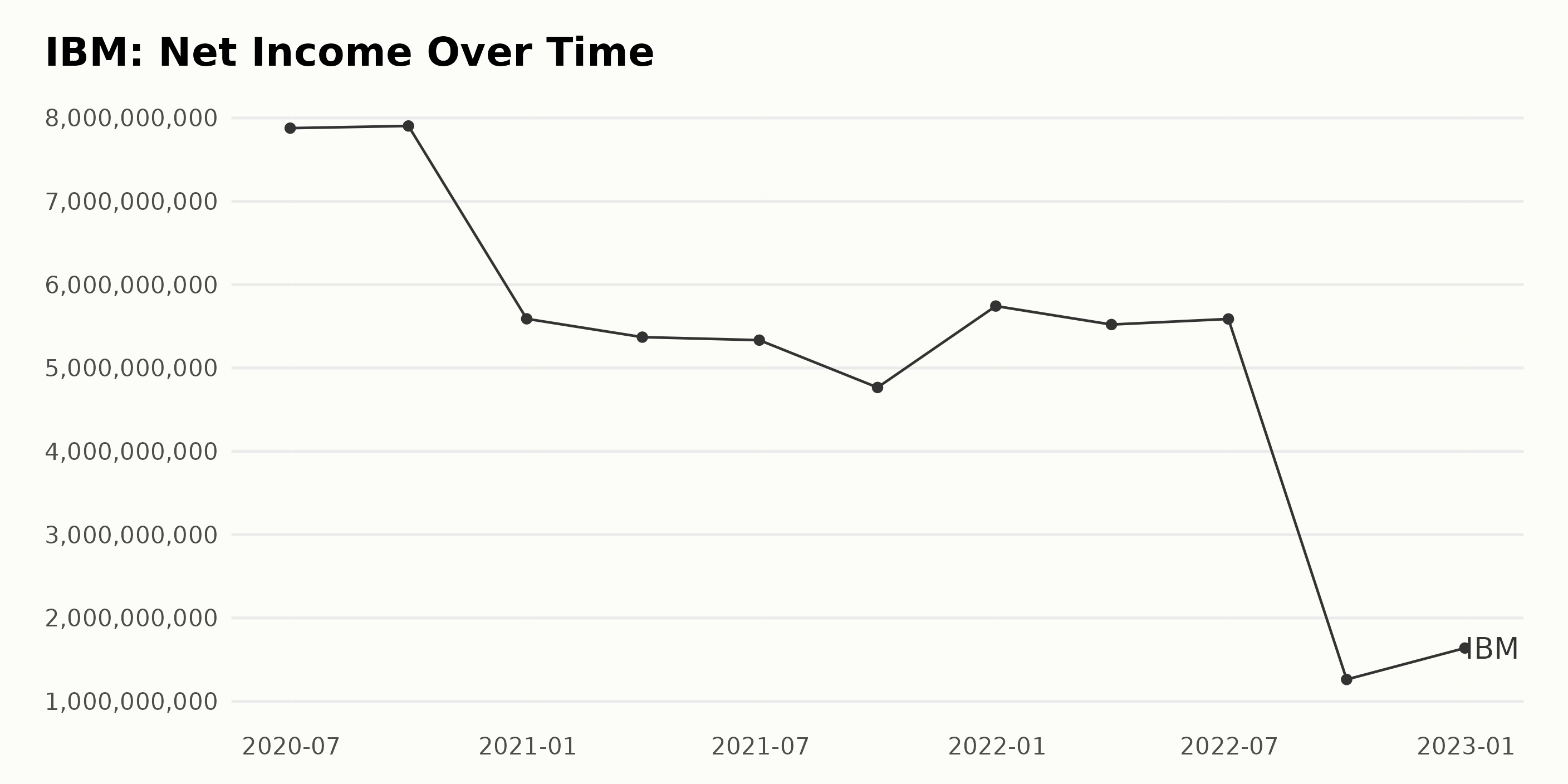 IBM's revenue has been fluctuating over the past two years. In June 2020, revenue was about $75.5 billion and decreased by 0.7% to $75.0 billion in September of that year, then further decreased to approximately $73.6 billion in December 2020. Revenue increased slightly to $73.7 billion in March 2021 and rose to $74.4 billion in June 2021.
After reaching the peak, revenue began to decrease again over the following quarters and decreased to $57.3 billion in December 2021. It constantly fell and reached its lowest point of $50.6 billion in June 2022. However, the most recent values show a slight improvement, and revenue was reported as $60.5 billion in December 2022. The overall growth rate of this series is -19.9%.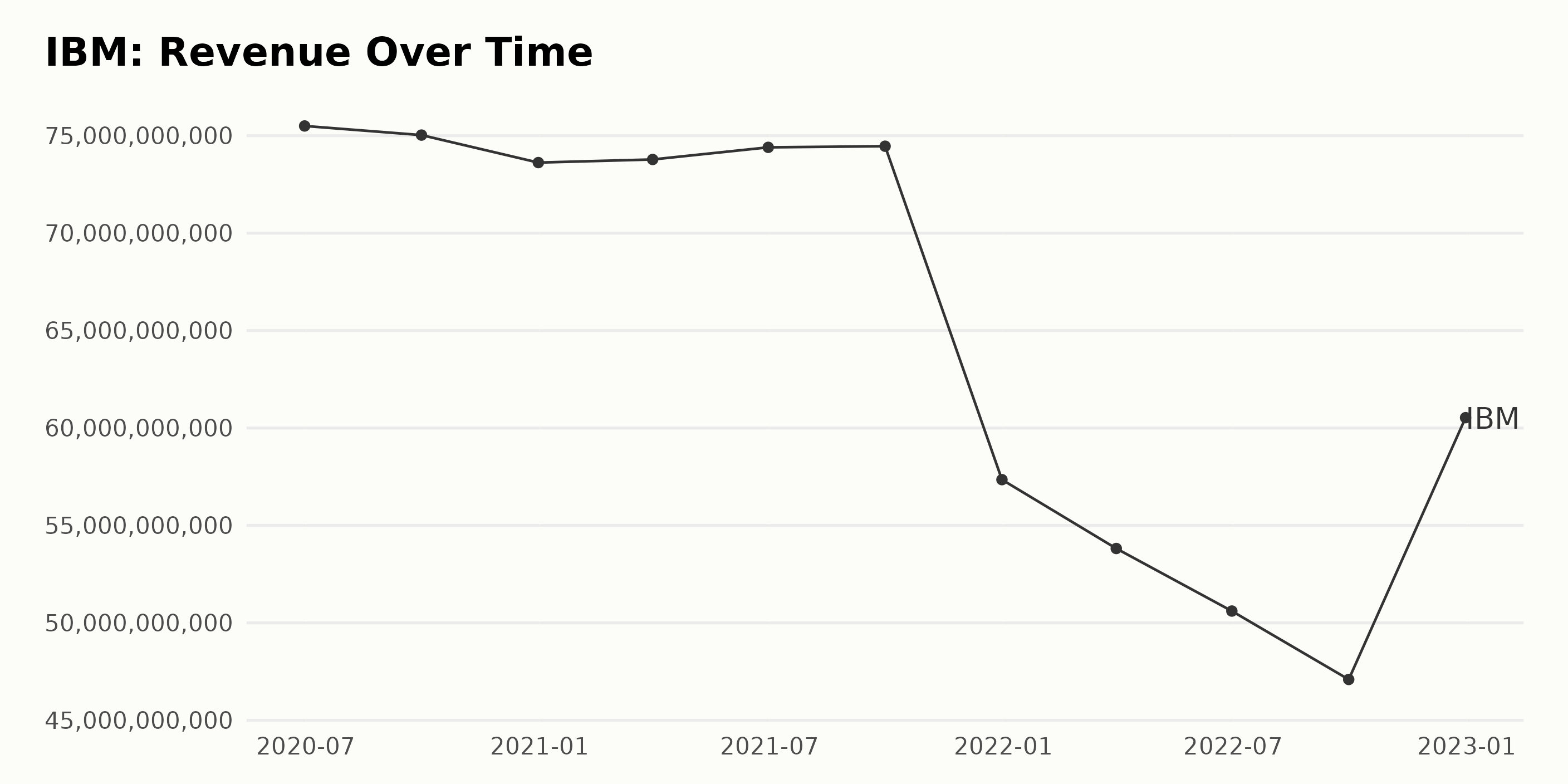 The gross margin of IBM has increased over the past two years. Between June 2020 and December 2020, the gross margin fluctuated in a narrow range before beginning a steady upward trend in 2021. This trend accelerated at the end of 2021 and continued into 2021, culminating in a gross margin of 0.591 by June 2022. This represents a growth rate of 24.5% from the initial value of 0.478 in June 2020.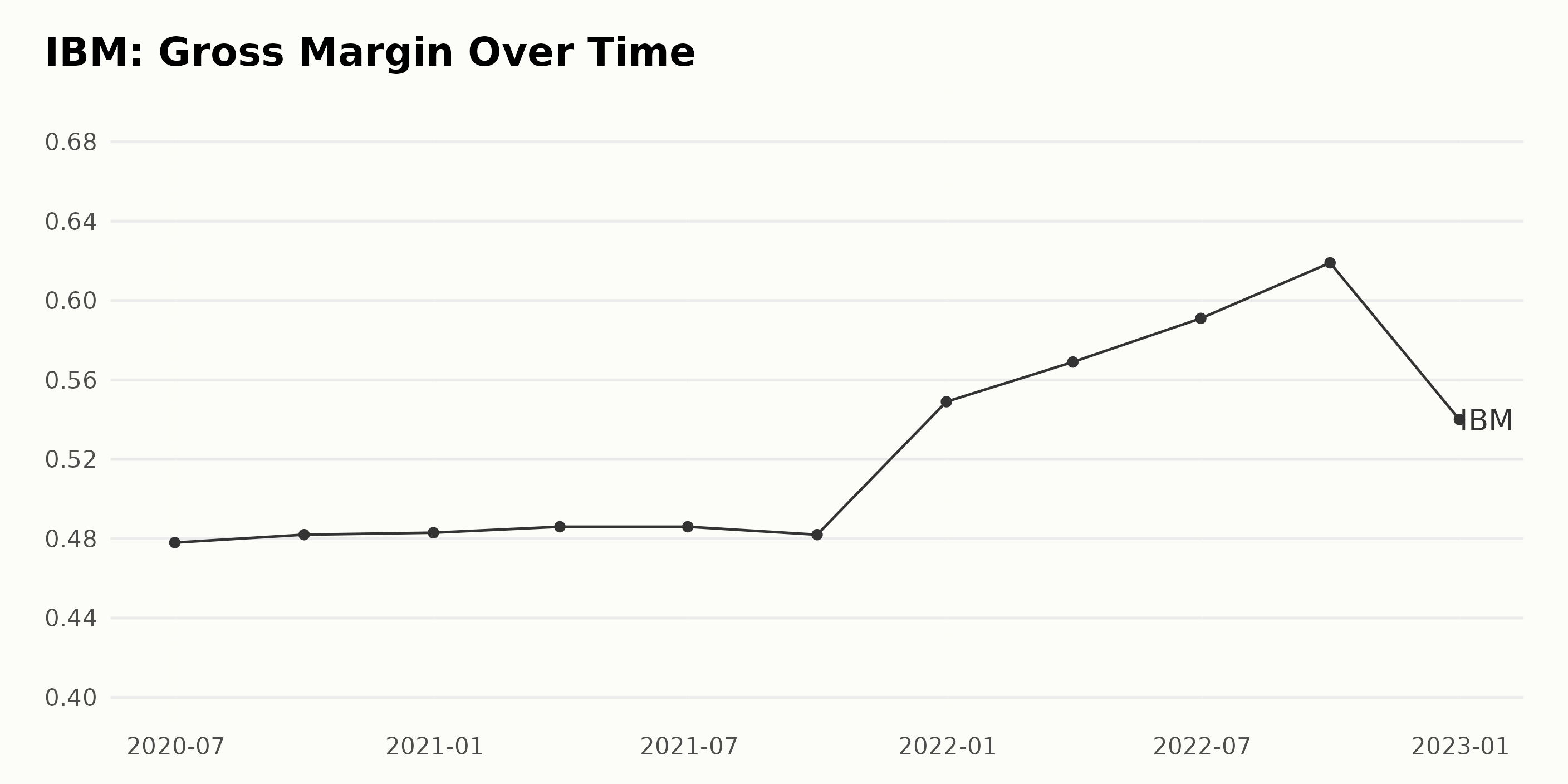 The trend of IBM's DPS from June 2020 to December 2022 shows a gradual growth rate, with small fluctuations along the way. The DPS value increased from $6.49 in June 2020 to $6.6 in December 2022, a growth rate of 1.8%. The DPS was stable between March 2021 to September 2021, fluctuating at $6.52 and $6.54, respectively.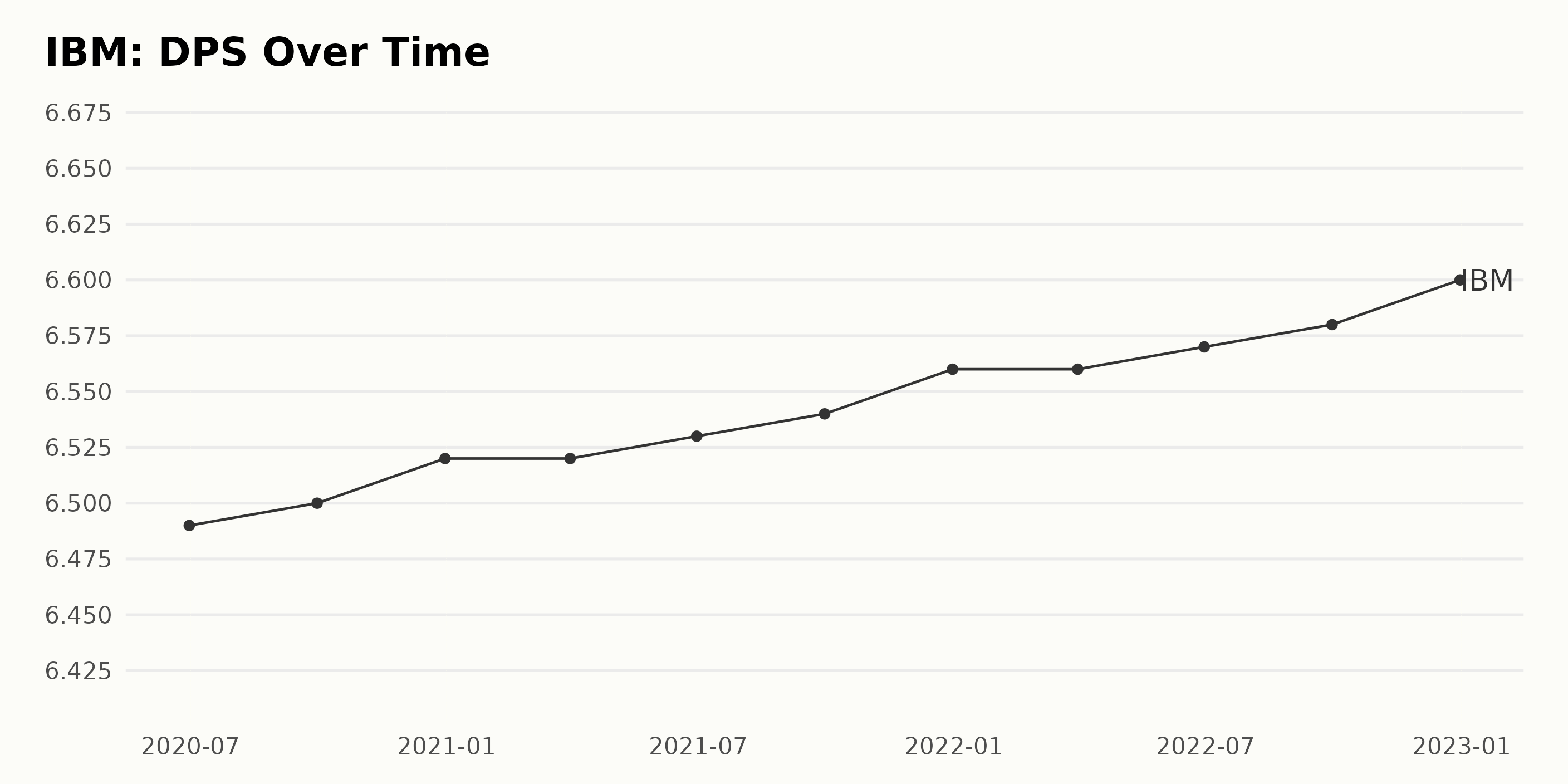 IBM Share Price: Slight Downward Trend From October 2022 – April 2023
IBM's share price has seen large fluctuations from October 28th, 2022, to April 20th, 2023. It started at $134.60 and peaked on November 25th, 2022, at $148.45. It then decreased significantly until March 24th, 2023, when it reached the low of $125.14.
Since then, the trend has become more positive, reaching a recent price of $127.52 on April 20th, 2023. Over this period, IBM's share price has had a slight downward trend. Here is a chart of IBM's price over the past 180 days.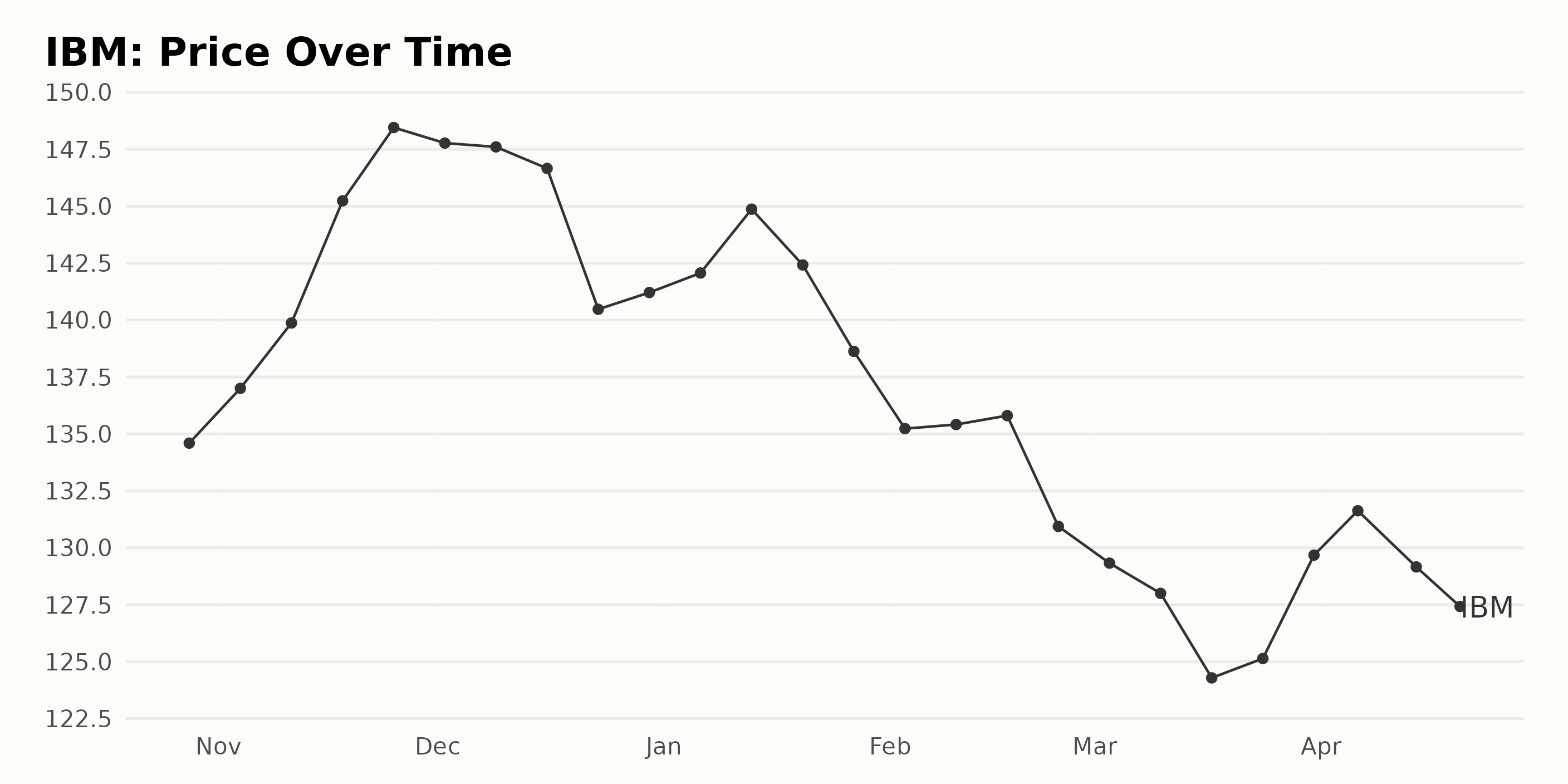 IBM Ratings High for Quality, Value But Dip for Momentum
IBM has an overall POWR Ratings grade of C with a rank in the Technology - Services category of 27. In comparison to the other 80 stocks in the Technology - Services category, IBM has a relatively average rank.
IBM has received very positive POWR ratings in three areas. Quality has consistently been rated very highly, reaching its peak of 93 in the March 2023 rating. Value also had a similar trend, increasing from 51 in December 2022 to 57 in April 2023. Momentum, however, has seen a decline throughout the year, with its highest rating of 30 in October 2022 and its lowest at 10 in April 2023.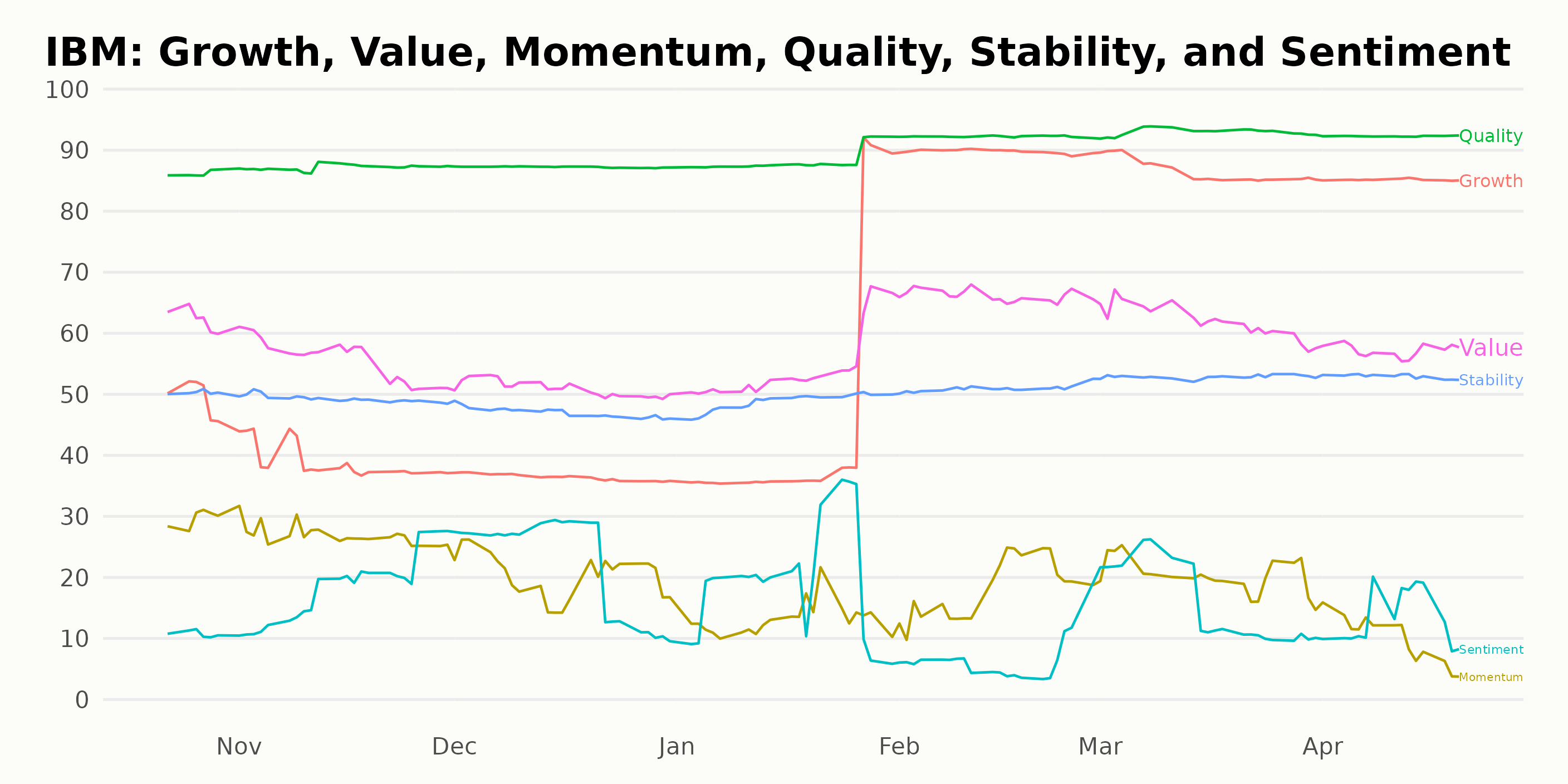 How Does International Business Machines Corporation (IBM) Stack Up Against Its Peers?
Other stocks in the Technology - Services sector that may be worth considering are Celestica Inc. (CLS), NetScout Systems, Inc. (NTCT), and Sanmina Corporation (SANM) -- they have better POWR Ratings.
Discover 10 widely held stocks that our proprietary model shows have tremendous downside potential. Please make sure none of these "death trap" stocks are lurking in your portfolio:
---
IBM shares were trading at $126.46 per share on Thursday afternoon, up $0.14 (+0.11%). Year-to-date, IBM has declined -9.14%, versus a 8.03% rise in the benchmark S&P 500 index during the same period.
---
About the Author: Anushka Dutta
Anushka is an analyst whose interest in understanding the impact of broader economic changes on financial markets motivated her to pursue a career in investment research.
This Tech Stock Might Be a BUY Now. But Its Chart Says Otherwise
appeared first on
StockNews.com